Get An Alert When AirPods Are In Stock At Your Nearest Apple Store
Apple has finally released its wireless earbuds; AirPods. The AirPods were a great joke up until they were actually released but Apple is having the last laugh by limiting their availability. Within seconds of the AirPods becoming available, their delivery times went up. It can now take a whole month for your AirPods arrive, maybe even longer. Most stores you visit will not have them in stock, or they might be bought before you get to the store or are able to reserve them. Is In Stock is a little web app that lets you sign up for when AirPod are back in stock. You can pick the store you want to buy them from and get an email alert when the store has them in stock.
Visit Is In Stock and enter your email. Select the store you want to buy the AirPods from. If you aren't sure which store you want to use, visit the 'Locations' tab at the top right and find a store.
Once you've selected the store, click 'Notify Me'. The web app tells you to make sure its email is marked as safe by your email service so that the alert doesn't end up in your spam folder and you're done.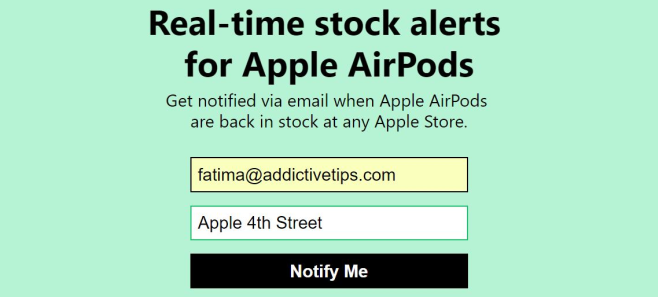 There is a slight catch to the service; priority alerts. The service is ad-free and as a means of generating revenue (which is perfectly fine), it allows you to sign up for priority alerts which cost money. You can purchase 1 priority alert which costs $2, 3 priority alerts which cost $3, and 5 priority alerts which cost $4.
This might seem excessive but most iOS apps cost $5 which means the alerts are far cheaper. For anyone willing to shell out $159 for the AirPods, another $4 for priority alerts is hardly expensive. In the event you do not sign up for priority alerts, you will be notified the same time as everyone else when the AirPods are back in stock.