Get Relevant Google Search Images For Each Pinterest Photo [Chrome]
If you love Pinterest but want something more out of it, then Pin Search | Image Search On Pinterest can be a super handy tool for you. This Chrome extension not only offers you with detailed information for images found on Pinterest, but also lets you view other similar images from the internet using Google search for images. This nifty little tool basically adds a Search button to all images on Pinterest, which, when clicked, scours  the Google search engine for your selected image, so you can discover other similar images or find where else the exact replica has been used. Then, it might help find useful information pertaining to the image in question, for instance, you can find details about the photographer, chef, designer or location for a particular item. Details to follow.
After you've installed the extension, whenever you hover your mouse over an image, a new Search button appears.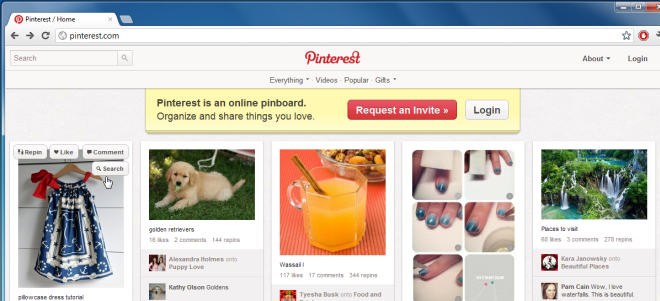 When this search button is clicked, the extension performs a Google Images search for the selected picture, and results are displayed in a new tab, which include websites where the image appears, other similar images, the image's original size, other size variations and more.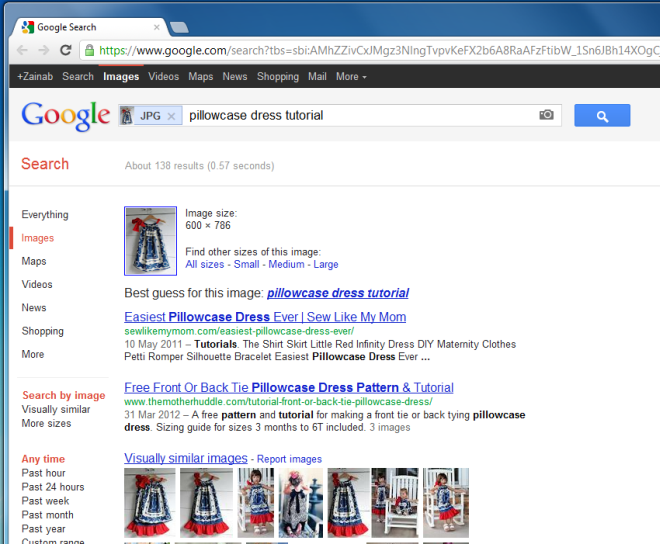 The extension is excellent because it can help find the source of an image uploaded on Pintrest. Images on Pinterest can literally be of anything and may or may not contain any context. By searching for the images on Google, users can track down where else they have appeared as well as who uploaded it. It's an exceptional tool albeit a simple one.
The extension isn't anything complex and you can achieve the same results by saving an image from Pinterest to your desktop and then searching it on Google Images. Pin Search | Image Search On Pinterest only makes the process shorter and negates the need to save each image to your desktop first. Perhaps if a feature were added that allowed users to save the search or the link to a particular image might make it all the more useful and further avoid saving images to your desktop.
The extension seamlessly integrates with Pinterest and enhances your image browsing experience by letting you find out more about them. If you want to get the best out of Pinterest, then you should definitely install this neat tool from the link below.
Install Pin Search | Image Search On Pinterest
Liked this extension? You might also want to take a look at the other Chrome extensions we've reviewed so far.