How To Post Playable Animated GIFs To Facebook Using GIPHY
They say a picture is worth a thousand words, which makes moving pictures worth millions of words, doesn't it? That's why GIF files have been immensely popular over the internet, as they allow us to express our views and emotions in an animated way when a still picture just wouldn't do, and a whole video would be overkill. While the blogosphere, forums and image boards are exploding with these animations, Facebook hasn't been too kind to them, as the world's largest social network doesn't allow users to post animated GIFs to its timeline. No, Facebook hasn't started to offer that option and you still can't post your own GIFs to it, but there is now a way of posting GIFs from GIPHY's collection to the social network in a playable format. Let's find out how after the jump.
For those unacquainted, GIPHY is a huge GIF repository that allows users to browse and share interesting GIFs posted by several artists to the service. The service helps you find the right GIF by offering the Editor's picks, several categories, featured tags, artist spotlights and trending tags right on the home page. In addition, you can also jump to reaction GIFs, all available categories and all artists from the top bar of the home page. Lastly, you can directly search for the GIF by entering your desired keywords on the home page as well.
Let's get back to posting these GIF files to your Facebook timeline. Visit GIPHY and find a GIF that you want to share on Facebook. Once you have found the right GIF and opened it, copy its sharing link that's right below the GIF on the left (shown highlighted in the screenshot below).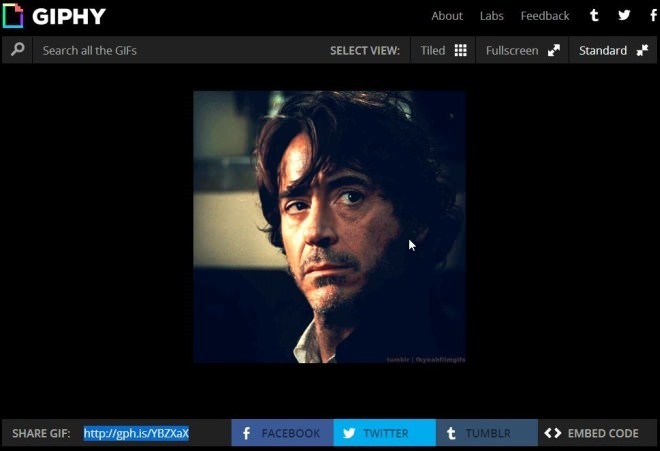 After copying the link, simply go to Facebook and paste it in a status update, optionally adding anything else that you want. You will notice that upon pasting the link, Facebook will automatically generate a preview for it, similar to that generated for other links featuring some media.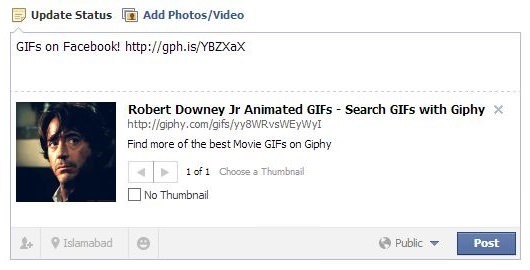 When you post the link, you'll notice that unlike regular links, its preview has a play button on it similar to that found on videos shared on Facebook.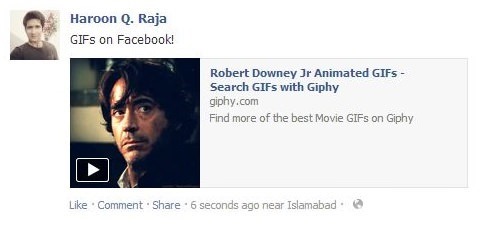 Clicking this button will enlarge the GIF file, and start playing it right there in your timeline. It will be playable by anyone who can view that post based on your privacy settings.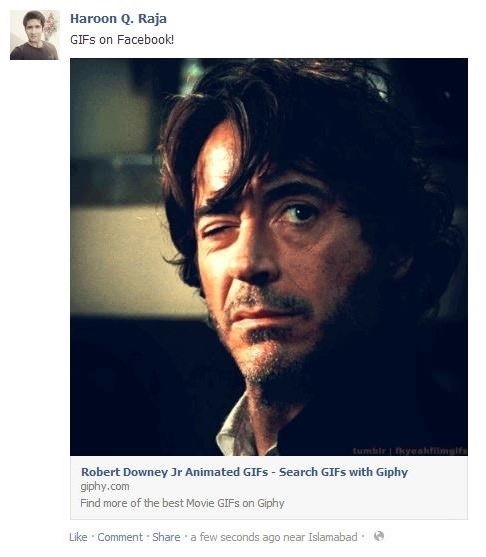 That's all there is to it. While this still isn't a way to post custom GIFs created by you (unless you're an artist on GIPHY), it still lets you spice things up on Facebook, and the collection offered by GIPHY has something available for every moment.
[via Lifehacker]