A Guide To Google+ Communities & Brief Comparison With Facebook Groups
Google+, the social network that was first predicted to end Facebook's reign, and then to die a nameless death, is still alive and kicking and has just rolled out its latest feature – Google+ Communities. Google+ Communities are groups of interest that any Google+ user can create. Like all other social communities, it allows you to create public and private groups, or moderated public groups. You can add events, share images or videos, and post messages. As a member of a group, you can invite other friends from your circles. To join private communities, you either need to receive an invite, or you can send a request to join. Anyone can join a public community, but for moderated public communities, your request to join must first be approved. This new addition has its own search feature that allows you to discover communities of your interest, and a personal search feature that allows you to search within a community.
Some of you might not be seeing them just because the roll out is gradual. Head over to your Google+ profile and look for a circular button in the left side bar that reads 'Communities' and has a 'New' badge on it.

My Communities
Head over to your Google+ profile and switch to the Communities tab that appears below 'Events'. The communities home page shows the communities you've joined and also suggests ones that might interest you.
For each community that you've joined, you will see the date/time when the community was last updated, along with a number badge atop its profile image indicating new activity in the community. You can turn these badges off on the community page (see the section on "Posting to a Community" below).
The search bar for communities is located just above the 'Discover communities' divide. The communities listed under 'discover communities' offer a very small selection for now, probably because the feature is still new. You can remove a community from the suggestions by clicking the small cross that appears in the top-right corner of the community's profile image.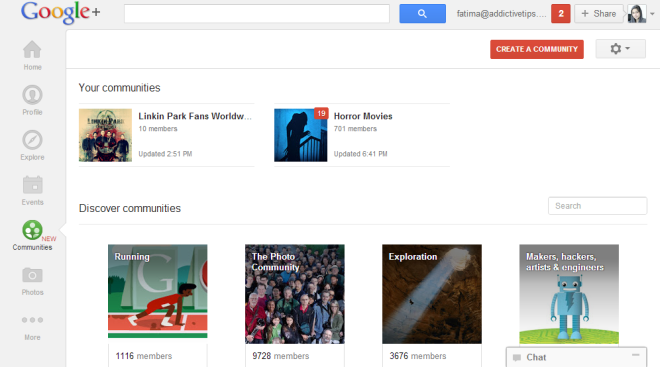 Searching For Communities
You will notice that the Google+ search bar remains on top even when you're on the Communities page. This means you will see two search bars, both of which can be used to search for communities. The difference? The communities search bar will yield community results exclusively, while the Google+ search bar will show you communities in addition to user profiles and pages in the search results. Communities are distinguished from profiles by a small icon – identical to the communities icon in the left bar – that appears next to them.
Joining & Creating A Public Or Private Community
When you visit a community page, you will see a large red 'Join Community' button. Depending on the nature of the community, your request to join it will either be approved immediately, or will be pending approval by a moderator.
To create a community of your own, click the red 'Create Community' button you see on the Communities home page. A pop-up will ask if you want to create a public or private community. Public communities can be open to all or moderated; you can choose the permission from the drop-down that appears below the option you pick. Permissions for a private community allow you to hide it from search results or allow people to search for it. Be warned that once set, you cannot change the privacy settings of a community.
Once created, you can proceed to adding a profile picture, a description and tag line to the community. There is an option to delete it, and it is irreversible.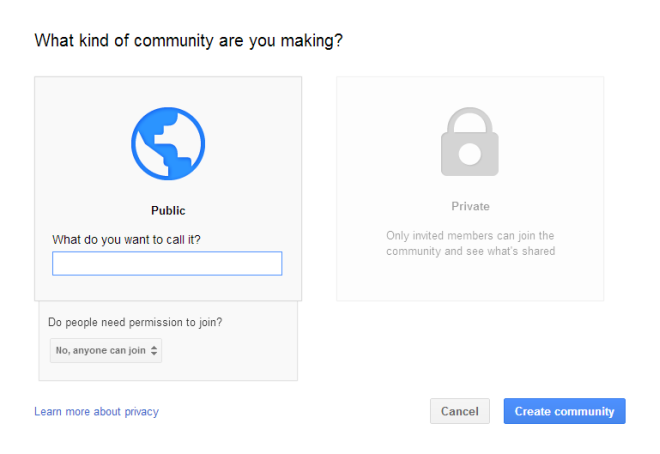 Creating Discussions, Searching & Posting
When posting to a community, you will notice that below the status box, there is a drop-down for selecting a 'discussion'. Discussions are a way of keeping posts organized and they can be added by community owners from the 'Actions' drop-down menu. If you own a community, select 'Edit Community' and then 'Add Category' to create a new discussion.
When members of a community post to it, you are notified of new activity when you visit the communities home page. You can disable these notifications by clicking the small bell button below the profile picture and setting it to off. To search within a community, use the search bar below the list of discussions.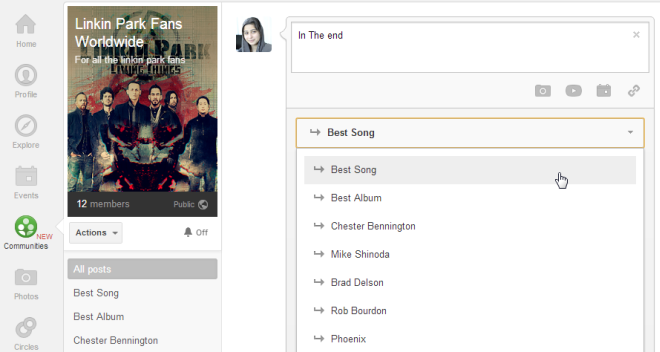 Is It Better Than Facebook Groups?
Like everything else to do with Google+, Google+ Communities will also be compared to its Facebook counterpart; in this case, to Facebook groups. If you get down to what Facebook groups have and Google+ Communities don't, group messaging that allows you to chat live with all online members and the recent feature that tells you how many members have seen a particular post.
What's missing at the moment are really great communities. Facebook is miles ahead here with its user base having already created so many groups. For Google+ users, it's going to be a while before big brands, large companies and popular artists decide to create communities for their fans.
The discussions feature is what sets Google+ communities apart. Although controlled exclusively by the group owners or moderators, it is a great way for members to jump to topics that interest them. A feature like this can make Google+ communities a great platform for a social forum.
In my opinion, the group messaging/chat feature in Facebook isn't exactly something to envy. If you're one of those users who have disabled it altogether, you might actually find Google+ Communities a better alternative owing to its discussions feature. Though you can have a hangout with everyone in the group, the group members have the option to join it. In stark contrast, anyone in a Facebook group can include you in a group message and you have to remove yourself from it if it annoys you. The discussions are a good feature for the sole reason that they lend organization to community activity, allowing group owners/moderators to manage pages better.
Finally, what really makes the communities worth joining is the fact that their activity doesn't clutter your Google+ feed or your notifications. Not all activity appears in your notifications or in your feed. Uploads will appear in your feed but not comments that other members have made. If you turn the notifications on, you will begin receiving email alerts for new content posted to communities.
Google+ Communities does a few things really well and if there is significant growth in the number of communities and improvement in the quality of the content posted there (most posts in the communities are spammy at present), the feature could really take off.