Hands-On With Twitter #Music For Web & iOS [Review]
Twitter's much anticipated music app is now live, featuring both a web interface and an iOS app. The web interface is slowly being made available to Twitter users in the US, UK, and Australia. As expected, Twitter has also launched an iOS app for its music service called Twitter #music. You can expect hashtags to play an important part in this app. It connects with your Twitter account and gives you suggestions for music based on the artists that you follow, what's currently trending, and what the people you follow are listening to. You can listen to the iTunes preview of different tracks right inside the app, and the tracks can be bought on iTunes. You will be able to connect your Spotify and Rdio accounts with Twitter #music and listen to full tracks. You can also tweet the tracks you're listening to; the #nowplaying hashtag is added to those tweet automatically.
Twitter #music's web version is rather slow to load artists. Go to the #NowPlaying page from the top left button to sign in.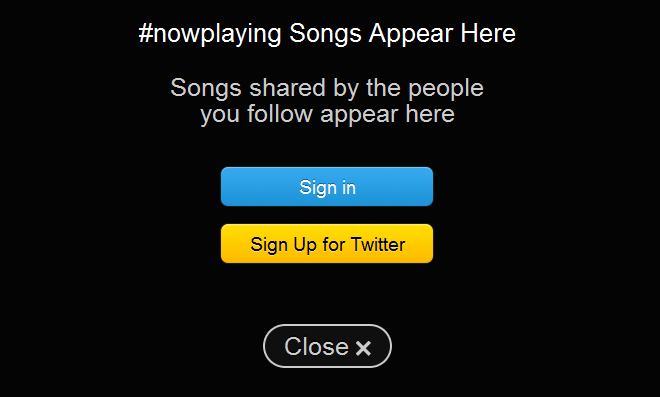 Be patient with it as the service still has a bug or two to iron out. Once you're signed in, artists that people on your Twitter timeline were recently listening to will be listed in a visually rich grid of album art. Click any one of the artists to play a preview of the song that they were listening to. You will be able to hear a preview of it from iTunes. Click the 'Play Full Tracks' button at the top to connect to your Spotify or Rdio account in order to listen to full songs.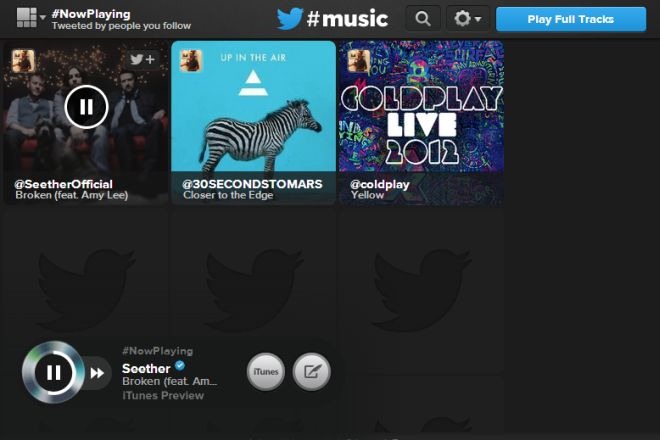 The player appears at the bottom and allows you to tweet what's currently playing, buy the song on iTunes, pause/resume playback, and switch to the next track.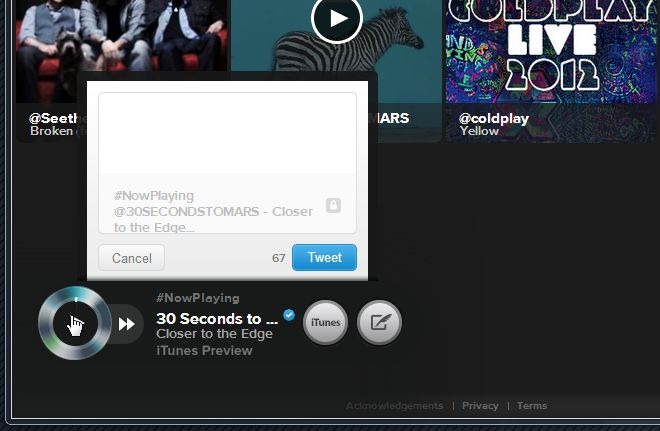 The web app is divided into five sections: Popular, Emerging, Suggested, Now Playing, and Me. These show popular and emerging artists, artists that have been suggested by the same ones you follow,  what people in your time line are listening to, and what you've recently listened. To search for artists on Twitter, click the search button and start typing an artist's name.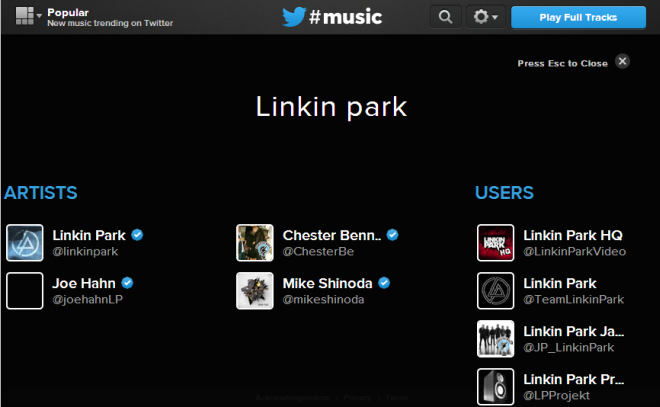 By default, Twitter #music allows playback of tracks containing explicit lyrics, but you can turn it off by clicking the cog wheel button from the top-right and turning the 'Explicit Tracks' option off.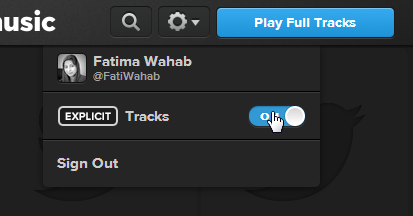 Let's now take a look at the service's iOS app. Start off by connecting your Spotify, Rdio, and Twitter accounts with Twitter #music. You can connect multiple Twitter accounts if you've added them in your iDevice.
Wait while Twitter #music loads suggestions for you. The app has five pages (like its web version) that you can swipe through: Popular, Emerging, Suggested, Now Playing, and Me.  You can see twelve artists on each page by default, but scrolling down reveals more of them. Clicking the little 'Play' button at the bottom-left begins playback. You will only be able to hear iTunes previews of the songs unless you've connected your Spotify and/or Rdio accounts.
The Suggested page suggests artists for you to follow based on who the artists you're already following, are following. This is meant to help users find artists that are endorsed by other artists. The #NowPlaying tab shows artists that people you follow were recently listening to.
You will notice that the app always displays artists, and never tracks. Wherever you click an artist, it expands to a playable tile and plays the top rated song from that artist. By default, the app does not switch to a music player, and the little spinning disc at the bottom is all that shows you what is currently playing. If you tap it, it expands to show you the music player controls. These allow you to switch between songs, tweet what you're currently listening to, buy the song on iTunes, and control the volume.
The search feature is omnipresent and allows you to quickly find artists on Twitter. Though the app will not determine which accounts are authentic and which are fan-made. You will be able to see the number of followers an account has, and how many artists that account is following. You can also follow any of the accounts from here without having to switch to the Twitter app.
If you didn't connect your Spotify or Rdio account when you started using Twitter #music, go to your profile page. Click the 'me' drop-down at the top, and select the accounts you want to add.
You might find Twitter #music slightly overwhelming at first. It's a lot of media to consume at once and swiping between the pages isn't very fluid. The app takes some time to respond; occasionally, it will scroll down a page instead of switching to the next one. The play/pause feature on the player is also not as responsive as it should be. Overall, it'll be safe to say that the app isn't promoting music so much as it is promoting artists.