Hide Watched YouTube Videos, Disable Autoplay & Default To HD In Chrome
YouTube has been redesigned quite a few times; features have come and gone, and improved upon. With the service offering so much, it's hard to say there will ever be a design or layout that everyone likes, so those who aren't happy with the interface will either have to get used to it, or use an extension to tweak it. There's no shortage of extensions that tweak, improve, or clean up YouTube's interface, and YouTweak for YouTube is another one of those extensions for Chrome. It allows you to remove videos you've watched from appearing as suggestions or in search results, redirect the YouTube logo to point to any URL, disable YouTube's auto play feature, and have every video play in 720px resolution. Each one of these options can be enabled or disabled individually, giving you complete control over the extension.
Upon installation, YouTweak for YouTube will ask you to first enable the tweaks you want to use, which are all disabled by default. Enabling the different features is simple enough, only requiring you to check them in the extension's options. Adding a remove button next to each video will allow you to manually keep specific videos from showing up in YouTube's sugestions.
If you've ever found the YouTube logo at the top-right to be useless since it takes you to the YouTube home page, you can remap it to any other URL. The extension points it to your subscriptions page by default, when the feature is enabled, but you can set it to any web address of your choice. The 'Delete watched videos' button allows you to remove all videos you've watched from showing up again. It doesn't work automatically though, meaning that the videos you watch will not disappear by themselves; instead, a 'Remove watched videos' option is added to the left sidebar and clicking it is what hides them. Though it isn't 100% automated, it does give you the advantage of choosing whether or not the videos should be removed in your different browsing sessions.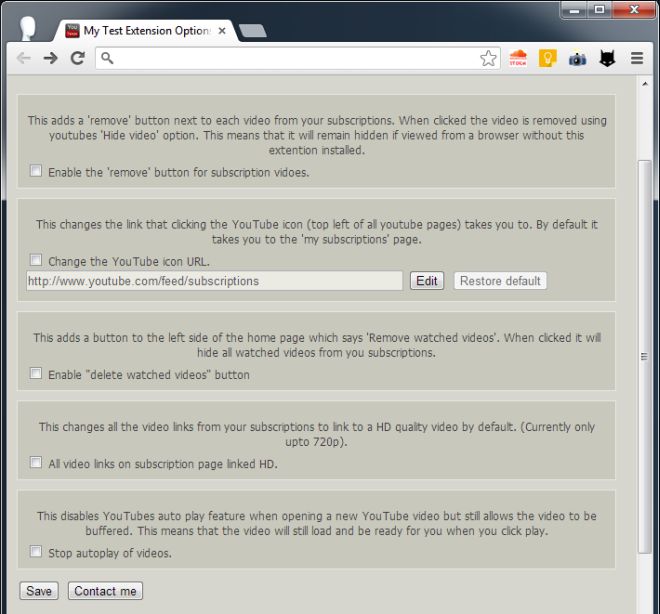 The HD option makes sure that all videos are played in the highest resolution possible, or in 720Ppx resolution (whichever is higher). Here we feel it might have been a good idea to let the user specify the resolution the videos should play in by default. Lastly, the 'stop autoplay of videos' options will prevent YouTube from automatically playing videos when you open them. YouTweak for YouTube really only adds a few tweaks to YouTube, but those are all aimed to address some common nuisances that several users experience on the site, making it useful to many.
Install YouTweak for YouTube From Chrome Web Store