Use The Mouse Wheel To Quickly Switch Between Tabs In Chrome
If you thought a Batman spinoff on yet another item just wasn't possible, Tabman Tabs Manager is a Chrome extension that will change your mind. It's a tab manager that adds a Batman-like button to the URL bar, which in turn allows you to switch between the different tabs open in the current window. It'll serve little to no purpose if you just have a few tabs open but for those marathon browsing sessions, it can make finding specific tabs from the countless open ones a lot easier! It's somewhat similar to Sidewise Tree Style Tab that we covered a few days ago, except that it focuses on switching tabs and provides both a mouse gesture (moving the scroll wheel) and use keyboard shortcuts to open the extension's panel. If you don't like switching between tabs via a popup, Sidewise Tree Style Tab works in a 'Dock' mode as well, where it separates into another window and allows you to search and switch between tabs from it.
Clicking Tabman Tabs Manager's button reveals a popup showing a list of all tabs open in the current window. You can also open/close the popup using the Alt+A shortcut. The search bar lets you find tabs by their title or URL. If you position your mouse over this popup and move the scroll wheel, the tabs will be cycle in the list and you will automatically switch to the highlighted tab.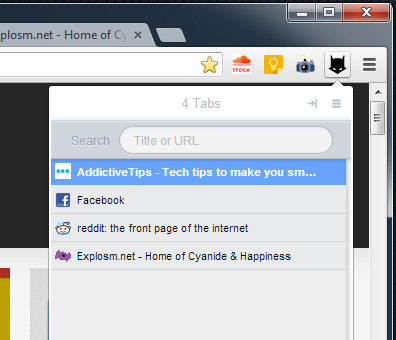 At the top of this popup you will notice an arrow-like button and an options button. The arrow button separates the popup from the browser window and moves it to its own window. This is the 'Dock' mode and you can toggle it with the Ctrl+Shift+A as well.

Tabman Tabs Manager has two themes – a light one, and a dark one that Batman himself would probably prefer. You can disable tab switching on mouse scroll by unchecking the 'Switch tabs on mouse wheel scroll' option. You will still be able to switch to a tab by clicking it in the list. Alternatively, you can use the Up/Down keys to switch between tabs as well.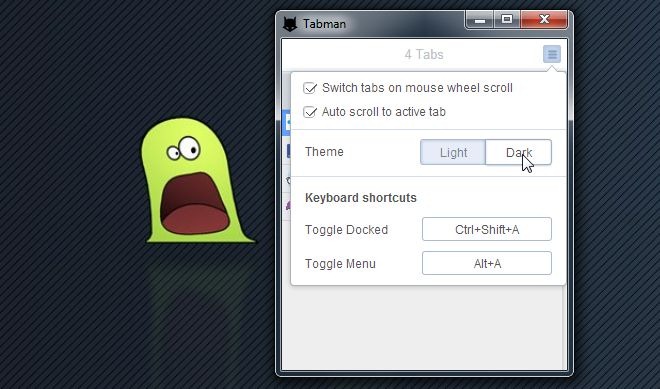 With its support for tab switching using the mouse scroll wheel, Tabman Tabs Manager is one of the best tab switchers we've seen. The only problem with it is that if it's in Dock mode, switching windows will close the window and opening the extension again will still list tabs from the window it was originally opened in. The extension's popup does not behave similarly though. Tabman Tabs Manager works well but needs better support for window management. Interface wise, it's great and besides the button, has little to do with Batman.
Install  Tabman Tabs Manager From Chrome Web Store