Hover Hound Compares Newegg Prices With Amazon And Tiger Direct
When it comes to shopping, many people like the convenience of shopping from their couch. And while there are many online stores that offer computer products, Newegg is a popular name among the masses that offers you a wide range of products such as laptops, computer accessories, and other electronics. The store houses many popular brands aimed at DIYers, hard-core gamers, and IT professionals who don't fancy trawling the high street to buy what they need. Not to mention, the store's intuitive interface that provides customers extensive information about the product they might be eyeballing. While information is a nice thing to have, price also plays a pivotal role when purchasing something online. And if you're a Newegg shopper but find Newegg's prices inflated, Hover Hound is a Chrome and Firefox extension that aims to help by letting you do comparison shopping with Amazon and Tiger Direct.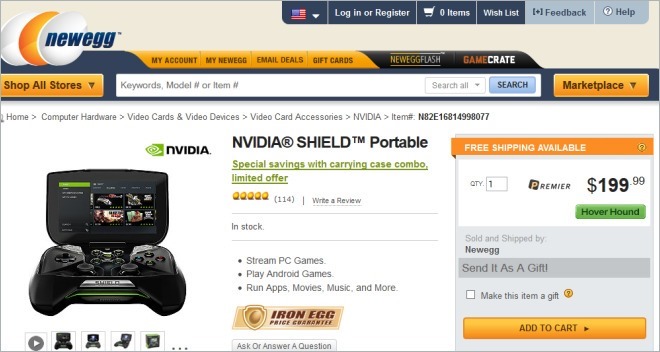 The extension supports a really simple design. When installed, it adds an easily accessible 'Hover Hound' button to your browser (demonstrated in the screenshot below) that enables you to instantly check the same product at Amazon and TigerDirect. Clicking this button opens a new tab leading you to Amazon or TigerDirect's product page.
Besides clicking the button, you can also hover the mouse curser over it and the extension will give you real-time price information from Amazon and TigerDirect, as well as an option to see price history charts for all three supported stores. That being said, it also tells you whether Amazon offers Prime shipping for that product or not.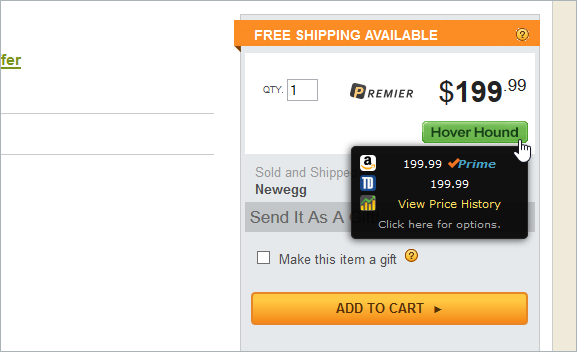 The pricing history displays a graph as an overlay on the screen that highlights how prices may have changed in the past two months. This is especially useful when you want to quickly take a look at whether the price of a particular product in your wishlist have dropped or not. The graph lists the price on all three supported shopping sites and lets you disable any of them if you wish. It also lets you know when the price actually hit its lowest mark on a certain date.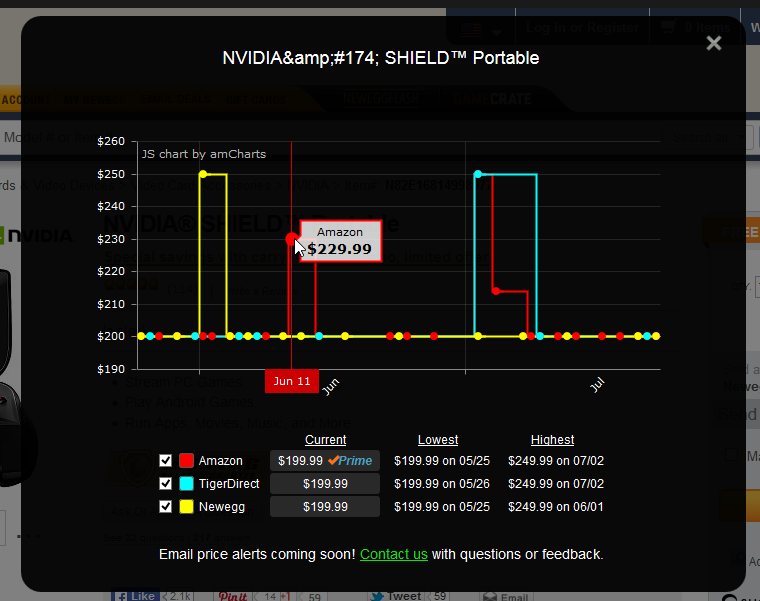 Hover Hound is also fairly customizable as its Options page lets you disable unwanted features and enable those you require. For instance, you can limit products on Amazon to those supporting Amazon Prime only, and specify a tax percentage in your city. Furthermore, you can disable the automatic price check on Newegg, and select features such as the price history or CPU comparison.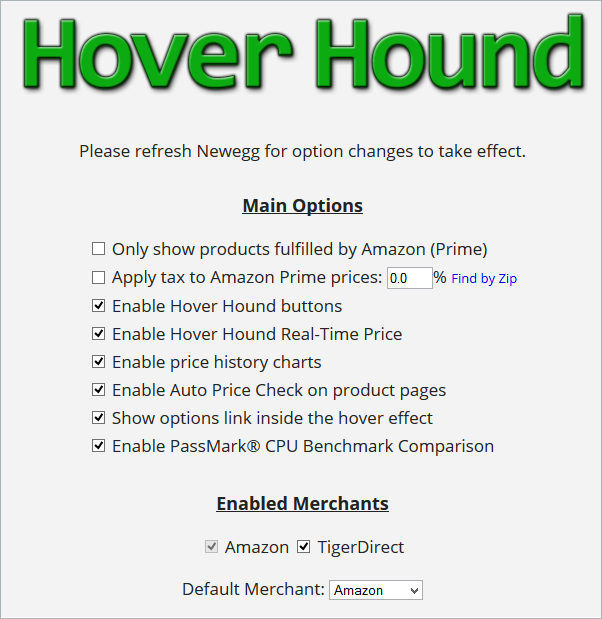 All in all a useful extension that can help you find the best bargain when shopping on Amazon, Newegg and TigerDirect.
Install Hover Hound for Firefox