How To Leave A Group Message Thread On LinkedIn
LinkedIn's group conversations are one of the worst sources of spam messages on the professional networking site. A group conversation message can be initiated by anyone. Anyone included in the conversation is then free to invite other people to the conversation regardless if they are connected to other members in the group or not. There is no control over who can send messages. For a while all you could do about these conversations was mute the notifications but as of a recent update to both its web interface and mobile app, LinkedIn now lets you leave a conversation. Here's how.
On the web interface, go to your inbox and select the group conversation you want to leave. Click the more options button at the top right of the conversation thread. You should see a 'Leave conversation' option in the menu that opens. Click it and you will effectively be removed from the conversation. All other members in the conversation thread will be notified that you have left.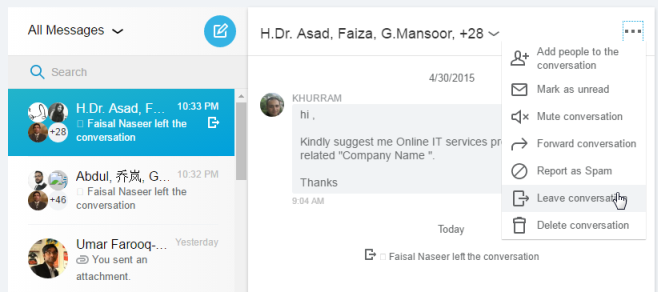 On the mobile apps, go to the Messaging tab and tap the message thread you want to leave. Tap the very top of the thread where members of the conversation thread are shown to go to the conversation's details page. On the conversation details page, tap the 'Leave' button under the Conversation actions section.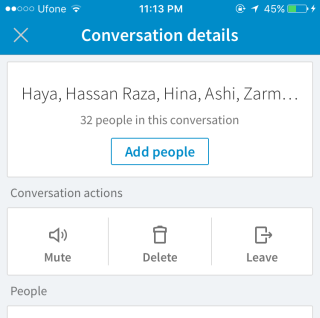 This feature was sorely needed and it's sad to have to say it but, better late than never. Group conversations on LinkedIn work more or less like they do on Facebook and Facebook has always given users the option to leave a conversation. Facebook likely prevents a lot of spam this way and this is something LinkedIn ought to think about tackling when it revamps its website or adds new features.