How To Reset Lost Facebook Password With The Trusted Contacts Feature
Identity theft is very real; in the past, it has meant someone impersonating your identity to gain unauthorized access to important information and committing crimes under your name. In today's age of digital media, however, it can also mean someone hacking your social media accounts and putting your online reputation at risk. That's why Facebook has introduced the Trusted Contacts feature in a bid to help you fight identity theft and regain access to your Facebook account should the worst ever happen. It allows you to select three to five people in your Facebook friends' list who can help you recover your compromised Facebook account. Here's how to set up and use your trusted contacts to regain access to your account.
Start off by selecting your trusted contacts. To do this, head over to your Security Settings and click  'Choose Trusted Contacts' under 'Trusted Contacts'.
You will have to choose at least three contacts. The point is to keep you safe in case one of your trusted contacts have had their accounts compromised as well. Facebook gives you basic guidelines for choosing a trusted contact; they should be people you can contact easily over the phone and who have the sense to confirm it's really you they are passing information on to. We'd like to add our two cents here and say the people you choose should be emotionally stable and possess sound judgment as well as good morals, so that they are unlikely to do something vindictive when they are angry or upset with you.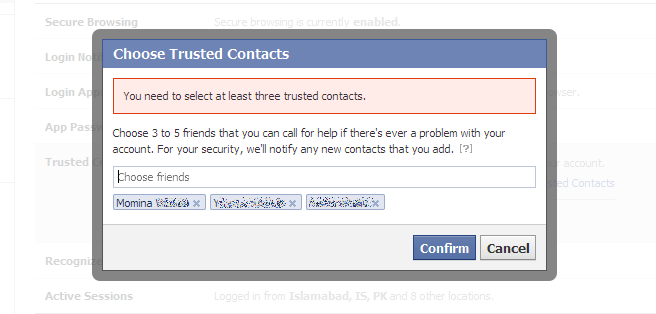 Each of your selected contacts will be notified that you've added them as a 'Trusted Contact'. The contact has no choice but to accept it. You can go back and edit your trusted contacts any time, or remove them altogether.

You can use your trusted contacts to regain access to your Facebook account when you've lost access to both your primary and secondary email accounts. It is a three-step process that asks you to enter the name of all your trusted contacts, have them visit a given URL where they verify it's really you trying to get back into your account, and are given a code that they must pass on to you. You will need one code from each of the trusted friends you've added, in order to get back in.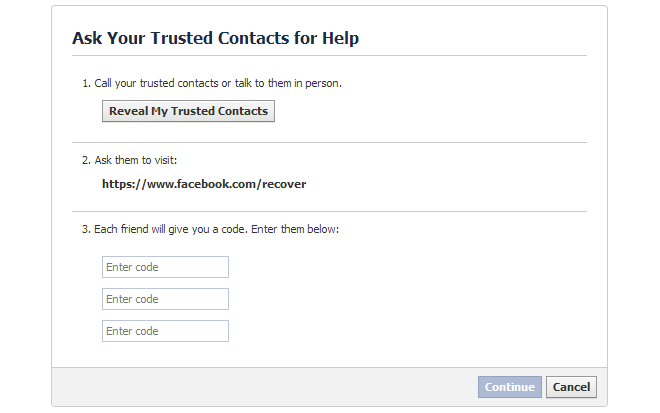 Upon visiting the URL, your trusted contacts will see the following:

Should they choose to help you, (and we have no idea what happens if they don't), they will be asked to verify that they've checked with you over the phone, and then they will get a code to pass on to you.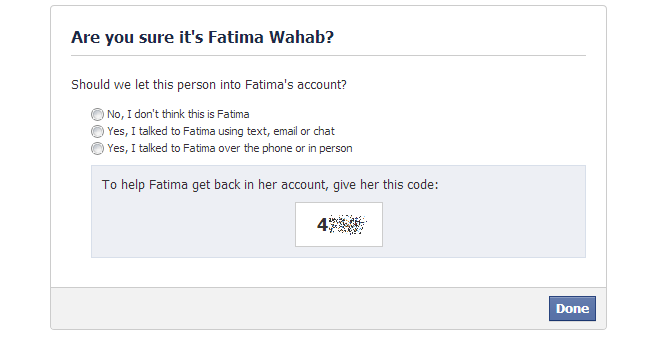 Assuming you've gathered the required codes, enter them on the recovery page and you're back in. If this isn't one of the most complicated account recovery methods out there, it is the most elaborate at the very least. Not only do you need your friends to respond to your request for help, you also need them to be able to access Facebook to do so. It looks something like account recovery intervention where several of your friends must be present in the same room trying desperately to help you. The good side is, you can get your account back without having to verify your identity yourself to Facebook by providing any documentation for proof.