How To Save Gmail Emails To Evernote With The Web Clipper Extension
Evernote's web clipper is possibly one of the most sophisticated ways of saving online content and keeping it organized at the same time. The fact that the clipper has such a powerful service as Evernote itselfworking at its backend makes it an excellent productivity tool. Evernote has just updated its web clipper, and it can now save your Gmail emails to any notebook of your choice. Granted, you were already able to save an entire page or take a screenshot of an email with the web clipper but with this update, Evernote can save just the body of the email itself so that its text is searchable and can be copied from Evernote's web interface or desktop app.
To clip an email, open your Gmail inbox and select the email that you want to save to Evernote. It doesn't matter if the email is in threaded view or not, though in case of a threaded one, expand all the emails in the thread before you click the web clipper icon from the URL bar. The pop-up and its options should be very familiar to you if you have already used the web clipper. The 'title' of the note is the same as that of the email's subject. You can enter tags and add a comment to the clip much like you could to any other note. The only difference is that the drop-down at the bottom-right has a new option 'Save Email' added in this update, and it's selected as the default option when you clip an email.
The selected email will opens in its own little window within your Gmail tab that's free of all ads, extra text and other options. What you see is the name of the sender, the date and time the message was received/sent, and any images that were added to its body. Email attachments are not saved.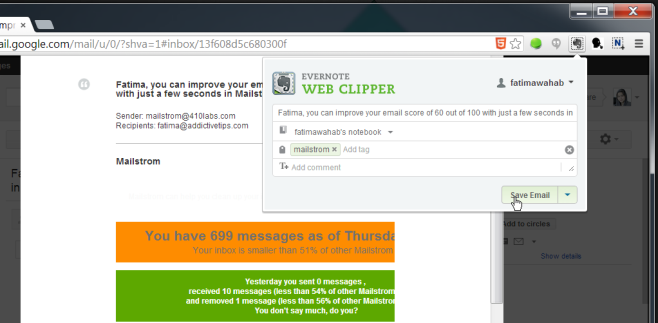 Click the 'Save Email' option and within seconds, Evernote will sync your note to your account. It will also keep track of emails that you've saved and show you other clips saved from Gmail.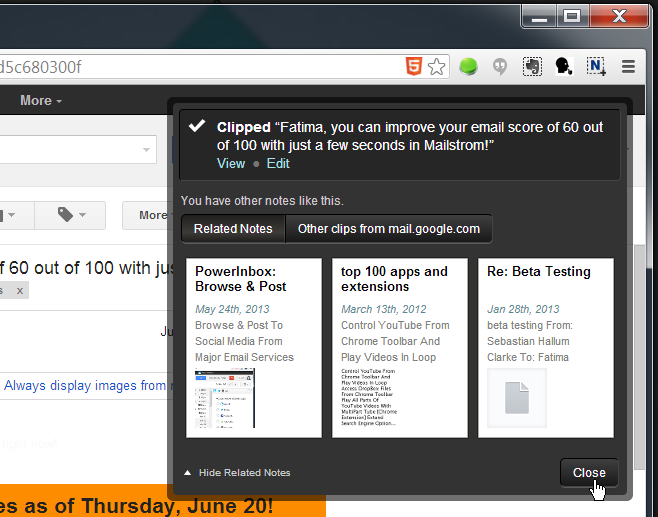 The update may seem small but it will significantly improve how users organize the information they send/receive via email. Often, the one thing that can't be saved to a note-taking or online bookmarking service is email while keeping information like sender/recipient, date, and not to mention the thread structure itself intact. Now with Evernote's clipping support, you can save all important emails, links and files that are related in one place. The best part is the emails being searchable, and we're hoping that Evernote adds support for email services other than Gmail as well as the ability to save emails from third-party desktop email clients via the Evernote desktop apps.
Install Evernote Web Clipper from Chrome Web Store