Find Places Recommended By Top Reviewers & Your Circles In The New Google Maps
Last week was pretty big for Google; in its I/O conference, the company announced a new design for Google+, a music subscription service and the new Google Maps, among other product improvements. We've taken a detailed look at both the new Google+ UI with its card-based UI and Google Play Music All Access. The updated Google Maps interface is invite-only at the moment but if you're among the lucky ones who have received their invitation, you might be curious about the new search and just how it works. Google's stated on its blog that every click will give you a new map, and they weren't kidding. Not only is the new search amazing, but it also lets you narrow down places suggested by people in your Google+ circle or by top reviewers. This helps you find places, whether they're restaurants, hardware stores, or a good place to have your car checked out, that your friends or industry experts recommend. Here's how it works.
Let's say you're in the mood for some Italian food. Go to Google Maps and enter 'Italian food' in the search bar. Make sure you do not zoom in or select your area. After a preliminary search, a card will appear below the search bar asking you to narrow your results down to 'Top reviewers' or 'Your circles'. Selecting either one of the options will add a search operand at the end of your query.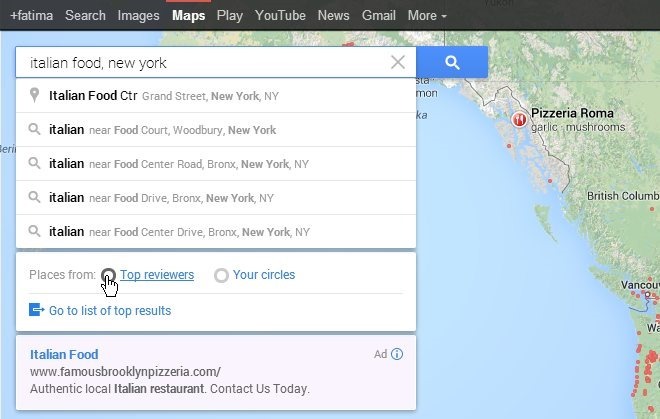 Naturally, this will give you results for Italian restaurants all over the world, so add your city name after your search query separated by a comma and then select whether or not you want the results to be recommended by top reviewers or people in your circles.
The new Google Maps interface features no sidebar and fills up the whole tab, with the search results appearing in bold text on the map itself. If you would like to see the list that would normally appear on the left side, click 'Go to list of top results' and you'll be able to view detailed listings in a new tab. The new Google Maps is still in preview stage and may have a few bugs before a final release, so if you don't see the 'Top reviewers' and 'Your circles' options, just refresh the page.
This new feature will not only make it easier to find the best places and businesses, it will also be an incentive for them to get better and positive reviews. The social aspect can be somewhat less useful for some, since it involves your friends actually visiting a business's page and recommending it there. Though for the places where they have done so, the idea of personalized reviews from the people you actually know can be a major plus.