inFocus.cc Lets You Share A Webpage With A Certain Portion Highlighted [Web]
Normally, we share full website URLs with friends even when we want them to see a particular image, link or paragraph on the page. Not only do we have to send them the link, but we also have to describe the particular content in detail, so they know exactly where to look. inFocus.cc is a free web application that solves this very common problem by letting you easily highlight a certain part of a website and get a shareable URL for the resulting screenshot. The app offers users with a bookmarklet, as well as a Chrome extension. To start off, all you have to do is click the bookmarklet or the button in the toolbar and a highlight box will pop up, letting you focus on your desired content. Once you have made your selection, you can then hit the Copy URL button to get the URL address that you want to share with others.
To start off, you can either install the Chrome extension for the service, or simply drag its bookmarklet to your bookmarks toolbar, and you are ready to highlight and share portions of websites in a single click. Alternatively, you can enter a URL of the site you want to focus in the text box at the infocus.cc website, and hit 'Get Focus!'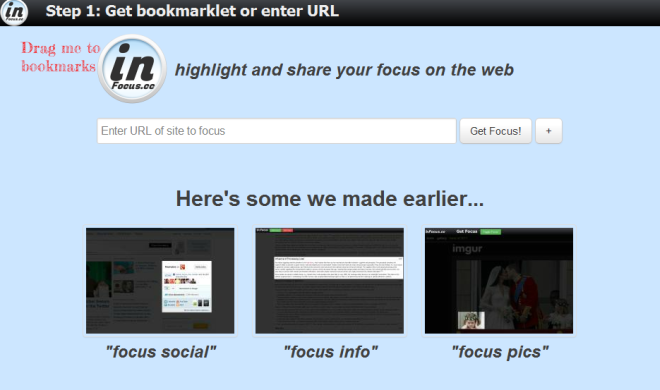 When the bookmark or the toolbar button is clicked (or alternatively, the URL is manually entered at the infocus.cc website), the page blurs and a red translucent selector appears over it, which you can drag or resize in order to define the area you want to highlight. Once you've placed the selector over the desired region of your page, inFocus.cc will provide you with a URL that you can share with others to show them the specific page and the section you've highlighted.
When others visit the link, the entire page will be blurred except the shared content, which will be highlighted. In addition to that, the recipient will be able to toggle between showing/hiding the focus, as well as exit the focus mode entirely, using the Hide Focus and Exit Focus buttons on the top of the page.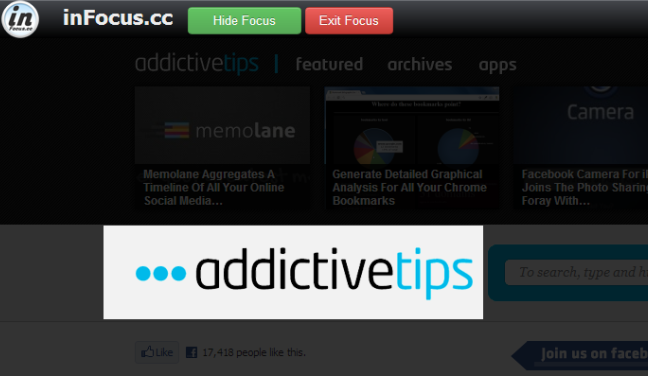 inFocus.cc can be quite useful, specially when you want to share particular content from a website, but don't want to waste time describing and explaining it to others or telling them where to focus. You can visit the app's website or install the Chrome extension from the links given below.
Install inFocus.cc For Google Chrome
Like this app? You might want to look through our showcase of web applications reviewed so far.