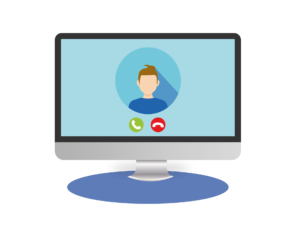 Over the years, the development and expansion of the internet have brought about many great things. The web is a fountain of information and a way for people to learn about history and the world around them without leaving their homes. It has also allowed friends and relatives to stay in touch across the planet thanks to social media and video chatting.
With all of the good, however, there have also been some bad elements that have developed. One of these things in particular is the increase in online crimes against children and young adults through social media. One new platform called Omegle has a number of parents concerned about their children's safety. So is Omegle dangerous? We'll examine this question below.
What is Omegle?
Omegle has actually been around since 2009 and created by the then 18-year-old Leif K. Brooks. Because of the lockdown associated with the CoronaVirus, there has been a big increase in the number of young adults joining the site.
Although Omegle used to have an app, this has since gone, and the only way to access Omegle is through its website.
The idea of Omegle is that young people can meet on the site and chat either by message or video. The site has caused a little controversy as it actually encourages young adults to "Talk to Strangers!" However, there is an age restriction on the site — you need to be at least 13-years-old to join, though some say that this is no deterrent to children from also accessing the site.
Omegle chooses people for you to chat to at random, or if you put in your interests, it will try to match you with similar people. There is also the ability to stop a chat if you don't want to continue.
Moderation
One of the options on the site is to have the chats moderated. However, this is not a mandatory option, so only those who choose to have their chats moderated will have this feature. There is also a restriction on the chats that those under 18 can enter, and they need to have parental permission. However, there doesn't seem to be any verification of the age limit, so it could be circumvented.
Pros
While this site has many critics, there is a reason why some people might want to join.
For young adults that have problems making friends, it can be a good way to meet others with a similar interest.
Some kids like to chat with new people and find out about them.
Video chat isn't the only way to chat so those who just want to message can do so.
The site claims to be moderated by real people.
Cons
Unfortunately, there are areas where parents are growing concerned with on the site.
Because of the randomness of the chats, bullies can go undetected and cause a problem.
Those who are trying to chat with kids for criminal purposes will like the fact that it is random and hard to track.
Parents won't be able to tell who their children are talking to.
Kids can divulge personal data to anyone on the site.
There is no age verification.
What Can Parents Do?
It's a good idea to ensure that parents are aware of the dangers of Omegle and that they teach their children the dangers of such chat sites. If they think that they can safely let their children use the site, then it's important to ensure that no personal data is given out. Insisting that all chats are conducted with parents present or via chat instead of video can also help to lower the risk.
As with all online activity, it's vital that parents teach their children the importance of online safety and report anything that is suspicious.