Kikutext Helps Teachers Communicate With Parents Via Text Messaging
Being a teacher can be a wonderful experience, but it's quite exasperating too, especially early on. And, as if your classroom duties weren't enough, you're required to maintain consistent communication with lots of anxious parents and enhance school-to-home interaction, so students perform better. While these apparently conflicting demands are stressful, they're also central to your teaching experience, and hence, implacable. Kikutext is a web application that understands the necessity of these stresses and seeks to mitigate them. Using the system, teachers are able to send quick individualized status updates directly to parents' cell phones as text messages. Parents can respond to these updates by simply replying to a message from their cell phone.
You'll need to sign up for an account, and enter your school's name and location as well as the grade and subject you're teaching. The starting interface is as elegant as it is simple.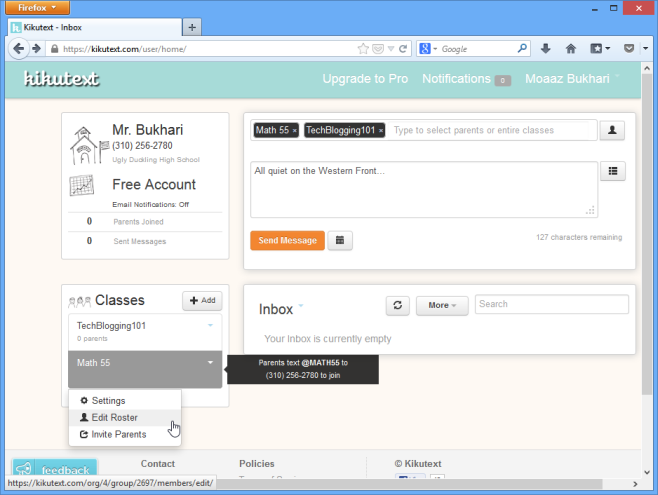 Kikutext works in two straightforward steps. First, you 'Add' a class from the button on the left and create its unique @class code. Next, you click your newly created class and go to 'Invite Parents' from the menu. A message board will open up, where you can type in a brief invite to send to parents, along with the @code they'll need to reply with to join. In the text field below your message, enter the parents' phone numbers.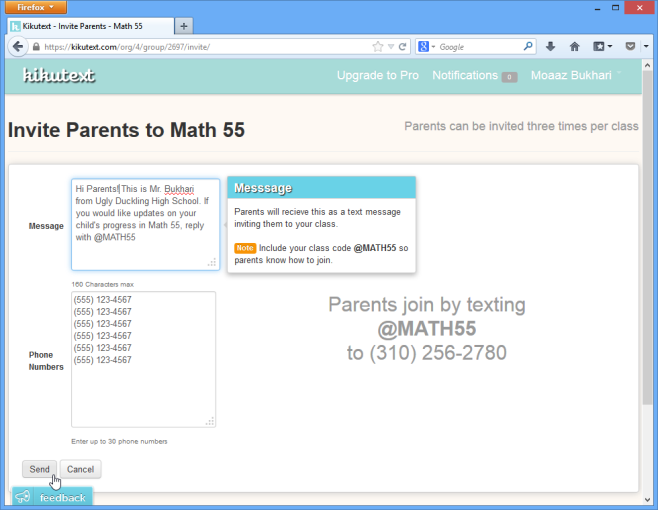 Parents will receive your invite as a text message on their cell phones. They'll have to reply with the code in order to join your roster and receive your updates. And that's it! You're all set to keep both ends of Johnny's little world fully appraised of each other. If you want to change a class's settings or edit the parent roster, you can do so from the same drop-down menu I mentioned above, by clicking on a class in the home window.
Kikutext also deals with scenarios if a teacher doesn't have a parent's phone number or if both parties would prefer to maintain their privacy. The application generates a unique Kikutext number (present under your teacher nickname in the main window, to the left) which you can hand out, along with the @code, in the next parent-teacher meeting. Teachers only see names, and the parents' numbers are hidden. Similarly, parents only see the Kikutext phone number, thus no personal contact information is disclosed to either party by Kikutext. To unsubscribe, a parent need only text in "STOP" to discontinue all updates from every class. For individual classes, they'll need to reply with "STOP" followed by the class's code. For example, "STOP @MATH55" will allow parents to unsubscribe from Math55's updates while continuing to receive them for all other classes.
Getting back to how the communication works; let's take a look at the first screenshot again. Messaging is flexible; teachers can choose to send messages to one parent, a group of parents, or the whole class's parents. All conversations are fully logged. For quick, common messages, you can use Kikutext's template function via the button next to the message field. You will be able to add new templates or edit the existing ones from here.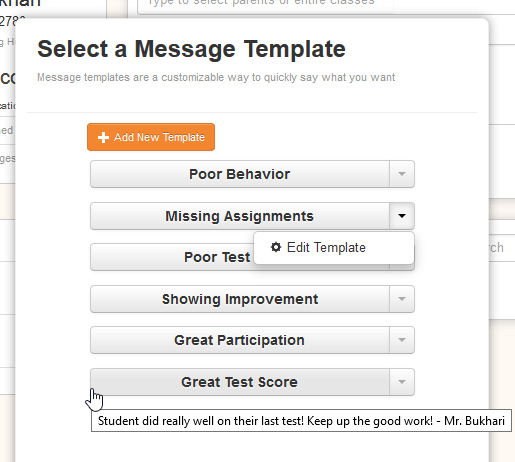 In order to schedule messages to auto-send at a later date, use the calendar icon next to the orange 'Send Message' button. You can set when to send your message from the popup calendar, down to the hour and minute.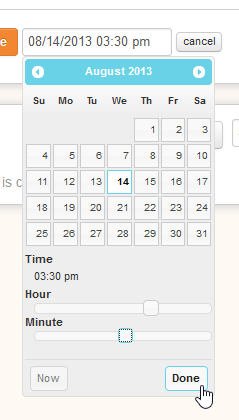 There's an 'Email Notifications' link under 'Free Account' on your right. From here, you can opt to receive emails for incoming text messages. The 'Notification Delay' field lets you specify how long a message should remain in your inbox before Kikutext emails it to you.
Kikutext is free, but there's a cap on how many messages you can send out from a free account (60/month). Also, you can only add up to two classes and maintain a limited roster of fifteen parents. This is probably enough for a lot of smaller, elementary-to-middle grade teachers, but professionals with a greater workload should consider the modestly priced Pro versions that offer up to virtually unlimited messaging resources.