Kraken Greatly Reduces PNG, JPG, GIF & SVG Image Sizes Without Noticeable Loss In Quality
Reducing the size of large images is a common task among people who often deal with images. If you're a photographer, blogger, or anyone who constantly comes across the need to upload a ton of images to blogs or for sharing via email attachments or social media, you surely have an idea about the importance of compression. Images smaller in size not only save upload time, but also internet bandwidth. Web apps like Smush.it, TinyPNG and JPEGmini etc. are fairly popular among photo junkies for reducing picture size while keeping the quality reasonably the same to the naked eye. Kraken is another such web service that aims to help you with compressing your images without compromising their quality. It differs from TinyPNG and JPEGmini in that it supports multiple image formats including PNG, JPEG, GIF and even SVG. It also features lossless and lossy optimization modes, giving you flexibility and choice between quality and compression.
Kraken allows you to work with images stored on your local storage as well as those already on the internet via specifying their URL. To get started, visit Kraken using the link provided at the end of this post and click the 'Try Free Web Interface' button.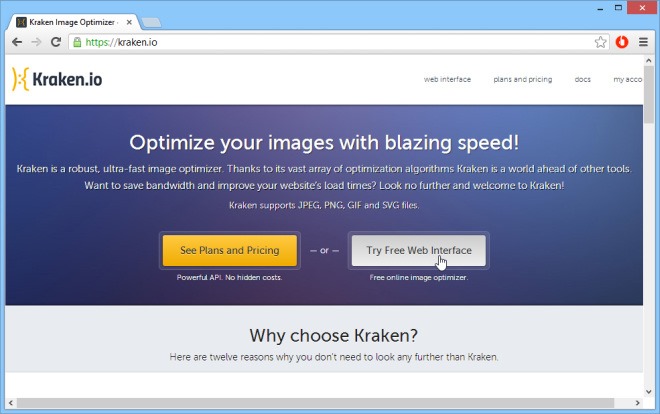 From there, all you have to do is upload the image(s) or provide their URL,s and let the website process them for you. You can upload the image either via simple drag and drop or by clicking 'Select files from disk' to specify the target size. Alternatively, you can point Kraken to a remote image location by clicking URL Paster, followed by providing the image link(s). When it comes to the optimization modes, Lossless helps you reduce image size without any loss in image quality, while Lossy compression is designed to reduce image size up to 90% with an almost unnoticeable loss in quality. You may need to try both modes separately to find your desired outcome.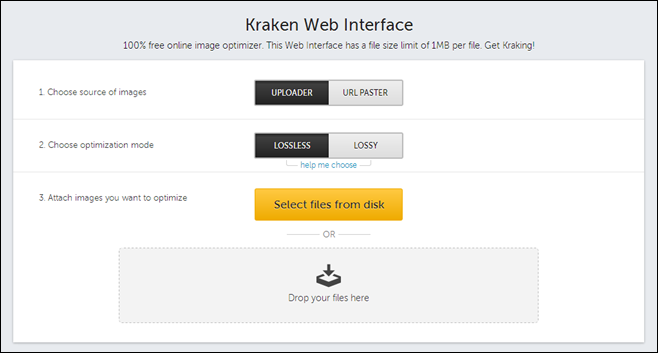 Upon specifying the target location, the app begins to 'Krake' the image for you in order to tweak its size and quality. If an image can't be compressed more than its original size based on your selected optimization mode, Kraken displays 'No saving' message. Similarly, it automatically provides a download link for the files it was able to compress. You can compress and download multiple files in one go.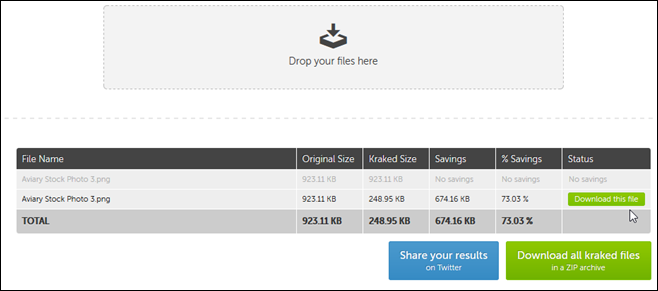 Here is a before and after comparison of an same image compressed via Kraken. Once can easily see that the web app did a flawless job of lowering image size by over 73%, with no noticeable loss in quality.
Kraken also provides a powerful API for implementing the tool into your own projects for as low as $19 /month for a basic account.