Loupe: Create Awesome One-Click Collages With Your Facebook, Twitter & Instagram Photos [Web]
Loupe is a free web application that lets you create gorgeous collages of shapes using photos from your Facebook, Twitter, Tumblr, Instagram accounts and other online sources. The tool is as simple and elegant as they come; it allows you to pick photos from multiple albums and social networks and shape your collages as hearts, butterflies, a variety of symbols, logos and more, all in a few clicks. Once your collage is ready, you can share it with your friends and social networks. More after the break.
To start off, connect the app with your Facebook account, and once done, click Get Started.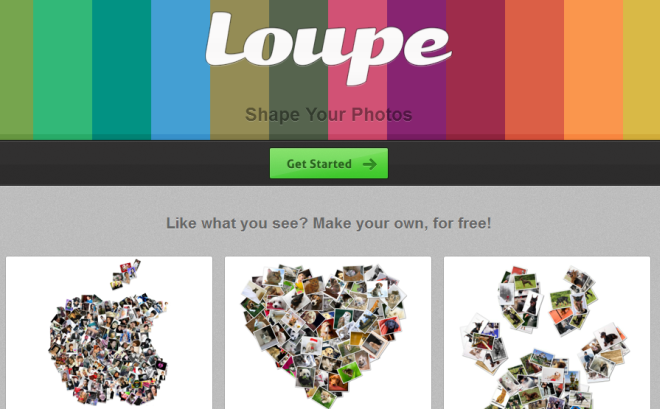 Next, you will be able to select a social network as the source of photos for the collage, where available options include Facebook, Twitter or Instagram. Photos are displayed within the pop up for each social portal. Creating a collage is very simple; all you have to do is select individual images, or click the All button to select the entire collection, and hit the Add Photos button. Note that you will also be able to use your friends' photos and mix images from different albums.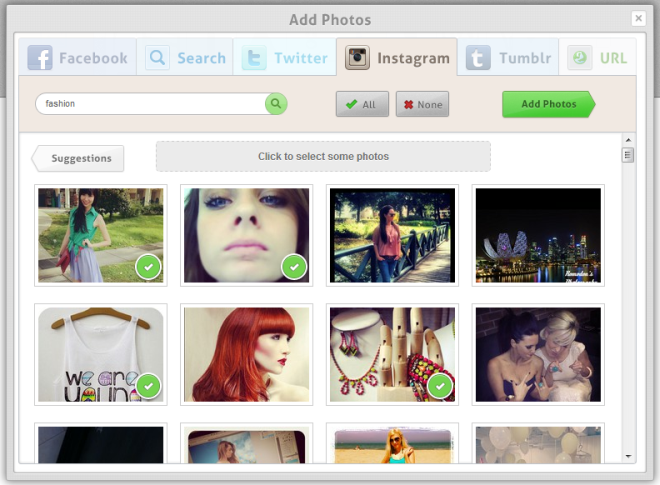 Once the images have been added, you will be able to select different shapes and logos using a slider displayed at the top of the page. To edit a collage, click the Edit button and start moving photos around. Pictures can be moved around to create original shapes, or to fix their position.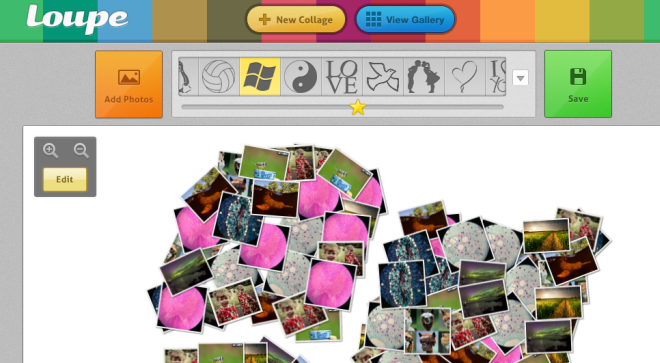 When your collage is ready, you may Save and share it on your social networks, email it, copy the embed link, or download it to the local system.
The app focuses more on the shapes that result from the collage, and not on the actual photos, so you don't really need to worry about privacy issues, as the photos are added to the collage in quite a small size. Overall, Loupe is a nice web application that lets you play around with your photos and create all types of collages.