Manage Your Open Chrome Tabs In Tree View With Session History Support
Google has catered a really large user base with their Chrome web browser. Although unleashed rather late in comparison to other web browsers, such as Opera, Firefox or Safari, it quickly captured a considerable chunk of market share, even topping many people's favorite web browser list. Being a Google Chrome user, if you have a habit of keeping tens, or maybe hundreds, of tabs open simultaneously, then you must also have an idea of how hard it is to manage those tabs, especially if you're a notebook user. It becomes quite difficult to look for a particular tab due to space conservation. One extremely handy alternative solution you can try is Tabs Outliner. This lightweight Chrome extension aims to flourish your web experience, if you know how to make the best use of it. Tabs Outliner does have a steep learning curve, but once you get the hang of it, it's sure to make your life uber-easy. The extension is designed to provide a tree structure for all your opened tabs, letting you sort them in groups, add annotation notes, and also keep a history of past sessions.
Once successfully installed, the extensions places its miniscule button on the quick access bar. You can click this button to open Tab Outliner's Main View window, which houses tab Tree and all its related features.
The Main View window acts as gateway to all the opened tabs by grouping them with respect to their holding windows. You may also create custom groups for the tabs; for example, it you want all Amazon tabs to appear separately from the rest, you can create a new group, name it "Amazon" and move those tabs under the newly created group. You can easily move any tab from the Tree by dragging it up and down, and even move it from one window to the other.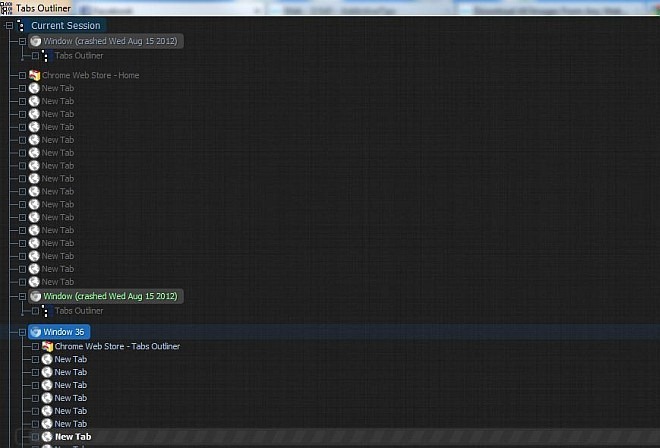 Hovering the mouse pointer over a tab pops up two additional buttons to the right i.e. Close and Trash. While clicking Close button exits the particular tab, trashing the tab makes it vanish even from tabs history.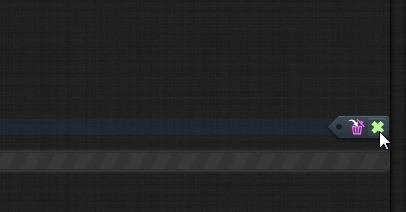 Move your mouse pointer at the very bottom left side of the Main View window and you will be introduced with a small navigation panel. This panel provides a shortcut to open New Window and lets you add new Note, Group, Separator or Google Doc. It also allows you to Clone the Main View window into another one, which makes it easy to drag & drop tabs from window to window, or from one group to the other. Additional features include Undo Scroll, Scroll Up to next Open Window, Save and Close All Open Windows and Expand All (tabs in Tree).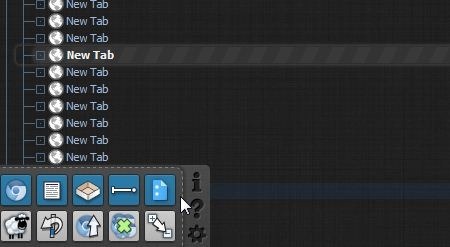 Overall, Tabs Outliner is an awesome extension that provides a handsome way to manage your tabs. If you have any other similar extensions to share, please don't hesitate to do so.