Hands-On With MixBit, YouTube Founders' Answer To Vine & Instagram Video
With high-speed, fourth-generation mobile internet now the norm in well-developed countries, sharing videos on the go is the next 'in' thing in mobile apps. Although there were plenty of video-sharing apps before it, Twitter's Vine rebooted the category when it launched earlier this year. Facebook's Instagram later followed suit, and now Chad Hurley and Steven Chen, co-founders of the world's most popular video website – YouTube.com – have come up with their own take on video sharing on the go. Check it out after the jump.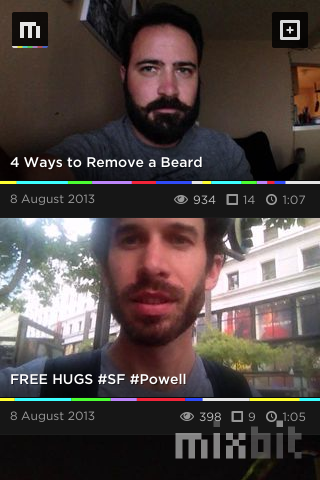 Named MixBit, the app takes elements from Vine and Instagram, combines them with Vyclone, and adds its own interesting spin for a unique video sharing app.
With MixBit, you can shoot video clips of 16 seconds or less, combine them together (up to 256 clips can be combined this way, resulting in videos as long as an hour), and share them on Facebook, Twitter, and MixBit's own social network.
To help you with that, MixBit comes with basic video editing tools that are sorely missing from Vine and Instagram. After recording clips in a style similar to Vine by tapping and holding anywhere on the screen, you are allowed to re-order clips, individually trim them, duplicate them, and delete them.
But that would make MixBit yet another video-sharing app, wouldn't it? What's different with it is how each video clip you share publicly can be used by other MixBit users in their own videos; Mixing Bits of other people's videos to create another unique video.
You can easily view individual clips in other people's public videos, and tap-and-hold them to save them your 'Saved Clips' folder that you can access from mixbit.com after registering an account. For some incredibly odd reason, I was unable to find them locally through the iOS app. With these Saved Clips and your own, you can – in theory – create unique content.
On the face of it, MixBit is yet another video-sharing service, but look a little deeper, and you will find something fundamentally different. MixBit not only allows remixing other people's videos, it encourages it. Right now, though, the featured video section looks like a Vine rip-off, albeit with videos longer than 6 seconds. It's up to the community to come up with compelling content.
MixBit is available for iOS only at the moment, but an Android app is on its way. You can also sign in to mixbit.com to make and share videos from saved clips.