Movieo: Discover Movies Starring Your Favorite Actor And More
Monday is supposed to be a productive day, and possibly an unpleasant one since it's the start of the week and today some of you might still be high on candy from the Trick or treating. Mondays end and at the end of a Monday, a pick-me-up movie is a pretty good idea. Movieo is a web service for finding movies and we've covered a whole bunch of other apps and services that do just this. Movieo sets itself apart by letting you search for movies by actor. It supports other common movie filters as well such as genre, year of release, and country of production.
Movieo as a service lets you track which movies you've watched and you can sign in to the service using your Twitter or Google account. There is no need to connect your Facebook profile, or sign up to the service separately.
The filters are all located on the left bar. You can choose a year range for when a movie was released, select the country of origin, and the genre of the movie. Top movie results are sorted by IMDb rating however if you prefer it, you can sort them by the RT Tomatometer or the RT Audience meter. To change your preference, click the drop-down at the top right and select a different rating system.
Unlike most other services that cut corners by linking to a movie's IMDb page, Movieo features a dedicated page for all movies and even suggests movies based on the one you're currently looking up.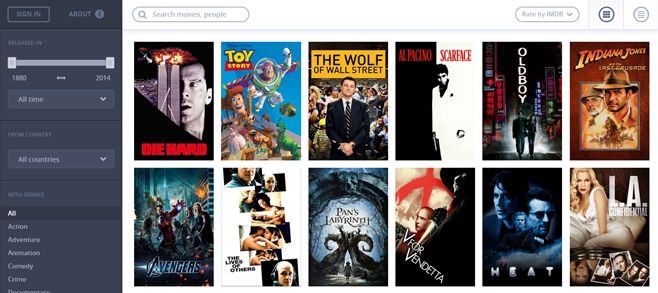 To look up all movies that your favorite actor has starred in, use the search bar at the top. The search bar supports two criteria for searching; movie name and actor name. It also suggests an actor's name based on what you type. The search results will yield movies that said actor has played anything from a major to a minor role in.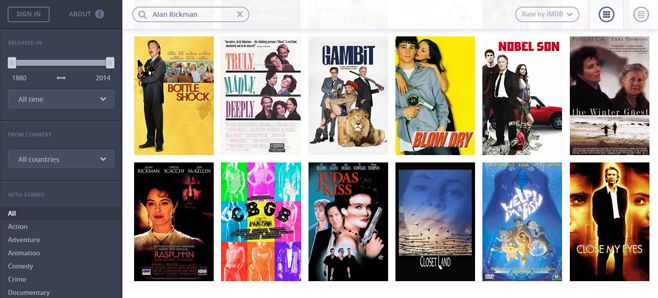 Movieo lets you view results in two different layouts; the thumbnail featuring grid layout, and a list layout. You can switch layouts from the button at the top right. You can watch the trailer for each movie (via embedded YouTube videos) and go to a movie's IMDb page from Movieo's dedicated page for a movie.