MultiPLX Is An Elegant, Pinterest-Like Web Based RSS Reader
Feedly is emerging as the number one contender in the list of online RSS services that will likely replace Google Reader. Though with a few months still left until users have to make the final switch, there is time enough for it to be anyone's game. MultiPLX is yet another RSS web app that works independently of Google. It will import your feeds from an XML/OPML file while retaining their folder structure. You can share an item across multiple social networks, star them, email a story, discover new feeds to follow, and easily organize your feeds. Of the many RSS services we reviewed in out list of Google Reader Alternatives, none allowed you to export your starred or shared items to a JSON file like Google does in Google Takeout. MultiPLX, however, provides the option to do so. It still lacks the ability to import the JSON file that you've exported from Google Reader.
MultiPLX is in private beta so will have to join the waiting list to get access, but they are fairly fast with the invite codes. Once you've gained access to the service, you can either add feeds on the topics suggested by the service, or import your feeds from an XML file. Importing may take a little time, depending on the number of your feeds.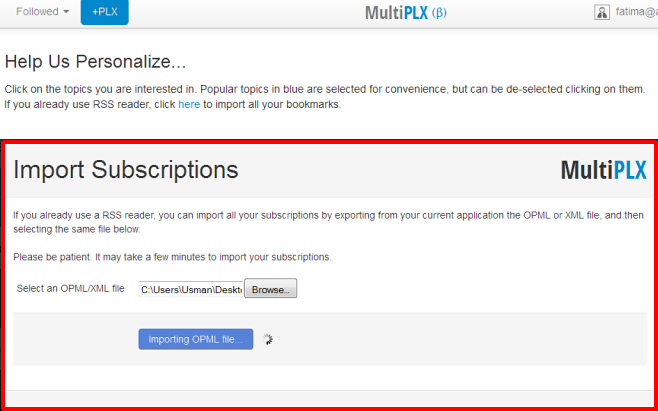 MultiPLX's interface can be best described as the baby Google Reader and Pinterest would have. Once feeds have loaded, the individual news items appear as news tiles which, when clicked, open the story in a popup on the page.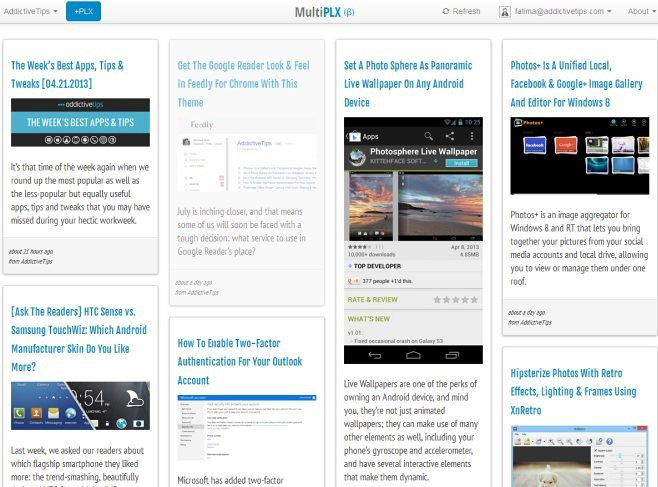 From the drop-down menu at the top-left, you can select the feed or folder you want to read news from. Clicking 'Manage Followed' allows you to manage your feeds.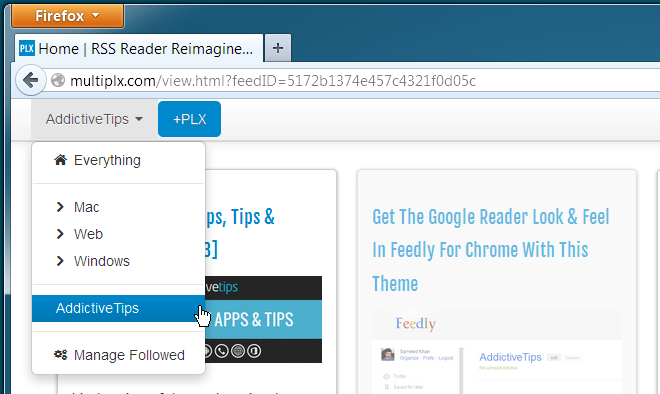 On the 'Manage Followed' page, you can move a feed to another folder, delete it, create a new folder and move feeds to it, or delete an entire folder. To access the 'Manage Followed' page, click your account's drop-down menu at the top-right, followed by the 'Settings' option. Click 'Import/Export' on the left from the 'Manage Followed' page to either import feeds (if you didn't already do so to start with), or export them.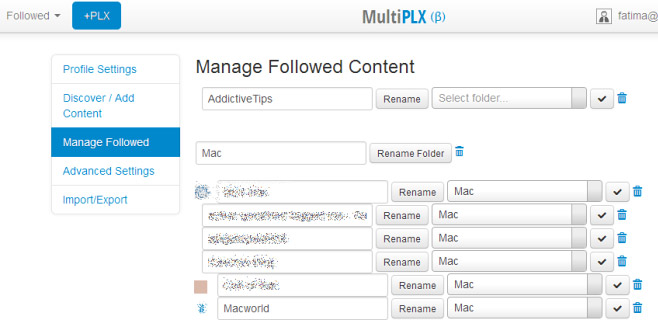 When a news item is clicked, it opens in a popup on the page. You can switch to a full screen mode in this viewer by clicking the full screen button at the top-right. You don't really get a true full screen view though; there is a lot of wasted white space on both sides, and the page is not responsive to window size.  You can 'star' any item or like it on Facebook from the top-left. Buttons for sharing the news item on social media sites are all located at the bottom. You can move to the next or previous story using the Previous | Next links at the bottom-right. Clicking the cross button or hitting Escape closes the popup. Stories that you've read fade out slightly, so that they're distinguishable from the rest.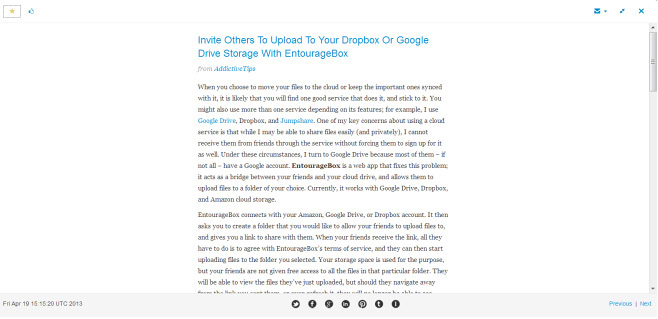 What we like about MultiPLX is its potential. A number of RSS services are trying to fill Google Reader's shoes, but most of them are paying little to no attention to the information a user would like to import. Many users are faced with the prospect of losing items they've shared, liked or starred, and it seems that MultiPLX, with its support to export them, might add support to import them in the future as well, and that would make it the best option for such users.