A Detailed Look At The New Google+ With Card-Based UI, Hangouts, Awesome Photo Tweaks & More
Yesterday at Google's I/O conference, the tech giant announced its much anticipated Music subscription service, revamped Google Maps, and the redesigned Google+. For most of us, Google+ failed to replace Facebook and the many comparisons drawn between the two services failed to sway users in favor of Google's offering. Soon after its debut last year, many of us had discounted it as another failed social network from the search giant. Google, on the other, has not conceded and has been making small improvements as well as significant new additions like Communities to the social network. The latest design is very Pinterest-like; the left bar can now be hidden, making it less of a screen hog. It's also been cleaned up a bit and the 'Explore' option has been replaced with 'What's Hot'. Those who didn't like the two-column Timeline view that Facebook introduced might not like the new Google+ layout, which is divided into not even two but three columns.
Fortunately, you can return to viewing your updates in a single column. If you visit your profile page, you will notice, apart from the ginormous cover picture, that you now have two bars sticking to the top when you scroll down. Your 'Home' page also had a thinner bar that sticks to the top and makes it easier to switch between your different circles. Google has also made improvements that help you organize photos better. Your photos are now digitally enhanced when uploaded, recent photos are highlighted, and all photos taken from your mobile devices are backed up.
Home
When you sign in to Google+, you are greeted by the Home page and the new design is quite obvious, as is its similarity to Pinterest. The left bar auto-hides itself and will reappear when you move your mouse to the left side of your screen. Unlike before, GTalk will not load automatically in Google+; it's been replaced with Google Hangouts and the button at the top-right will let you toggle the Hangouts sidebar's visibility.

The new layout is cleaner and it does away with the overbearing left sidebar, which wasn't just unsightly but also made it difficult to view updates on a small screen. The column layout is nice to look at, but it isn't 'intelligent' about making the best use of available space, and you will find that space is easily wasted between the Pinterest-like cards and the two bars on either side of your screen. At the very top, there are links to your different Circles. Switching to a Circle allows you to view feeds from that Circle only. If you aren't happy with the two or three column layout, click the 'more' button and select the single column layout.
Activity Cards
Activity and updates appear in Pinterest-like cards. They're clean and bring focus to hashtags used in the update. No functionality has been lost; you can still mute posts, link to them, or remove the user from your circle.
Improved Sidebar
The icons on the left sidebar are now much smaller and all comfortably fit in a single list; the 'more' button is no more (or Never More, if you're a Poe fan). The 'What's Hot' button has replaced the 'Explore' button, and you will notice that trending stories now appear in your feed as well. Perhaps it's a preview of things to come, and Google+ might eventually roll out its own version of Promoted stories.

Photos
Of the four new additions to Photos, 'Auto Enhance' and 'Auto Highlight' are possibly the best ones. When you upload photos, Google+ will automatically enhance them. At the top-left of the photo viewer, you now see an 'Enhanced' button. Click and hold it to view the original image, or click the 'Revert' link to restore the original image to your album.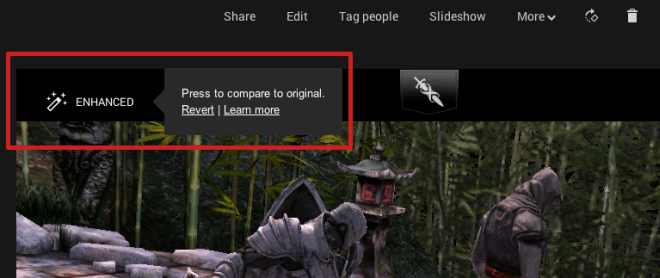 Auto Backup (previously Instant Upload), as the name implies, will automatically backup all photos that you snap on your mobile devices. So long as the photos are 2048px (or less), you get store an unlimited number of them. For larger resolution photos, your Google Drive's storage will be used, which amounts to 15GB for free accounts.
The Auto Highlight feature is meant to help you find photos faster. When you visit Photos, you will land on the Highlights tab. Here Google+ will display photos that it thinks are more relevant. The feature will keep on learning and improving, the more it is used. The point is to make it easier for you to find the right photos at the right time.

Lastly, there's the Auto Awesome feature that will at times automatically create brand new images using the existing photos in your library. For instance, if it's a sequence of photos you've snapped, this feature could automatically create an animation out of them, or stitch together multiple photos of people taken in the same setting into one group photo. All in all, this sounds pretty interesting, to say the least.
Hangouts
Google+ has launched standalone Hangout apps for iOS and Android, and an extension for Chrome. The idea is to bring Google+'s Hangouts feature to every major platform out there, letting users take their conversations with them across devices. You can learn more about that at our detailed hands-on review of Google Hangouts mobile apps and Chrome extension. Between the old and new hangouts, I am partial to the old one for the simple reason that it worked well for me. The new Hangouts has been buggy in my experience, to say the least, with connectivity problems with my Google Apps account. Unless this connectivity problem is resolved, many of us who depend on a Google Apps account will be without a means to chat within Google+.
Conclusion
Unlike interface changes that Facebook makes, most of which I personally find unnecessary and occasionally confusing, the Google+ redesign feels pretty good! The old 'Home' view was never good; it dedicated too much screen space to show you who to follow, and the left sidebar with its grayed out icons was a bit too big. Add to this the chat bar, and you had a very messy and distracting interface that made it difficult to focus on your updates. All these issues have been addressed in the new interface, making it a very welcome update to the service.