Niice Is A Unified Search Engine For Behance, Dribbble & Designspiration
The world of digital art is amazing; whether you're an aspiring designer, or just someone looking for cool posters to hang at your work space, you can go online and lose yourself in the vast variety of images available. Niice is a little web app that you are bound to like if you're a designer. It's a three-in-one search engine that displays digital artwork from Behance, Dribbble, and Designspiration. You can search for artwork related to anything from these three sites. The images that match your search are previewed on Niice's own interface, and clicking any of them opens it at its source. The interface is somewhat like that of Pinterest, without the clutter of social media buttons and comments. Niice isn't built to create any sort of social network; it is rather meant to help you find inspiration art for your projects or everyday life.
You'll love Niice's interface; the app supports a single advertisement on its main page in the top-left corner, but it is extremely unobtrusive, obvious to spot, and visually pleasant to look at to go with the rest of the interface. Niice stays focused to its purpose and apart from the search bar at the top, you will not find anything else that would otherwise interfere with viewing the artwork. The images you see are previews and they will resize according to the browser window's size. Type a keyword in the search bar, hit enter and enjoy what Niice finds. You can load more images by merely scrolling down.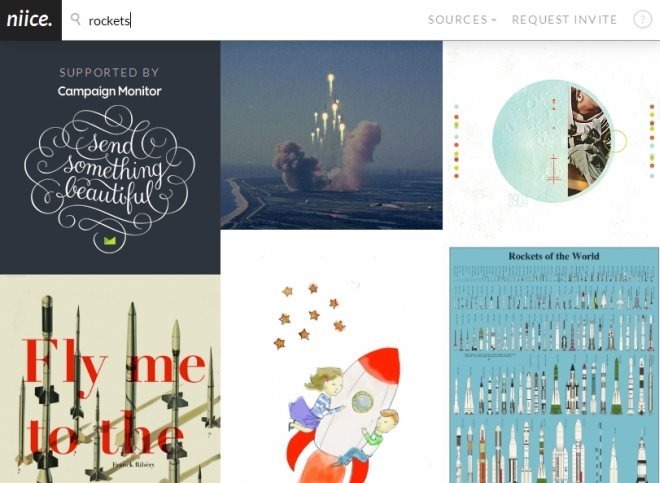 As we mentioned above, Niice searches three websites – Behance, Dribbble, Designspiration. While you can't add more sources, you can exclude any one of these three from your search queries by turning them off from the 'Sources' drop-down.

Niice has user accounts in the works ,and you can sign up for early access. These accounts will allow you to create collections of the images that you search and like. You can sign up for being notified about the roll-out of user accounts from the 'request Invite' option at the top.
Niice has a great search engine and the results are just as good as searching on those you get on the source sites themselves. What's slightly disappointing is that there is no way to narrow the search down by parameters such as color. If you search on Designspiration, you can search by narrowing the images down by five colors, but you can't do so in Niice. However, one way to do it is to specify in the search bar what color you want the image to be in. Besides the interface, Niice is good for a quick and comprehensive image search on these services.
[via The Next Web]