Open IT Online Integrates Popular Document & Image Viewers & Editors With Your Browser
Have you ever had one of those instances where you really needed to open a Word document, but didn't want to fire up Microsoft Office and waste precious system resources? Or did you experience events when you wanted to edit an image but had no desire to install Photoshop or any specific software? Open IT Online, an extension/add-on for all major browsers, does it all for you! This utility enables you to open and edit your files in the browser window, as opposed to downloading the file and opening it via an external application. Open IT Online Lite integrates Google Docs Viewer, Zoho, View Docs Online and Vuzit for documents, and Pixlr, Sumo Paint, Picnik and Snipshot for images. You no longer need to have any software installed to view and edit documents, spreadsheets, presentations etc, or to edit any image.
Open IT Online is compatible will all famous browsers, including Firefox, Internet Explorer, Google Chrome and Opera 11, allowing users with varying preferences and browser-bias to open and edit documents from all over the globe. Apart from being more comfortable for the user, the fact that these browsers are what you'd usually find on almost any machine, makes Open IT Online truly universal.

Essentially, instead of having users download files to their computer and using a local, offline editor to view and edit them, Open IT Online renders your desired documents and images using an online editor. The extension allows users to open and edit the following:
Documents (*.doc, *.docx, *.rtf, *.odt, *.sxw)
Spreadsheets (*.xls, *.xlsx, *.csv, *.ods, *.sxc)
Presentations (*.ppt, *.pptx, *.pps, *.odp, *.sxi)
Images (*.jpg, *.gif, *.png)
As stated above, rather than enlisting an independent proprietary platform, Open IT Online makes use of already trusted and tested names in the game, including the likes of  Google Docs, Zoho, View Docs Online, Vuzit, Pixlr, Picnik, Snipshot, and Sumo Paint, for both documents and images.
Using the tool is fairly simple. Right-click any document's link from within your preferred web browser, hit Open Document with Open IT Online from the context menu, and select which service you'd like to use.

I chose Google Viewer to open a test document, the output of which you can see below. Do note that all the editing options of Google Viewer are available, despite it being an external, third-party document.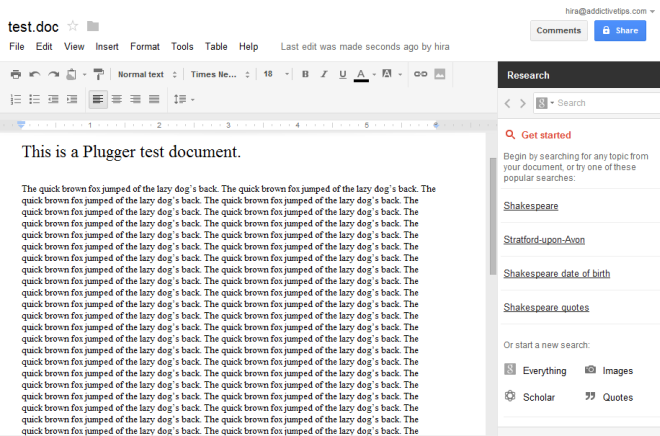 Likewise, you may follow suit for images, whereby the extension automatically detects the nature of your selection, and populates the context menu list with online image editors instead of document viewers in this instance.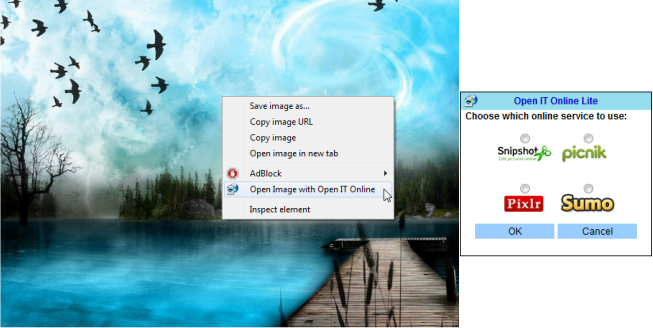 I chose Pixlr for my testing, as you can see in the screenshot below.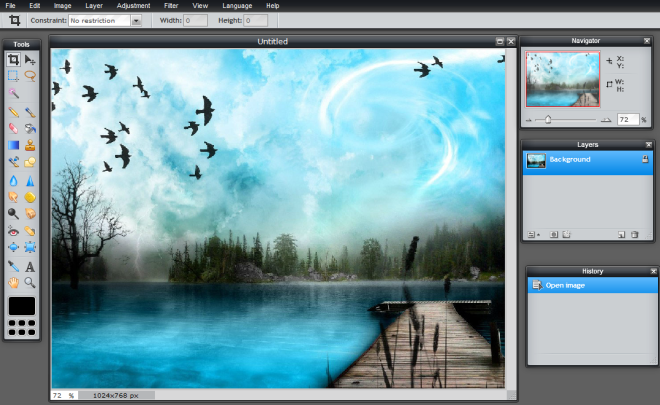 Unfortunately, Open IT Online will not open documents attached to a web-based email message, so we hope developers will add this feature in future versions. Nonetheless, this extension can be a very handy tool to keep in your arsenal. Forget Microsoft Office, Star Office, Open Office, Photoshop or any other application; Open IT Online does the work of them all for you!