Previeweet For Chrome Shows Image Preview Thumbnails Over Tweets
Twitter lets you view images and play videos directly in the tweets, which works great and keeps you hooked to your timeline. Instagram has recently been removed from the list of services that Twitter shows directly shows you images from, but many other popular services are still supported. Previeweet is a Chrome extension that one-ups this feature in Twitter and allows you to see a thumbnail preview of tweeted images without having to open the tweets first. The thumbnail will sometimes be accompanied by a badge to show you which service it's been shared from. Clicking the thumbnail loads the image in Twitter.
Once installed, you will have to refresh your timeline for Previeweet to start showing you image thumbnails. If you don't see them even after refreshing your timeline once, try refreshing using Ctrl+R since Twitter's cache might be keeping the extension from loading the previews. Clicking the thumbnail preview will expand the tweet and allow you to view. You will have to click the image yourself in the expanded view to open it in Twitter's image viewer.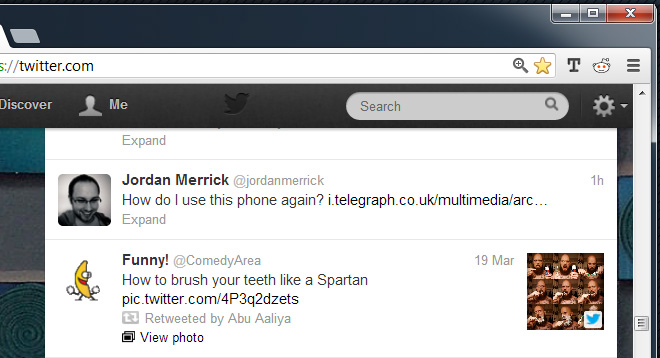 Previeweet supports a long list of services; Dribbble, pic.twitter.com, Instagram, Photobucket, Facebook,  Yfrog, Twitpic, Twitvid, Flickr, Imgur, and more. It also shows previews for videos shared via Twitvid but surprisingly, it did not show thumbnails of videos shared via YouTube. The extension doesn't explicitly state that it supports YouTube and if it doesn't, the developer should consider adding support for it.
Previeweet will naturally have some limitations. For example, if someone has shared a Facebook picture that isn't publicly visible, Previeweet might not be able to show you a thumbnail for it. Although we didn't experience it, it is likely that your timeline might load a little slower as Previeweet generates the previews. Any increase in delay will be noticeable only if your feed is full of images.
Apart from adding support for YouTube video thumbnails, it would also help if the extension could automatically expand the tweets with images or videos. The feature should be left for the user to toggle on or off. Previeweet is meant to enrich your Twitter browsing experience but it's also a good way to tell if you should open a particular image at work or not. Twitter, unlike Reddit, does not have an NSFW tag, and sometimes people tweet pictures carelessly. Overall, Previeweet is pretty swell for those who like to see the images tweeted by their tweeps, and would want to go through them faster. For more image viewing features on Twitter, give Please bring back photo grid view a try.
Install Previeweet From The Chrome Web Store