PrimaTIME Offers Web-Based Project Management With Statistics Logging
Having a hard time managing your projects? Unable to meet deadlines due to incessant procrastination? Perhaps you need more focus and a time tracking tool to get the job done. PrimaTIME is a web app that allows you to keep a tab on your projects and get the most out of your time by effectively managing your tasks. The app aims to boast your productivity by enabling you to track how much time you've being spending on each task using impulses, which are basically stimuli from your past projects. It can be collaboratively used among up to 3 users on a free account, with an extended license upgrade available for $3.99 /month for additional slots.
To get started, visit PrimeTIME via the link provided at the end of this review and click 'Start Free'. You can also alternatively click 'Create Account' on either the tab bar or the top navigation of the website.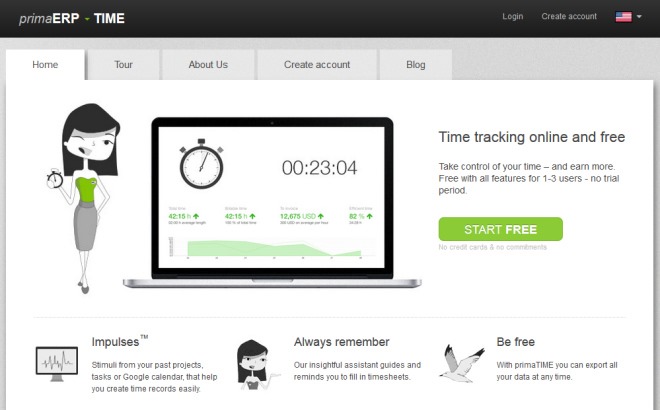 The mandatory sign up procedure comprises of entering some basic information such as the your desired account name, primaTIME subdomain (such as XYZ.primaerp.com) and your email. It should also be mentioned here that a free account only offers up to 100MB of storage space for projects, which should suffice for most individuals or small groups, but wouldn't be adequate for large groups or companies. So, if you run large scale projects, then additional storage options of 5GB, 50GB and 100GB are also available with price tags of $2, $20 and $40 per month respectively.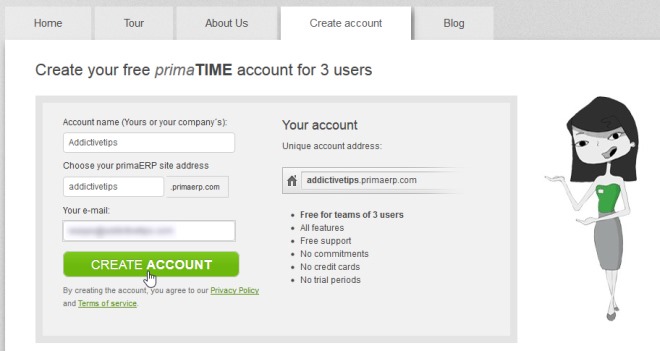 The sign up wizard also requires you to specify a password that you will use for logging into your account. Click the 'Enter The Application' button when ready.
After the end of the sign up wizard, PrimaTIME takes you to a welcome screen where you need to mention your full name, clients, project names and tasks, as well as your billing hours rate in USD. Just type the pertaining details when asked and click Next until you land on the main dashboard.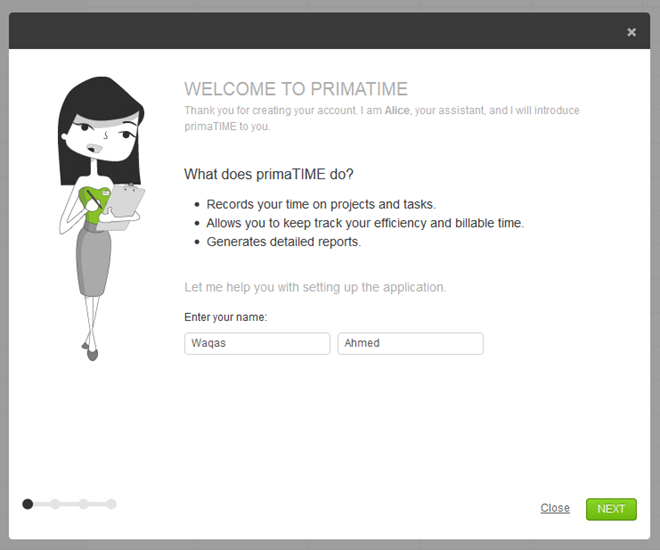 If you like plain and flat designs, you will instantly fall for PrimaTIME's layout, which is quite simply and minimal, and feels great to navigate around. On the right, you will find a stopwatch that will monitor your current task time in real time. Beneath this stopwatch are your weekly statistics that showcase a bar chart about how have you been meeting your previous deadlines the whole week. The middle section of the interface – called Timecord –  is where all your current projects appear in calendar slots. You can also zoom in and out of your calendar timeline as well as access your Agenda and Timesheet from the left side.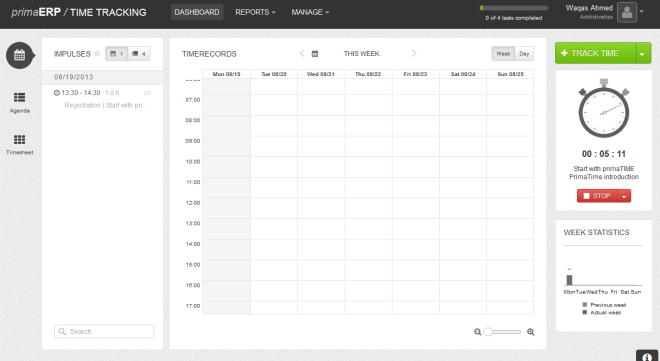 To add a new Timecord, just click any calendar slot followed by specifying a few details related to your project including owner, project and task name, a succinct summary about the task, start and end time, total duration, activity name, and total payable amount in hours if your task is billable. Once submitted, the track time stopwatch on your dashboard starts monitoring your project.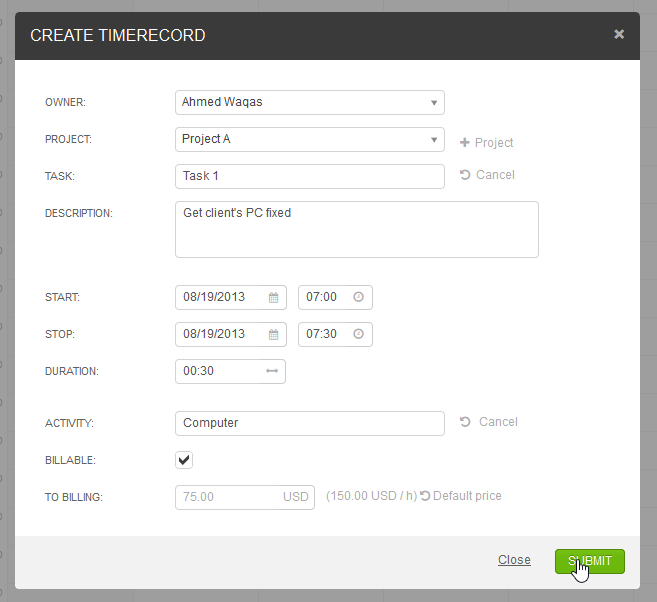 Complete statistical reports can also be accessed, allowing you to analyze your previous projects and tasks, and make improvements to your future goals. The user report presents detailed diagrams, description and information about different areas of your projects so far, along with total time that has been spent on them.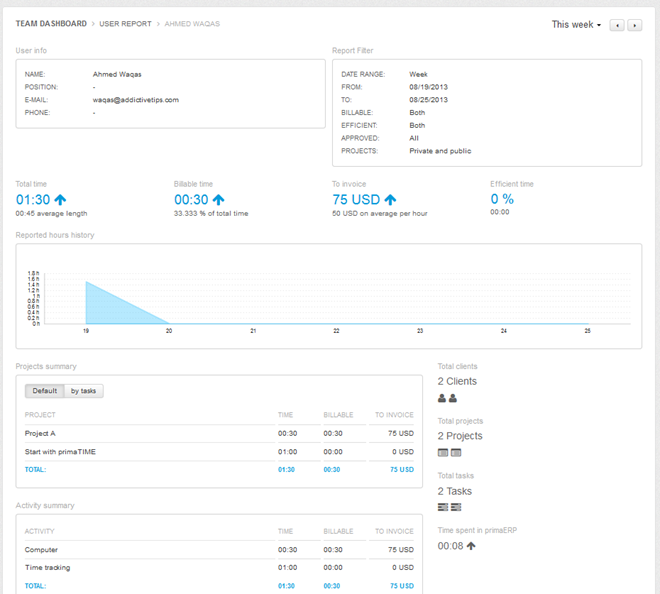 To sum things up, PrimaTIME is a feature-packed web app that makes project and task management a breeze. Its simple interface looks elegant and it works flawlessly on almost all major web browsers.