Privacy Manager Is A Control Panel For Chrome Security Settings & Junk Data Cleaning
Having too many extensions installed in Google Chrome can be very messy. Personally, I prefer to keep only those extensions that can perform two or more functions for me, instead of using multiple single-feature extensions, just to keep things tidy. Recently, I came across a feature-rich extension for Google Chrome called Privacy Manager, which allows users to manage privacy settings, manipulate security options, and perform browser temp data & history deletion operations from a single window. In addition, it also lets you quickly open any active page in incognito mode (private browsing mode).
For an extension that provides a wide range of features, the interface needs to be compact and easy to use. Privacy manager's interface meets this criteria. You can access the toggle buttons for all available features by clicking the extension's icon next to the Omnibox.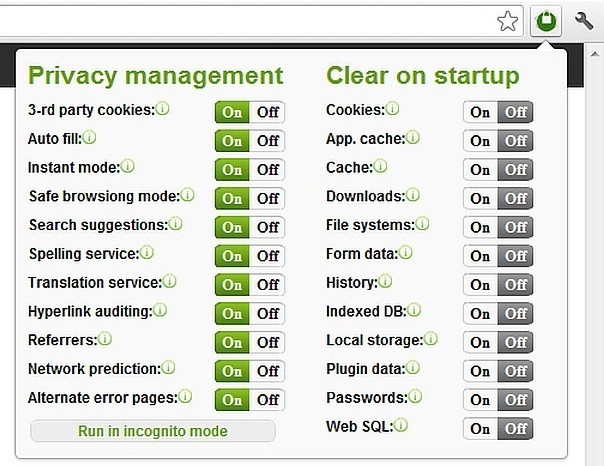 The extension has quite a few features to offer, so to save you the trouble of going through each to find out what it does, here's a list of its key features accompanied by brief descriptions.
3rd party cookies:  Lets you block 3rd party cookies to avoid tracking
Auto fill: Allows you to turn form auto-filling on/off
Instant mode: Enables or disables the option to display real-time search results as you enter text in the Omnibox
Safe browsing mode: Lets you enable/disable the option of safe browsing, which helps in protecting you against phishing or malware
Search suggestions: Turns real-time website suggestions on/off, which appear as you text you type in the Omnibox
Spelling service: Toggles Chrome's spell check feature
Translation service: Toggles the option to get offers for translating websites/pages that are not in the default Google Chrome language
Hyperlink auditing: Lets You opt in or out of being tracked whenever you click a hyperlink
Network predication:  Enables/disables Google Chrome's feature of speeding up browsing by pre-resolving DNS entries, pre-rendering websites and opening TCP and SSL connections to servers
Alternative error pages: Allows or prevents Google Chrome from using the web service to resolve navigation errors
Browser data deletion on startup: Lets you select the browser data that you want to keep or delete on browser startup. Delete-able browser data include cookies, cache, downloads, app cache, file systems, form data, history, indexed DB (indexing of browser database, using a key) , local storage, plugin data, password and web SQL
Run in incognito mode: A particularly useful feature that allows you to open the active webpage in a new incognito mode window
Get Privacy Manager From Chrome Web Store