Quickly Message Someone On Facebook After Deleting Their Comment
There are two big online social networks in the world today: Facebook and Twitter. I don't know about you, but I use them quite differently. I am more reserved on Facebook since I have a good number of family members added there, while I am pretty much the exact opposite on Twitter because of, well, my family members not really having knowledge of its existence. As a result, I use tight privacy settings and regularly moderate comments and wall posts on Facebook, and do nothing of the sort on Twitter.
Now, with that in mind, I came across an interesting feature on Facebook that lets you easily give feedback to someone after deleting their comment. It's quick, efficient and you can check it out after the jump.
So, for testing purposes, Sameed left a "spammy" comment on one of my status updates.

Clicking on the 'X' to remove the comment shows the following options:

Now, obviously, reporting it as abusive or blocking Sameed for this harmless comment would be overkill, so I decide to give him feedback instead: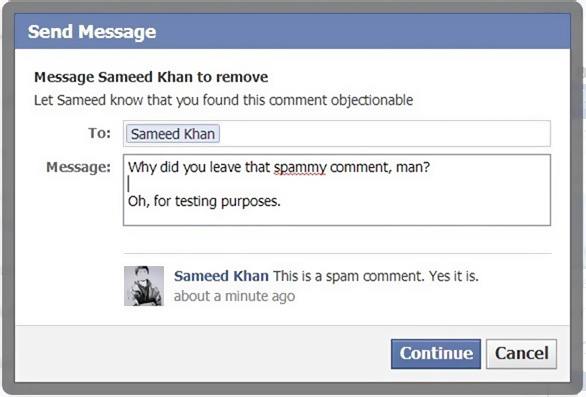 You can type in a simple message, stating your reason for why you deleted the comment. Pressing continue sends your message along with the text of the comment, the date it was added and the link to the content under which it was posted: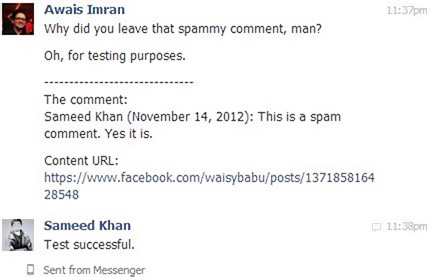 Of course, you can just delete the comment and message the person yourself, but adding the comment's content and URL would be an extra hassle that Facebook can automatically handle for you. This is what makes this method better.
Comments posted elsewhere – on pages and other Facebook profiles – can be hidden as spam. Although you will no longer be able to see the comment, the rest of the world will. If you don't like that, you can always report that person for hate speech, spam, violent/harmful behavior etc.

If you moderate a page, clicking on the "X" hides that comment as spam, and then gives you similar options for deleting, and reporting the comment as abusive or even banning that person from your page. When you send feedback, it goes through your personal account instead of the page itself.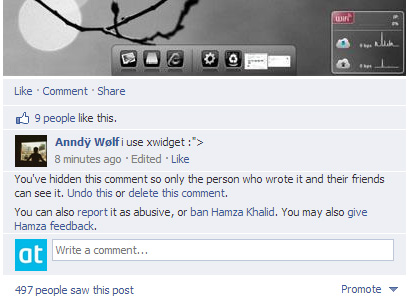 What do you do when someone posts an inappropriate comment or wall post to your profile? Let us know in the comments section below!