Scalable, Bloat-free SEO Rank Tracking with Ranktrackify (REVIEW)
SEO managers and marketers have a massive array of tools at their disposal to make ranking magic happen, but sometimes the available solutions can feel like using a shotgun to kill a fly. For example, you might just need a simple rank tracking solution which doesn't come pre-packaged with a suite of other SEO tools you may not care to use or pay for.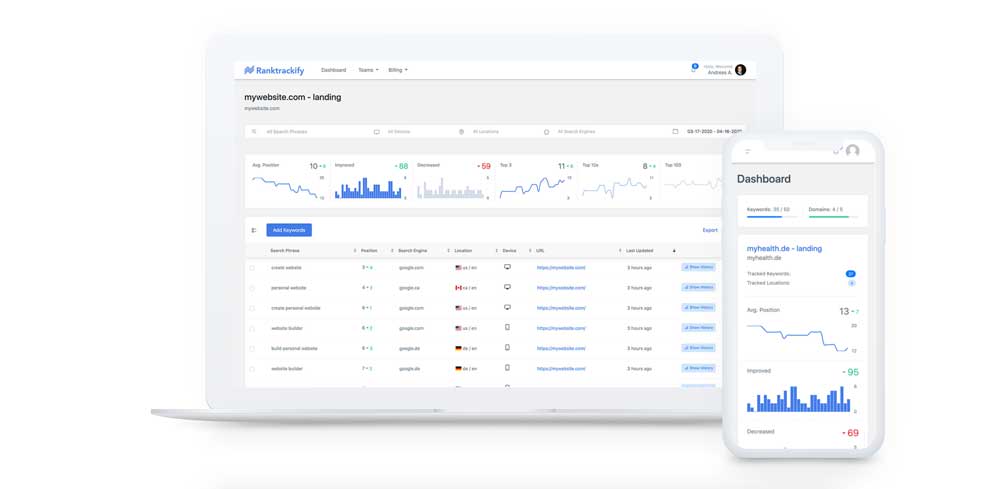 If this sounds like you, consider Ranktrackify from SaaS Industries. For just a few dollars a month, you can track dozens of domains and hundreds of keywords within an easy-to-use, device-agnostic webapp. As your business and SEO budget expands, Ranktrackify's robust infrastructure continues to deliver the vital data you need to make conclusions at any scale.
Piqued your interest? Let's take a closer look at Ranktrackify in our mini-review below.
Getting started with Ranktrackify
Unlike most of SaaS Industries' product offerings, Ranktrackify doesn't come with any real documentation. This isn't an API, and there's no fancy coding knowledge needed to operate it. Instead, you'll interface solely with the type of plain language any SEO specialist will immediately be able to understand and manage. In other words, Ranktrackify is built to be self-explanatory.
Ah, but this wouldn't be a proper review unless we explained it all anyway! So first, you'll need to create an account, which is as easy as navigating to https://ranktrackify.com/ and clicking the big, friendly blue "Start Free Trial" button. You'll arrive at a screen where you'll fill out your personal and team credentials, the submission of which prompts Ranktrackify to send you an email for validation. Bog standard stuff so far.
Once you've gone through the familiar motions, you're in! SaaS Industries is careful not to harass trial users with constant upsells, nor to obligate you to put credit card information on file. Similarly, Ranktrackify doesn't waste any time or screen space after you've validated your account; instead, you're taken directly to where you need to be in order to start tracking domains and keywords.
Setting up website and keyword tracking
Your initial visit to the Dashboard reveals a masterclass in simplicity. The process to "start tracking keywords now" is sublimely uncomplicated, requiring only a single click after email account validation to access the domain wizard.
The wizard itself requires just three buckets of information:
Basic Information – Here, you'll name your project; input the URL of the domain you wish to track; set a daily, weekly, or monthly update interval; and finally filter rankings as they appear on mobile and/or desktop SERPs.
Location Properties – This is where you localize your search. Required fields include your preferred search engine, of which there are over 100 versions of Google to choose from, plus the search location. You may optionally fill in the country to help narrow your Location autofill suggestions. Advanced settings include language code (hl) and geolocation code (gl) for even greater specificity.
Search Phrases – The meat and potatoes of any search, Ranktrackify prompts you to enter the keyword phrase(s) you mean to collate rankings on. Just keep your search quota in mind, which is what you get when you multiply the number of locations, devices, and search phrases you're using.
Visualizing your data
Ranktrackify makes it easy to draw conclusions from handy, real-time reports across several critical data points:
Position
Improved
Decreased
Top 3, 10, and 100
So, let's input some example data into the domain wizard to see what comes of it. Say we run Robertson & Sons Violin, which is currently the largest violin shop in the world. In order to monitor whether customers know that's true when making Google searches, we create a project centered on the domain https://www.robertsonviolins.com/.
Robertson & Sons has had the best physical showroom for a long time, but there is fierce online competition. Thus we want to monitor for daily changes to inform an aggressive SEO strategy. We also know that our clientele tends to be older, and our gallery generates a lot of leads, so we'll focus on desktop SERPs. We primarily sell within the CONUS, so we'll use google.com and the US as our geolocation.
Finally, we set our keyword phrase as "biggest violin store". Here's the result:

As we can see, Robertson & Sons is still the top dog for anyone searching for a big selection. But, not everyone is going to use size as the main search criteria, so let's get a more holistic understanding of how we're ranking across a few more keyword phrases with the same search parameters. We click on the vertical ellipses > Add Search Phrase, then fill the following additions out: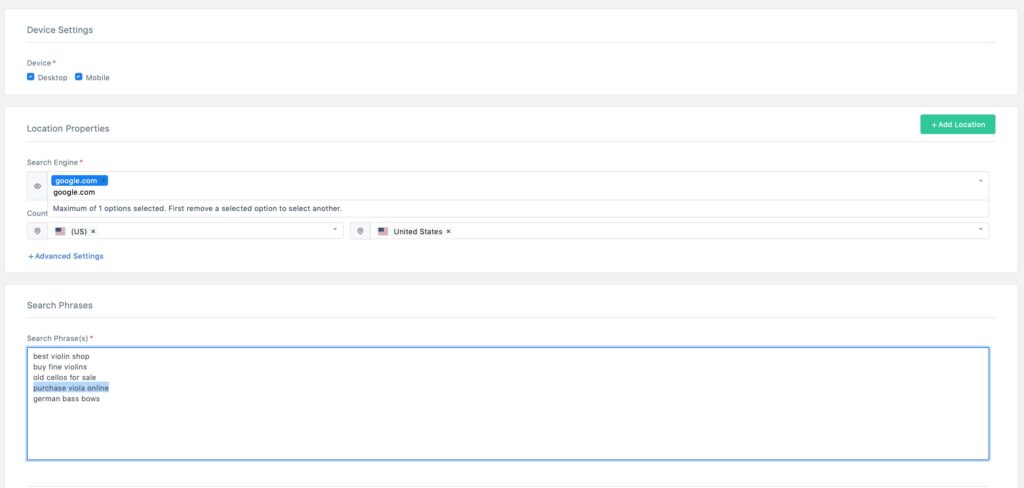 The results:

Our average position has dropped to 13, which is less than stellar. Our ground game is strong, but our SEO could hit harder among people looking for specific instruments. We'll make adjustments, and monitor the results over the next few days. It might also be helpful to run separate domain projects for our most important keywords, so we can assess the most granular information available.
Of course, we can do so much more than domestic recon! Ranktrackify can also be used to monitor our competition just as easily–we just need to ensure that our subscription (and thus, our keyword and domain quota) are equal to the task.
Managing teams
Fine tuning the SEO strategy of the world's biggest violin store is a heady task, which requires a team of experts working together to conduct research and assess the data. Ranktrackify understands this reality, and allows you to create and manage teams on the fly.
The process is simple: Log in to your account, then click Teams > Create Teams. Once you've named your team, navigate to All Teams > Invite Team Members to send email invites with the same easy sign-up you had. You can remove team members with equal ease.
Like keywords and domains, there is a limit tied to your subscription level. It's simple, but it works exactly like it should!
Pricing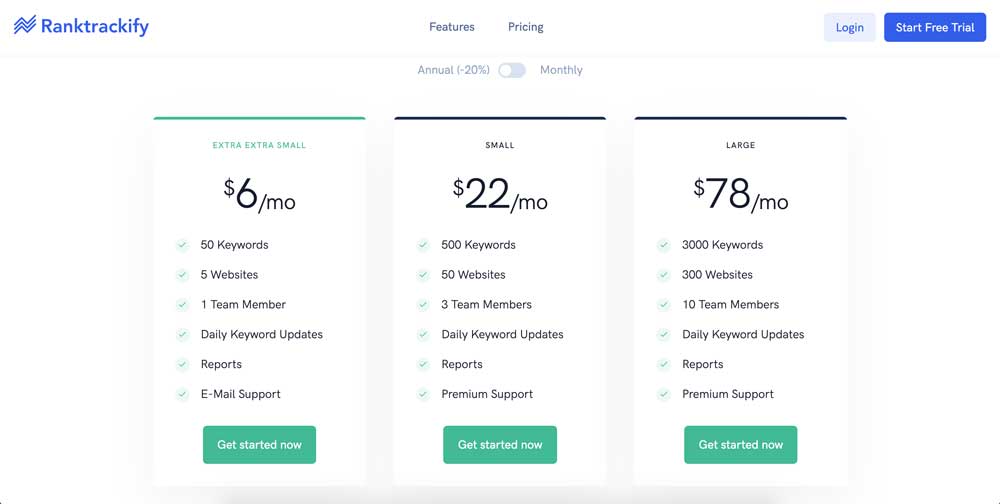 Ranktrackify's primary appeal is its simplicity and, by extension, its price. Unlike other SEO tools, you don't have to pay for the bloat to get exactly what you want. What's more, SaaS Industries understands there is a wide variety of need for SEO tools, and offers a dizzying array of price points to fit any application.
XXS – $7/month, 5 domains, 50 keywords
XS – $13/month, 20 domains, 200 keywords
S – $27/month, 50 domains, 500 keywords
SM – $48/month, 100 domains, 1000 keywords
M – $69/month, 200 domains, 2000 keywords
L – $97/month, 300 domains, 3000 keywords
XL – $125/month, 400 domains, 4000 keywords
XXL – $153/month, 500 domains, 5000 keywords
XXXL – $210/month, 1000 domains, 10000 keywords
Note: While it doesn't say so on the website, SaaS Industries is willing to accommodate capacities greater than XXXL with custom plans.
Don't forget that there's a 20% discount across all these plans if you pay yearly instead of monthly. All tiers include daily keyword updates, as well as the visual reports as we covered above. Premium support is available to all tiers other than XXS. The 14-day free trial is identical to the XXS tier, and simply stops working rather than charging your card if you decide not to subscribe.
Ranktrackify constructive criticism 
What would a review be without a couple of complaints? Typically, we love SaaS Industries products, and Ranktrackify is no exception. However, being one of the more niche offerings in its ecosystem, there are a few minor points where it could easily be improved upon:
You can't reuse project names, even deleted ones. That means if you want to start from scratch, you'll need to come up with a creative naming convention. Annoying, but not a deal-breaker.
You can only add new search parameters to each project; you can't view or edit them once they've been created. Once again, it's pretty easy to work around this issue, but there's definitely a knock to the user experience when combined with the first point.
You have to create an account to see their full range of subscription tiers and accepted payment methods. (Ranktrackify only takes credit card officially, but other SaaS Industries products allow bank transfers at enterprise-level tiers. YMMV.) While it's dead-simple to create an account, we feel prospective users deserve to see their full range of options listed directly on the website.
Final thoughts
SaaS Industries created Ranktrackify with one goal in mind: to deliver scalable, real-time rank tracking without the bloated price tag of comprehensive SEO toolkits. To this end, Ranktrackify is runaway success.
It provides the accurate reporting you need to inform your SEO strategy, entirely unencumbered by excess bells and whistles in the webapp's interface. Its simplicity borders on bare-bones at times; you'll have to be careful with how you name your projects, and pick their parameter carefully. But overall, less is definitely more with Ranktrackify, and we can recommend it to SEO managers and marketers alike for informing strategies of any scale.
Do you have any questions or comments for us about Ranktrackify? What other SEO tools would you like to see as standalone offerings? Sound off in the comments below!