Read Trending News From Around The World With Moments By Twitter
News is what compelled me to join Twitter; it's a place where news breaks fast and you don't have to go searching for it too much. People you follow talk about trending news, the hashtags find related conversations, and every breakthrough or update finds you itself. Ideally, this is pretty great but it relies on two very unpredictable factors; the people you follow and the hashtags that are being used. It's perfectly normal to open Twitter, see a whole bunch of trending hashtags and have no clue what they're related to. Finding the right tweet, one that explains what the tag signifies takes time and the people you follow may actually make it worse if they misinterpret it. Basically you've got Twitter which is a great place for news but then you've got hashtags and trends that can create a lot of confusion. Moments is Twitter's attempt at fixing all this; it's a new feature introduced by the service on both its web version, and mobile apps that shows you trending stories from four different categories.
You can access Moments from the lightning icon on your mobile app, or from the Moments tab on the web. It's divided into five categories; Today, News, Sports, Entertainment, and Fun.
The Today tab shows you a summary of stories that are currently being talked about and you can follow any one of them. If you're interested in a particular type of story i.e. a sports event or an awards show, you can switch to the Sports or Entertainment tabs to follow it. Moments finds a popular event, gives you a brief summary of it, lets you follow it, and directs you to an authentic news source on the topic.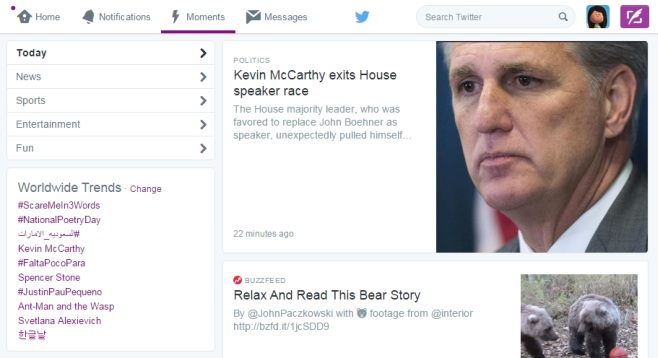 Moments refresh to incorporate updates and you can embed a Moment on a website.

My initial thoughts on this feature is that Twitter is trying to make the news it has more authentic instead of just incorrect information that gains traction because it's been tweeted a lot. I think it's good that they are trying to help people find authentic news instead of just promoting viral trends and letting social mobs dictate conversations.
It's also good for the companies that advertise with Twitter. In the past, hashtags that companies have paid to trend have backfired with people hijacking them and giving the company bad publicity. With Moments, there is likely going to be a way to inject some control over what a hashtag is about.
Moments is rolling out slowly to users and if you don't see it just yet, give it a few days.