RecThing Is A Social Network For Personalized Entertainment Recommendations [Web]
Have you already seen more than your share of films and TV series? Can't find any thing good you haven't watched yet? Try using the RecThing entertainment recommendation engine. RecThing asks you to like, dislike or recommend a few books, films, games, music and TV series, and then, depending on the gathered data, it finds other users with similar tastes for you to follow. Later, you see recommendations from these users in your feeds.
You can sign in to RecThing by using your Facebook or Twitter account. After signing in for the first time, it asks if you want to update your profile or settings. These include the usual: your profile picture, name, email address, interests, email alerts and other mail settings.
Once you are done with your profile, it asks if you would like to import your Facebook likes, so that it can help RecThing build your taste profile. You can click Import my likes to allow the import or just close the pop-up window to decline. Next, it will show you some random books, films, games, music and TV series, asking you to like, dislike or recommend them. Doing this will actually train RecThing to recognize your taste in entertainment. With every bit of feedback you give here, RecThing builds up a picture of what you like and dislike, and matches you up with other like-minded RecThing users.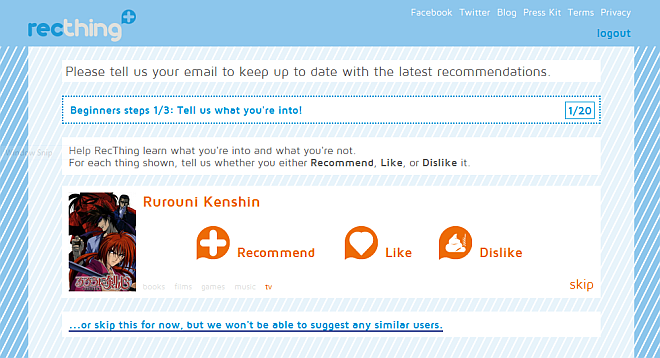 You may follow suggested users or invite friends from your Facebook and Twitter accounts. Once you're done with all that, you are taken to your feed, where you see recommendations from all the users you are following on RecThing. The great thing about RecThing's recommendations feed is that you can watch trailers and music videos without leaving the page. Simply hover over the thumbnail of a film, TV series or music video and click the play button that appears.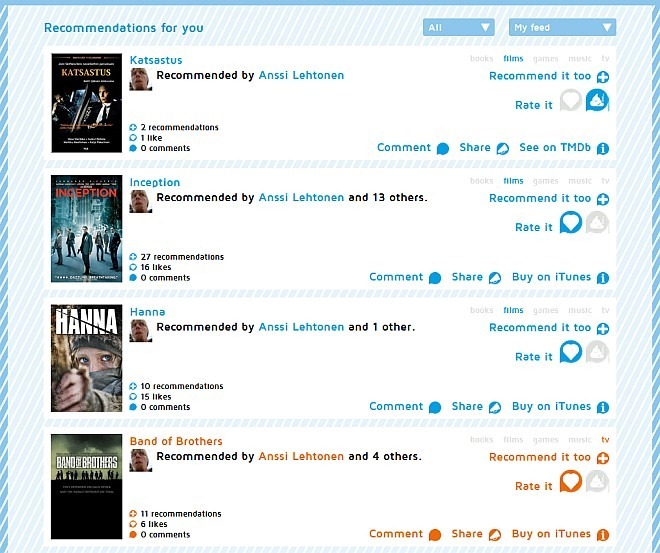 You can re-recommend (Recommend it too), like or dislike anything within your feed. This helps RecThing get more and more accustomed with your taste. While re-recommending anything on RecThing, you will be provided the option to share your recommendations through your Facebook or Twitter account, depending upon which of the two you used to log in to RecThing.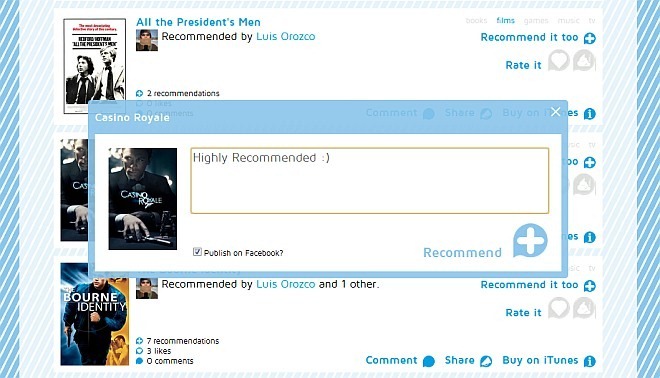 Using the drop-down at the top of the feeds page, you can filter your feed when you are looking for particular genre of entertainment. In addition to browsing for recommendations from people you are following, you can also through recommendations trending on the site. The trending feed can be filtered just like your own feed.

To make a brand new recommendation, navigate to Recommend! from the top of the page, enter the name of the book, film, game, music or TV series that you want to recommend, select the category, hit the search button, and pick an item from the results that follow.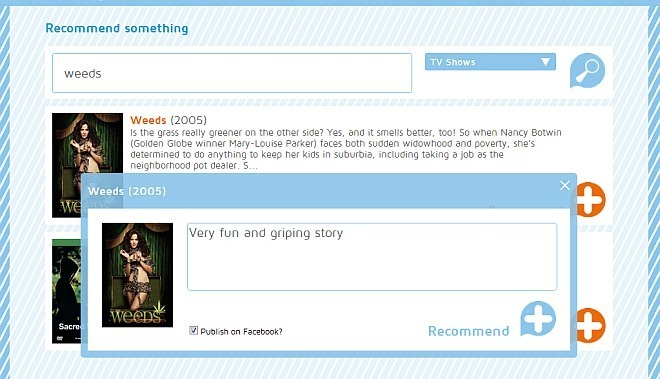 If you head to your own profile by selecting me from the top of the page, you will be able to see your status points, badges you have earned and recommendations you have made. Every time someone re-recommends or likes one of your recommendation, you get a status point. The more status points you have, the more chance you have to become a taste-maker. To view the top taste-makers of RecThing, click the tastemakers option at the top of the page.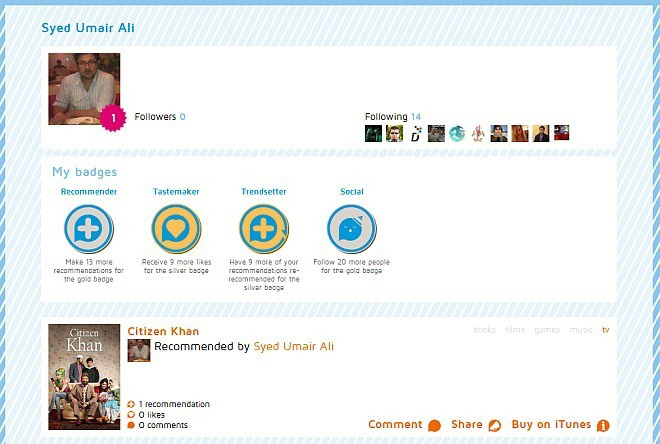 There are loads of other places on the web where you can get personalized recommendations for music, TV series and movies, but there aren't many that tie them with reward-based social networking like RecThing does. If you have the time to go on an entertainment hunt, but find conventional methods too boring, you should give RecThing a try.