Search Major Websites Directly From Google's Home Page
Google is, without question, the best search engine out there for general web searches, but there are quite a number of other popular services that many users search on apart from Google, often for more specific types of searches. Where Googling gives you a comprehensive list of relevant results from multiple websites, searches on services like YouTube, ebay, IMDb etc. give you more relevant results of a particular nature. You can use extensions like Multi Search to select text from any web page and search for it on different websites from the right-click context menu. Search Switch is an extension available for both Chrome and Firefox that adds a switching menu to the default Google search page. It allows you to change the search site by scrolling the mouse wheel, or select one from the list that appears when you click the extension's button.
Once installed, go to Google.com and wait for the page to finish loading. A refresh button will be added to the right of the search bar. Click it to see the list of sites you can search on, or just scroll the mouse wheel. As you scroll the wheel, the Google logo will be replaced with the logo of the selected site, and the 'Google Search' button will change so that Google is replaced with the name of the site you're searching on.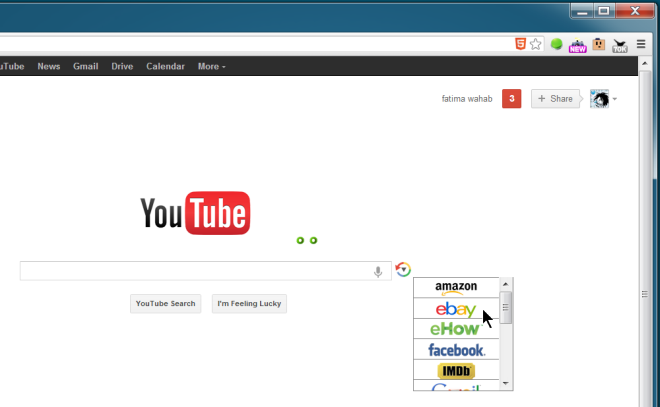 You can change to the next or previous site from the up/down arrow keys as well. Search Switch supports Amazon, eBay, Wikipedia, Twitter, YouTube, Pinterest, Facebook, Weather.com, WebMD, IMDb, your Gmail Inbox, eHow, Yelp, and RetailMeNot. Search Switch supports direct mouse shortcuts for quickly switching to a particular site. You can view the complete list of the shortcuts on the extension's website.
Search Switch is useful because it gives you the freedom to type your search. With extensions like Multi Search mentioned earlier, you can only select text on a web page. If you search from the Omnibar you will have to remember the correct trigger for the site you want to search on. Search Switch is all the more useful for anyone who always has Google on their speed dial. You might find extensions that do something similar but what sets Search Switch apart from the rest is how simple it is to change the site you're searching on.
Chrome users can download and install Search Switch from the Chrome Web Store but Firefox users will have to install it from the website directly. The extension only seems to work on Google.com and not its region-specific variants.
Install Search Switch for Chrome or Firefox