See Common Business Hours When Planning Meetings Across Time Zones
Planning a meeting across two different time zones isn't easy; there is always the question of whether or not they have day-light savings and when it goes into effect. Then there's the whole are they ahead of us or behind in time. From my personal experience, even Outlook isn't that great at helping you schedule a meeting across multiple time zones. My Meeting Time is a helpful tool that lets you visualize the time difference between multiple time zones, see what common business hours exist between the two, and helps you plan a meeting that is convenient for everyone invited.
You start with the main time zone which is likely going to be your own time zone. The app calls it the 'host' time and in the host field you can search for a city/state. In the Participants field, enter the cities or countries where other attendees will be attending from and finally, select the date that you want to hold the meeting on and the app takes care of the rest.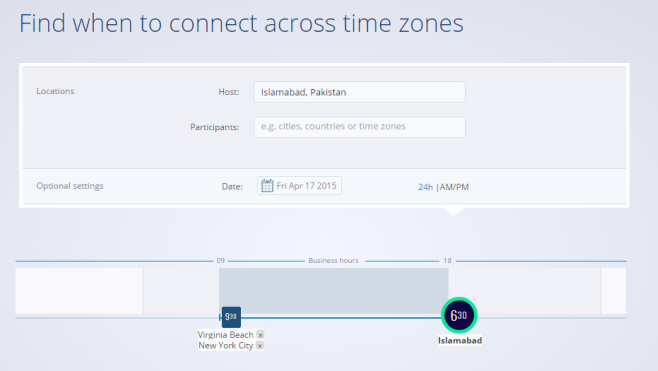 You can drag the 'host' bubble across the slider to increase or decrease time. The time for the other time zones you entered will update accordingly. My Meeting Time also helpfully highlights the business hours common in the host and participating regions.
In the screenshot you're basically looking at two regions with such a huge time difference that when the work day for one region ends, it is the beginning of the day for the other. There is a Chrome app available for My Meeting Time but it's basically just a link to the website and doesn't offer extra features.
Once you've scheduled a meeting, you can get a link to the time you've set and share it over email or social media.