Set Any Tweet To Auto-Delete After Set Time With Efemr For Twitter
Self destructing messages and notes à la Mission:Impossible franchise have been around on the internet for a while now, and services like SnapChat and Facebook poke have been offering such option in several forms. Though ever wished you could send a tweet that could self-destruct after a set time, without you having to remember to manually delete it later? It is a new concept in its entirety recently introduced by Efemr. If you're thinking why would anyone want to destroy their own tweets, there can be many use case scenarios, one of which is a limited-time sales promotion. Whatever it may be, Efemr has a lot of potential in letting you post self-destructing tweets that are automatically deleted after a specified time.
Here's how Efemr actually works. You simply write your tweets as you generally would on the Twitter website or app, followed by adding a time Hashtag representing its auto deletion time. For example, if you want to delete your tweet after five minutes, then simply write #5m after the message. Likewise, you can put #2h for two hours and so on. To get started, visit the website and sign in with your Twitter credentials in order to grant the required app the required permissions to access your tweets.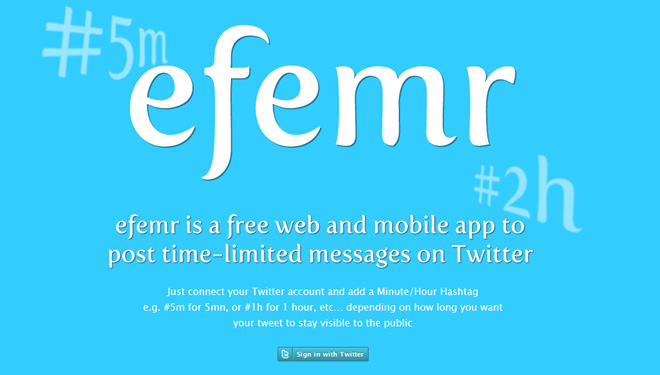 Once logged in, you can start sending tweets as you usually would via the signature feather button. Efemr cites that it can sometime take more time to destroy your tweets than it's supposed to, the reason being the time zone differences and server response times around the globe. However, during testing of the app, I found it fairly robust and effective, destroying my test tweets at reasonably accurate right times.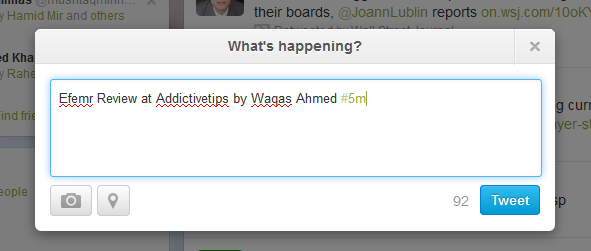 For instance, my first tweet with hashtag #5m disappeared exactly after five minutes. Though the second tweet took 4 minutes to go out of sight, when the specified time was 2 minutes. Nevertheless, everything worked reasonably well.

Efemr also keeps a tab on all your deleted tweets and archives them in a dashboard, which you can access by logging in with your Twitter account on the Efemr website. The dashboard displays a list of all your tweets with self-destruct tags, along with their creation time and status. In addition, you can retweet any of them via the pertaining action button, though there is no way to edit them before retweeting, so the original text and hashtag will remain intact.

All in all, it's a unique and fun to use service that makes it possible to send self-destructive tweets without much additional effort or having to remember to delete them later manually.