SHINE For Reddit Is A Skin That Focuses Solely On The Content [Chrome]
Reddit doesn't go through a lot of design changes. In fact, ever since I started browsing it, it hasn't made a single noticeable change to its interface. To some Reddit's interface isn't bad. It's pretty basic and text based which means pages will load faster. That said, it's not the prettiest thing to look at and even if you were to keep things completely text based, you can have something that is far more appealing. Just look at how the folks at ProductHunt do it. SHINE For Reddit is a Chrome extension that acts as a skin for Reddit. Each time you launch the site, it modifies the interface to give you a flat clean interface that makes it easier to distinguish posts. The interface uses icons to indicate the submission type and will let you open links in a panel on the same page, among other things. It supports list and grid layout and will also let you add sub-reddits that you want to follow without needing an account.
Install SHINE For Reddit and go to Reddit.com. The default list of sub-reddits at the top is hidden away and instead you get a new bar at the top that lets you collapse and expand the sidebar, the menu bar, sort posts by top, hot, new, etc, and choose between a list or tile layout. Clicking a link will open it in a panel within the same page. Next to each post you can see a small icon that will indicate whether the post is an image or a link, or text.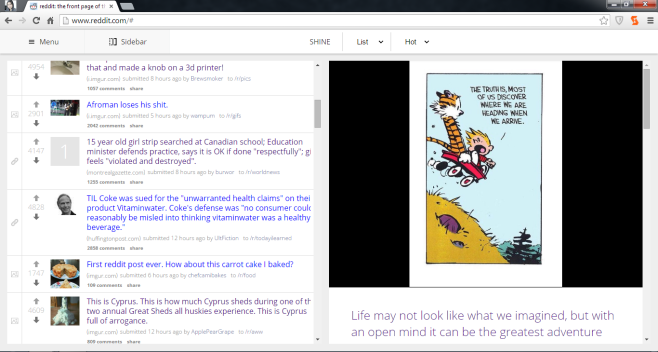 The menu lets you sign in and manage shortcuts to sub-reddits, and even enable/show the default bar that appears at the top of Reddit listing all default sub-reddits. It doesn't tie in well with the rest of the interface and perhaps that's why it is hidden by default. You can of course sign in to your Reddit account and doing so will enable more options in the menu.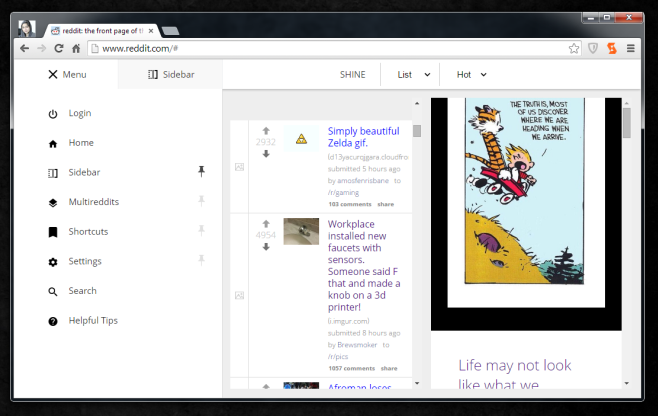 The interface does away with ads and gives more space to content. It's also a pleasant change. The cons are that it also modifies Wikipedia's interface making it a lot cleaner (which is great) but it's not what I signed up for. The extension is still in its early stages but it works well. GIF playback isn't all that smooth though it enables player controls by default so that you can play/pause and replay them easily.
Install SHINE For Reddit From The Chrome Web Store