Slideshow for Facebook, Flickr And Google Images: View Images Quicker [Chrome]
Are you tired of scrolling down or clicking the next button over and over again to view images? It can be really frustrating specially if the album contains several images. Slideshow for Facebook, Flickr And Google Images is a Google Chrome extension that makes things easier for you by creating slideshows for albums on Facebook, Flickr and Google Images. A slideshow icon will appear in your URL bar as soon as you open a webpage with images supported websites. Previously we reviewed a similar extension, Auto Play In Facebook Theater Mode, but that worked only on Facebook. Slideshow for Facebook, Flickr And Google Images has added two more photo sharing websites.
The extension has a number of options right on top of the page, allowing you to share images on Facebook , Twitter or Google Buzz. Slideshow also shows the link of the website where the image is being pulled from, clicking which will launch the website. It has a cross button, which, when clicked, ends the slideshow. A small thumbnail bar at the bottom of the page scrolls all images upon mouse-over.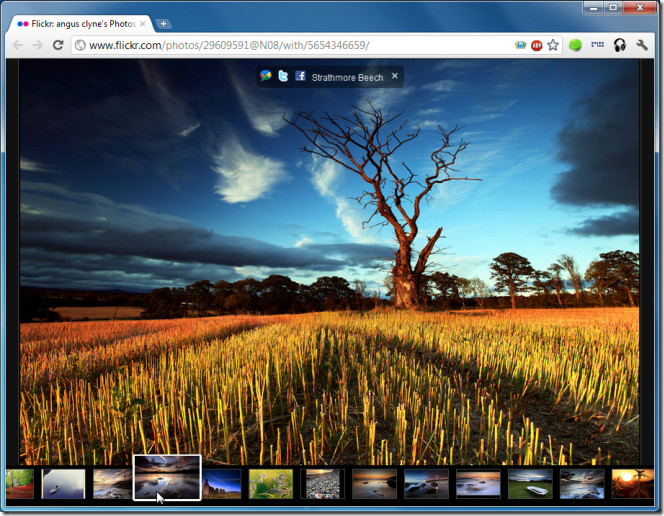 You can either use the forward/backward arrow keys to view images, or left-click the thumbnails at the bottom to open an image.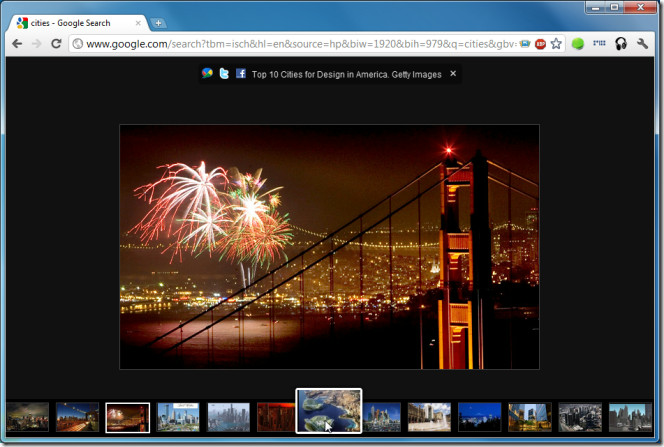 The extension is quite handy to view a large number of photos on in a more convenient way.
Update: The extension appears to have stopped working on both Facebook and Google Images. It is responsive on Flickr but there appear to be glitches. Switching to a different image causes the page to reload. The thumbnail previews still load at the bottom of the page but each time you use the arrow keys to move to the next or previous image, the page will reload. You can still use your mouse to select and view the next image from the filmstrip at the bottom. The page will not load in this case and the extension will work. It is, however, completely unresponsive on both Google Images and Facebook. The unresponsiveness might have to do with both services having undergone a design change and the extension not being compatible with the new design. If you would still like something like this for Facebook, try the extension linked in the intro. It is still working and appears to be a close enough match. For those looking for something similar for Google Images, I'm afraid you luck out.
Install Slideshow for Facebook, Flickr And Google Images