Smart Spellchecker Corrects Grammar & Adds A Handy Thesaurus To Chrome
There are two things you can find in abundance on the internet; bad grammar and grammar Nazis. English dominates when it comes to the internet and there is little tolerance for bad spelling and incorrect usage of words. Spell check in your browser has probably saved you tons of embarrassment when it comes to emails and social media updates but it has its limitations and the dictionary that browsers use isn't really updated frequently leaving out many words that evolve to become part of everyday language. Smart Spellchecker is a Chrome extension that is a feature rich spelling, grammar and punctuation checker for your browser. At the backend, it relies on the Grammarly web service which has several additional features that help you write better including a plagiarism checker. As a browser extension it provides you definitions, synonyms, and live spelling and grammar check for multiple services like Gmail, Facebook, Twitter, Yahoo, WordPress and Blogger.
Smart Spellchecker integrates within the browser, you won't find extra options for it either in the right-click context menu or in the form of a button next to the URL bar. Once installed, you will need to provide your email address in order to activate it. After activation, go to Facebook and type in a status update or write a new email in Gmail. At the bottom of both the text input boxes on Facebook or Gmail you will see a little green G badge. This will change to reflect the number of mistakes it's found in what you've written. The mistakes are highlighted with a red squiggly line. When you move your mouse over a mistake, the correct word and an explanation of your mistake is displayed in a pop-up box. The information is cursory and a link is provided at the bottom if you want additional details on the correct usage of a word.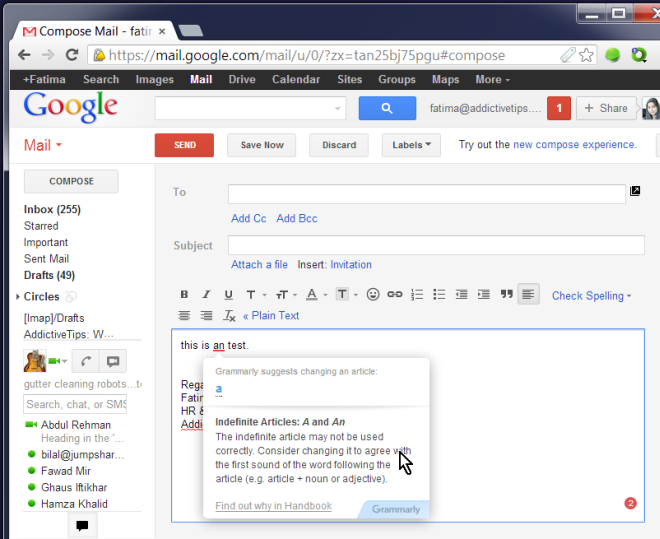 The built in Thesaurus and dictionary is activated by double clicking a word. It works best on webpages and not so well in text input boxes like the email body box. From what we observed in our tests, you can bring up the thesaurus so long as you do it for the very last word in the text. If you type anything after it, the suggestion box with synonyms and definitions is highly unlikely to appear. On any normal website, you can right-click a word and the pop-up appears. You won't be able to activate it for articles or indicative words like 'this'.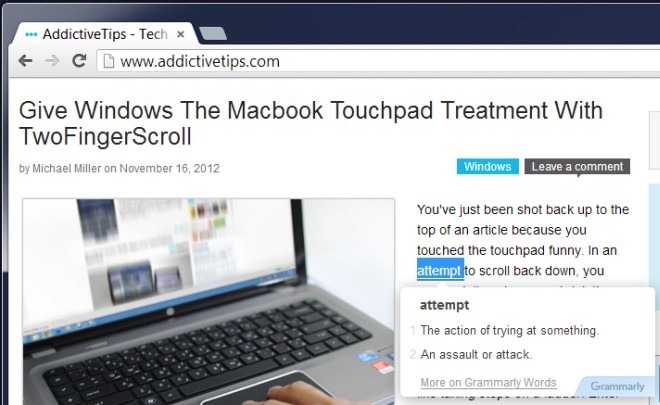 According to the extension's description it can pick out contextual mistakes as well as grammar mistakes. In reality, we found the description overpromises and the extension does not deliver. It failed to detect any contextual and punctuation mistakes and let us get away with writing sentences like 'There going to be here in an hour'. It's also quite slow and does not always pick the simplest of mistakes.
The concept of the extension is really good though the execution is lacking and we're hoping it fixes these bugs really soon. Grammarly, as a service requires a paid subscription to use and might work better than the extension but the extension is what makes for easier online writing.
Install Smart Spellchecker From Chrome Web Store