Stashhh.me: Create & Share Collections Of Interesting Content On The Web
When Tumblr arrived on the scene a few years ago, the Twitter-esque microblogging and Pintrest styled photo sharing social media platform revolutionized the way we share content through the internet. Since then many similar services have popped up but seldom do we come across one that's really worth giving a shot. I'm not sure if we'll ever find a useful Tumblr alternative, but Stashhh.me is a great way to collect and share things you like online with others in a similar fashion. The web based service which works via a Chrome extension looks great on large desktop and small mobile screens, and enables you to create Facebook like pages called Stashboxes, and post content like quotes, text and photos on them.
Download the Stashhh.me  Chrome extension and launch it from the Chrome App Launcher to navigate to its web interface, and click Sign Up.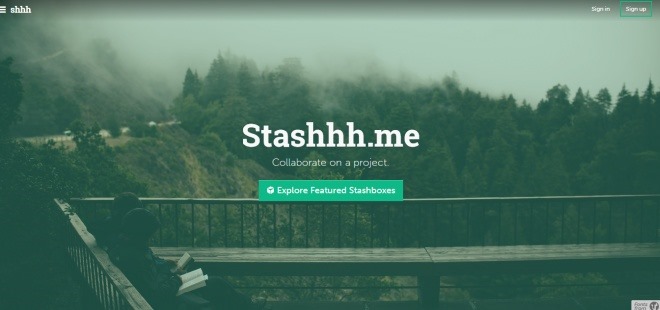 Afterwards you are just required to enter a few details including username, email and password credentials to log in. And even if that sounds stretched, you can click 'Sign in with Facebook' to speed things up. You're then presented with your main profile where you can upload a new avatar, customize your cover photo and do other things. The profile page carries two tabs labeled Stashboxes and Posts, both of which are pretty self explanatory. You can basically access your posts and Stashboxes separately via their pertaining tabs. The first thing you need to do before you start posting content on Stashhh.me is to create your first Stashbox, which can be done by clicking 'Create Stashbox' button at top.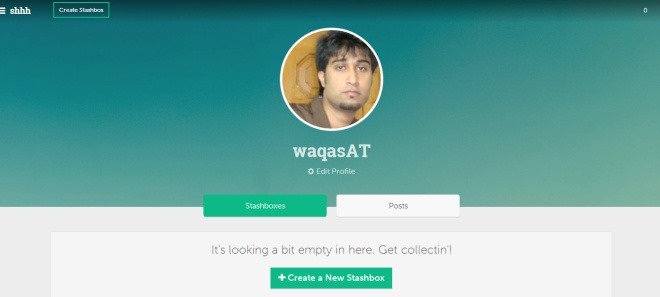 Of course, you can customize the Stashbox in different ways. These customization options include specifying a Title (minimum one character), Lid (background picture that acts as a cover photo), Accent color(a thin line that appears at the bottom of the cover image), description as well as whether that particular Stashbox is Private or Public. Anything you share on a private Stashbox remains visible only to you. If you want your posts to be accessible by other you can set it as Public.
Once a Stashbox has been created, Stashhh.me allows you to post all kinds of different content on it, including simple text posts, conversations, quotes, links and pictures. This can be done by clicking the small 'Stash Something' button to the left. The small menu then lets you decide the type of content you want to post.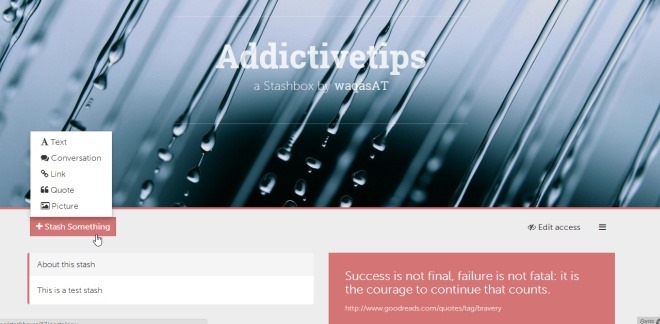 Stashhh.me also enables you to follow Stasboxes created by other users. You can either manually look for them, supposedly, by asking your contacts to share the URL of their Stashbox with you, or follow Featured Stashboxes hosted on the site which are accessible from the sidebar navigation menu. And if any new content is posted on that Stashbox, it automatically appears in your Feeds page allowing you to keep a tab on multiple Stashboxes simultaneously.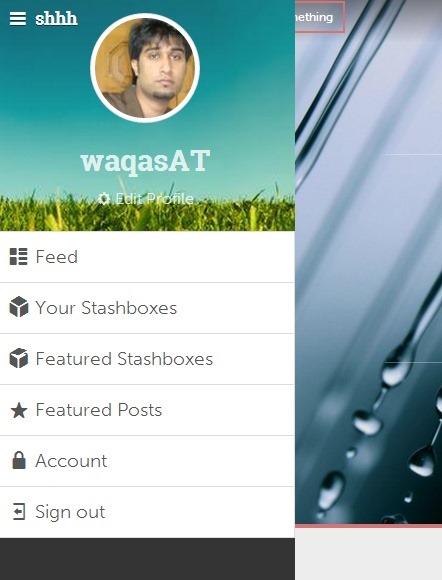 Install Stasssh.me from Chrome Web Store