Sync Text Across Devices Over Your WiFi Network
Syncing clipboard content across devices is something we often need to do and there are plenty of apps out there for just this purpose. These apps aren't just satisfied with syncing clipboard content; they'll back it up, sync it, keep your history, do your laundry, and much more. That said, I've never found an app or service that I liked enough to keep using. Running an app in the background or using a clunky app to sync text between my phone has never seemed 'easy', possibly because of the hundred or so other features that these apps come with. Savr is a little web app that exclusively syncs text across any and all devices over your WiFi network. You need to install absolutely nothing. The app will work in your browser, both on your mobile and your computer. All you need to do is copy and paste the text.
Open Savr on your computer and paste the text you want to sync to your mobile device. Once you're done typing it in, open the browser on your mobile device and visit Savr. The text you typed on your computer will be available on your mobile browser.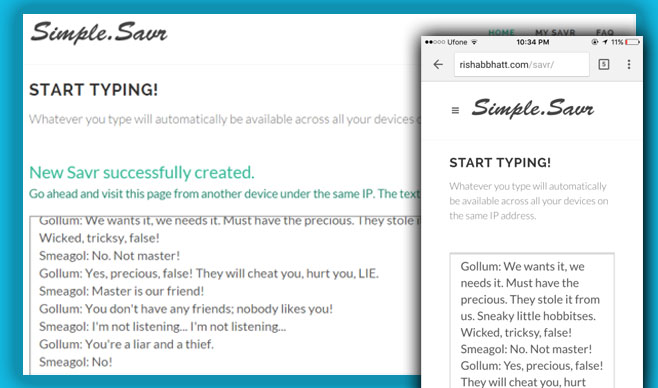 You can't sync multiple text chunks in one go. Each new text snippet you enter will replace the old one but that is essentially how a basic clipboard manager works. The app itself regularly saves the current text so that it isn't lost should you accidentally close the browser window. It's basic, definitely but it's possibly the easiest way to send text from one device to another with no bells and whistles.