TabletRocket Helps You Choose The Right Tablet Using Side-By-Side Comparison & Scores
Apple or Android? 16GB or 32GB? Black or white? These are the most common questions that pop up in the mind of many consumers when buying a new tablet. Most people take Apple's iPad as the de facto standard for a tablet, thanks to its impressive hardware and fantastic app ecosystem. However, Android tablets have also earned some popularity recently, kudos to Google's Nexus range of slabs as well as the ASUS Transformer line that boast a powerful OS and immense processing power under the hood, along with a pretty decent number of available apps. For the average consumer though, buying a new tablet still comes as a daunting task. Brought to us by the Rocket Network – the same guys behind the previously featured CameraRocket, TabletRocket is a brand new service that aims to help you with these issues by letting you compare almost every type of tablet out there that supports Android, iOS, Windows and BlackBerry OS.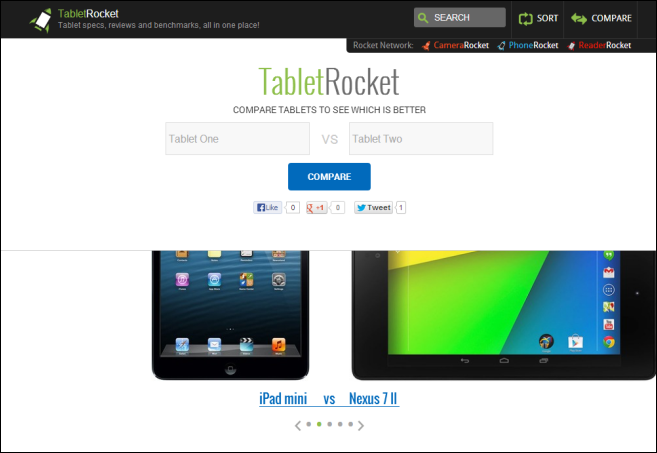 According to the folks behind TabletRocket, they wanted to create an easy-to-use tool that would help break down how each tablet stacks up against the competition by showing differences in everything from physical specs and performance tests to pricing information and reviews from major tech publications. Suffice to say, TabletRocket doesn't disappoint; far from it actually. It provides an awesome interface where you can easily compare two tablets head-to-head in order to pick the best one that suits your requirements. It shows pricing information as well as stats including battery life, camera, screen, storage, RAM, critics rating and then some.
The homepage of TabletRocket contains two text fields where you can input tablet models of your choice that you want to compare.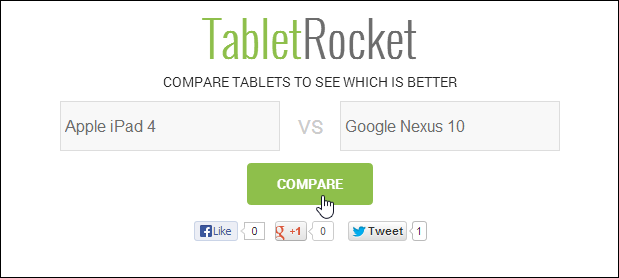 TabletRocket then presents the comparison results in an easily understandable manner using tables, statistics, spec sheets, prices and reviews. It even showcase a large image of each tablet to give you a visual comparison. It also displays an overall rating of each tablet on a scale of 1 to 10.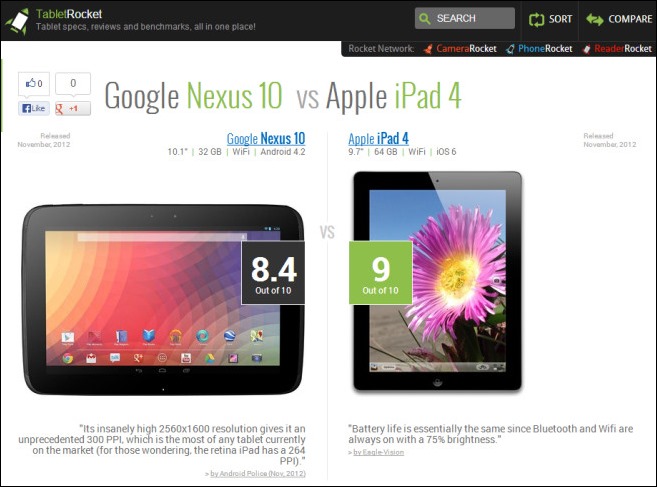 As you scroll down the webpage, more information is presented to you including benchmarks taken from major testing apps such as Geekbench, Passmark, AnTuTu 3D and Sunspider. You will also find a Difference table that showcases major reasons to consider one tablet over the other and vice versa.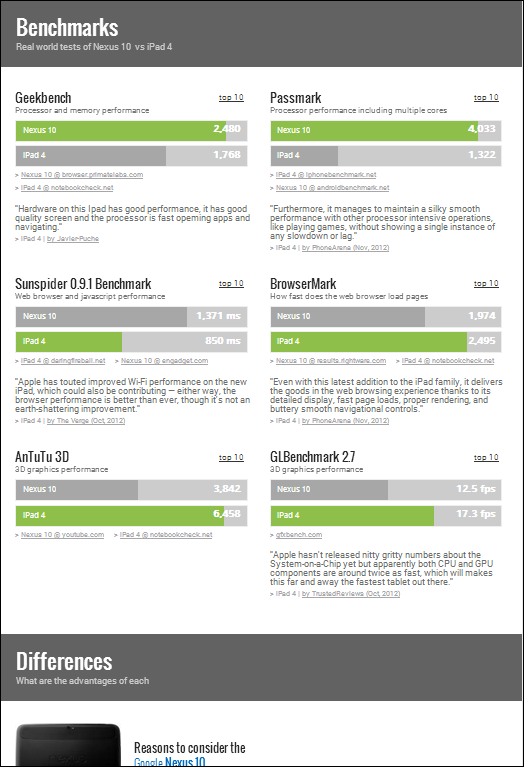 TabletRocket Review panel scores the slabs in terms of performance, graphics, battery life and third-party reviews, which are the critical buying factors for most tablets, making it easier for novices and geeks alike to choose the right device. It also presents a value score to show which tablet is best value for your money.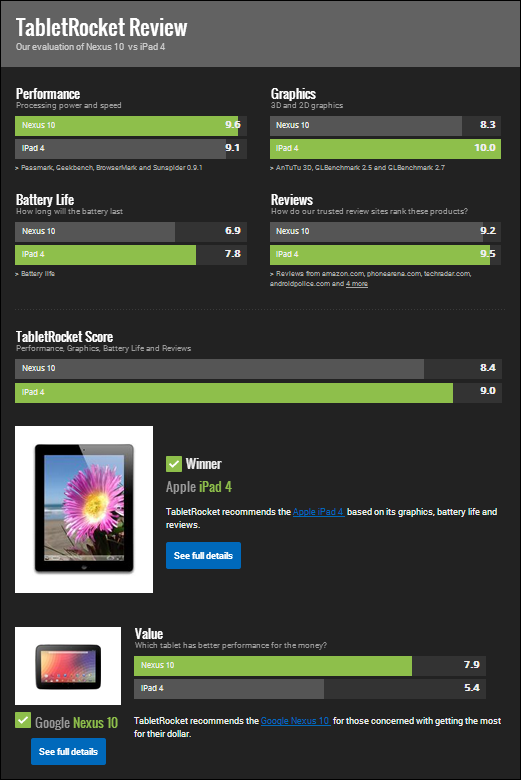 Beside head-to-head comparisons, excerpts and summaries, TabletRocket also list down the best tablets on the main page by different criteria such as most processing power, fastest web browsing, longest battery life, highest 2D and 3D graphics performance, best value and so on. In addition, it provides quick comparison shortcuts between top tablets, for instance, slabs that belong to a similar price range or category, such as iPad mini vs. Nexus 7.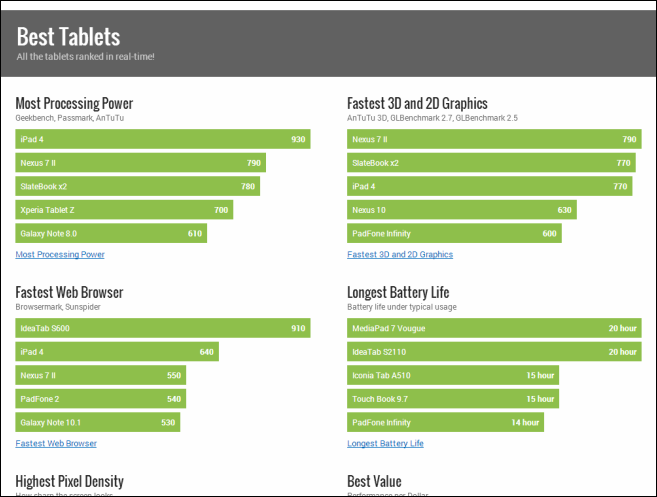 All in all, TabletRocket aims to provide a one-of-a-kind service that will make tablet buying much easier for all and sundry.