[Giveaway] Trackerbird: Intelligently Analyze Your Software's Penetration Within Its User-Base
For web developers and SEO experts, analytics hold the key to properly plan and execute online marketing strategies. Exploring location densities, user specifics like OS, browser or connection type, lets you properly understand the impact of your campaigns while informing you where and how to tweak content accordingly, but what if such features became relevant to software development? After building and releasing a product, the analysis tool would then inform you about the ins and outs of your product in the actual market, accurately. Trackerbird is an analytics tool meant to add intelligence to desktop software applications by anonymously track for better insights. Now, you can easily monitor product activity, uninstall/install and analyze runtime session execution trends coupled with the ability to track exceptions faced by your application and other user access control features.
Giveaway: Trackerbird offers a free as well as a paid service. The paid service includes a total of 4 premium monthly subscriptions namely Starter ($49), Small ($149), Medium ($349) and Large (quotation-based pricing). We are giving away five $300 vouchers to our readers. More information regarding taking part in the giveaway contest is provided at the bottom of the post.
Trackerbird requires you to create a new account or login using an existing Gmail, Facebook, Hotmail or Open ID account. Following this, you will be welcomed by a dashboard giving an overview of all products being tracked and relevant indicators including geographical demographics.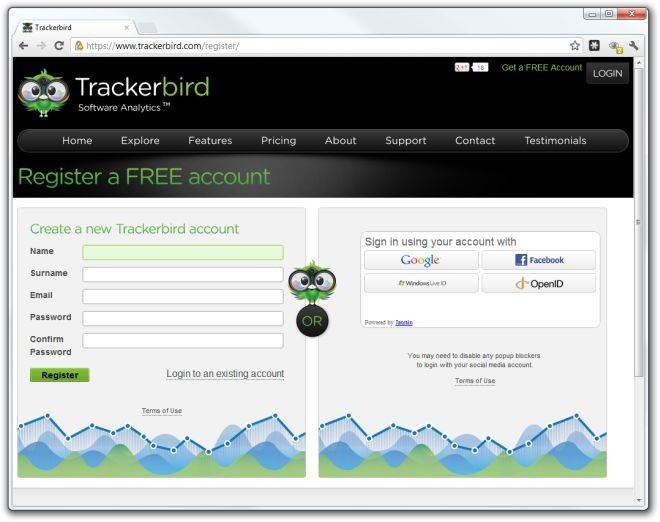 For better understanding and support, the utility has a built-in demo product installed with sample values for a full exposure to the Trackerbird capabilities. The left dropdown menu present above the main navigation bar, lets you select the relevant product while the tabs lead to relevant functionalities including Runtime intelligence, Conversion funnels and Reports. Powerful features like 'Export Data to XML/CSV' are available in the paid version.
To start tracking a new application, click the green Register New Product button. After specifying the product name, currency and plan (limited to 400 unique active installations in the free version), you are in a position to fully analyze the tracking variables for the area of interest.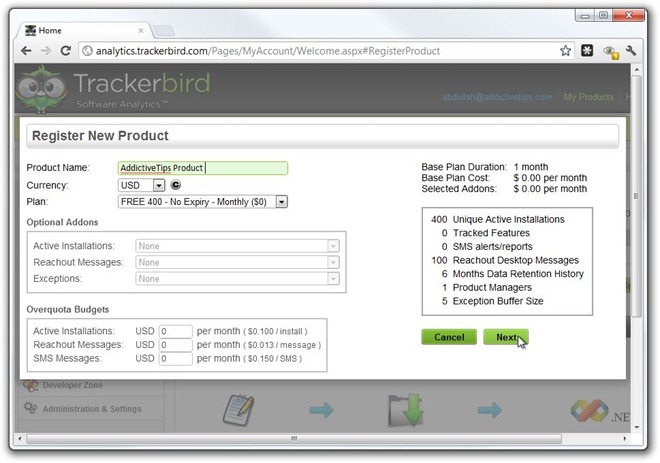 From Product Performance Summary & Activity to growth rates, emerging versions and builds trend, Trackerbird illustrates every information in a unique style using graphs, charts, figures, etc.. By adjusting filters according to the focus period, you can easily zoom in to time for a better analysis.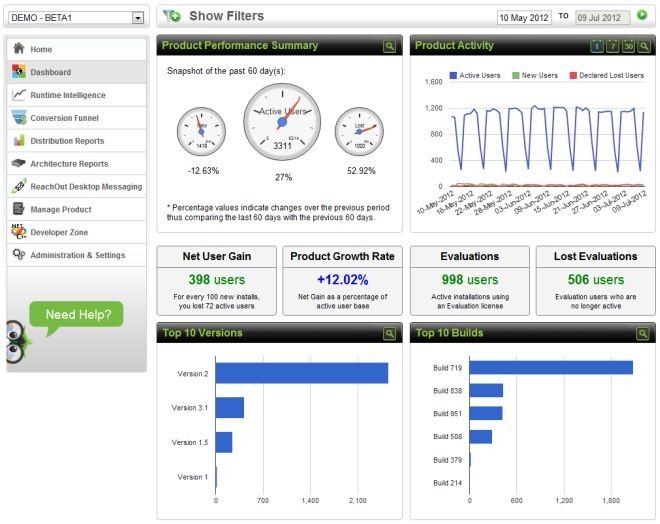 It is always useful to know which version of your product is the most popular or which location is benefitting the most from it, so you can tweak the marketing plan accordingly. For example, if the product is well-received in France, support for French translation would definitely give you the extra mile. Similarly, knowing the OS Distribution allows you to focus on platforms for tweaks and optimizations. With such information, you are in a much better position to strategize and achieve, effectively.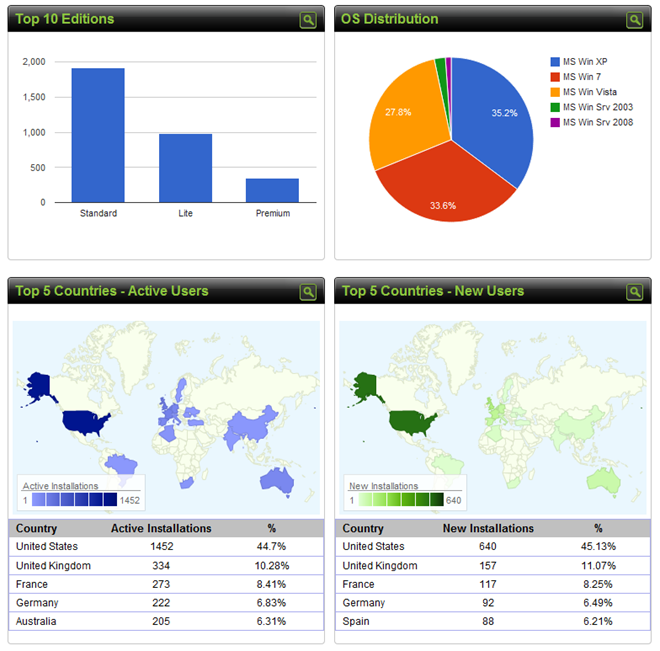 Another distinguishing feature is the Architecture Reports (accessible from the respective tab), which shows you how your software was received by various processors and memory-based systems,  allowing you to fix glitches and enhance performance in weak areas.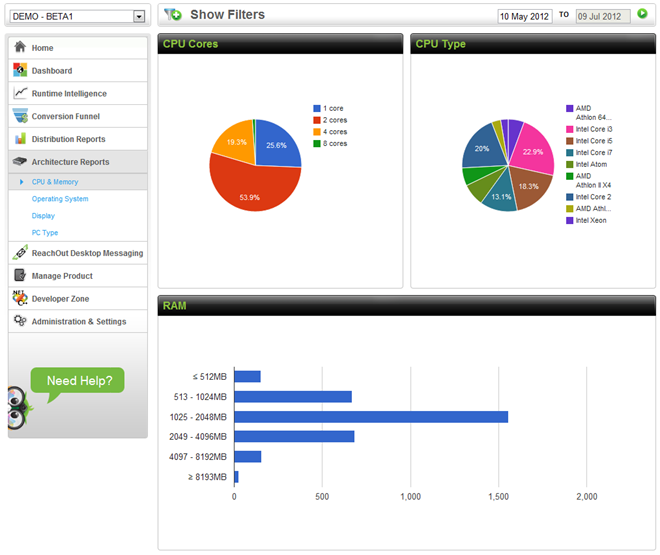 There are many business intelligence features incorporated within this utility such as the Conversion Funnel that lets you understand the user's behavior at each stage of your product sales lifecycle. From the installation till the very end, the funnel concept statistically illustrates the custom sales methodology relevant to you in a detailed manner.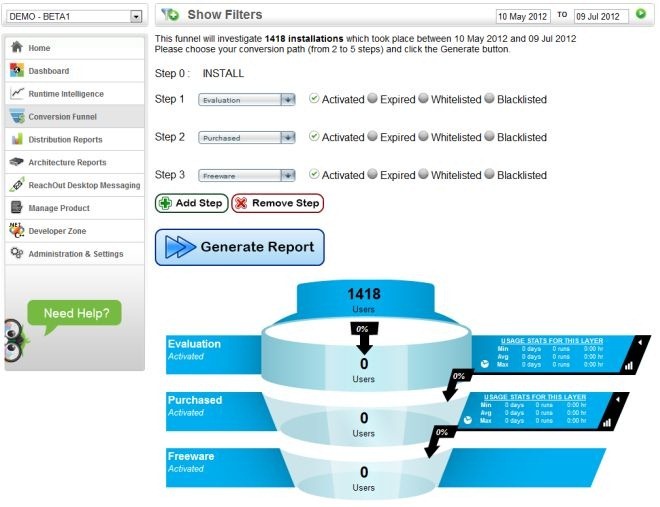 Using Reachout direct-to-desktop messaging and Survey facilities, you can easily deliver announcements and useful information to the user-base via HTML popup messages on their workspaces. This allows you to create and maintain a communication between users and developers in improving the software experience for the better.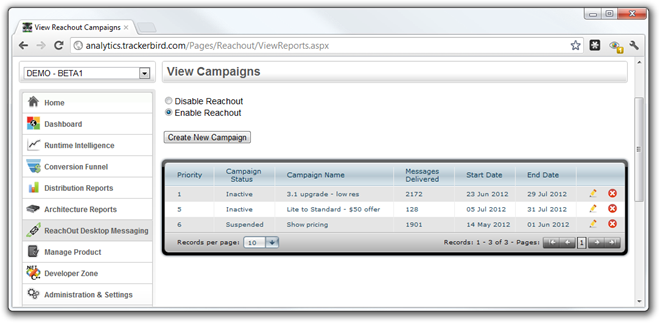 The Trackerbird user account management system allows you to effectively control product-specific settings in order to track activity in a better and organized manner. A notable feature in this regard is Feature Tracking, which enables you to track activity and interest of active users classified graphically, feature by feature. This lets you make effective decisions for future product versions.
It must be noted that the premium version equips you with improved quotas and feature tracking functionality (available as a 30 day trial in the free version) for your benefit. All in all, with an attractive user interface and a rich feature set coupled with flexibility in subscription plans, this powerful tracking and analytics tool promises to give you the edge needed to boost the reach of your products for the better.
Giveaway
We are giving away 5 vouchers to our readers, each worth $300. The giveaway will last for 48 hours. Participation is simple. Follow @addtips on Twitter, tweet/retweet the giveaway and in the comments below, provide a link to your tweet. Alternatively, you may comment on our Facebook or Google+ page, where the comment should preferably be under the shared post and not on the page itself. Our editors will pick the five winners randomly. Good luck!
Update: The giveaway has been closed. Winners will be contacted shortly.
Update 2: Voucher codes have been sent to the winners. If you entered for the giveaway, please check your Twitter Direct Messages, Facebook Messages or Google+ feeds.