Using The New Facebook Privacy Settings To Manage Your Profile [Guide]
Facebook has changed things, again. The latest update from Facebook, unlike certain previoys interface changes that were a source of grief, is aimed at making profile, notifications, and updates management easier, and it does not disappoint. Rather than stuffing all additions in the back shelf, Facebook has brought everything to the front this time around and is clearly trying to make the settings as easy to understand as possible. Seeing as previous changes to settings and addition of new features have always sparked considerable confusion and debate regarding their effects on shared content, we decided to write a post discussing what's new this time around.

New Privacy Shortcuts & Categorization
The new settings now have their very own button in the top bar next to 'Home', which allows you to navigate to or search for a particular setting. The settings are much easier to understand than before; Facebook seems to have finally tapped into how users view an option when managing privacy. Most are concerned with who can see their pictures and posts, if random strangers can contact them, and how they can stop people from stalking them. Facebook has categorized the new settings in these very terms so that it is easier for users to find what they're looking for.
The three new categories are: 'Who can see my stuff', 'Who can contact me', and 'How do I stop someone from bothering me', catering to three of the biggest concerns of an average Facebook user. Each category then expands to reveal further options showing you what it covers. The language used is very user friendly as well, and geared more like an FAQ or Q&A.
The settings button doesn't provide a summary of all your Facebook settings; it's a shortcut to the most frequently used/needed ones. There are more settings to manage, and these can be viewed by clicking the 'See More Settings' option at the bottom on the menu. To activate the search bar, you will have to click the magnifying glass in the top-right corner. Search results are displayed within the menu, but simply redirect you to the respective setting on the Settings page.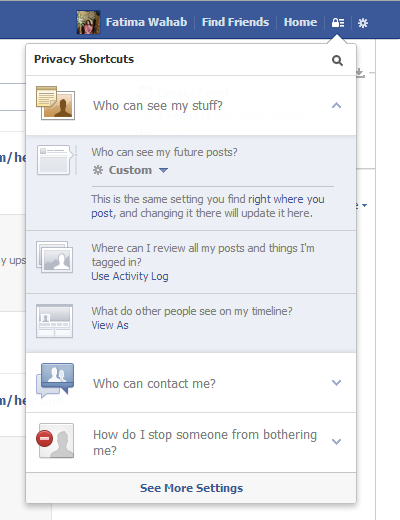 Improved 'View As' Feature
The View As feature has also been revamped with the apparent aim to make it easier to use. The feature is accessible from one of the three settings categories mentioned earlier. It activates immediately, initially showing you what your profile looks like to the public. A thin black bar appears below the top bar and lets you enter a friend's name to view what your timeline looks like to them. There doe not seem to be an option for how friends of friends would see your profile.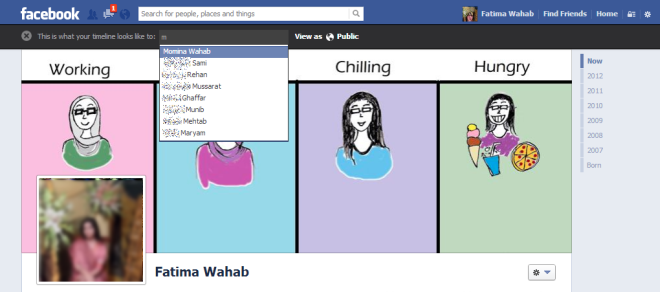 Revamped Activity Log
The Activity Log, accessible from your profile or from the settings button in the top bar, has received quite an overhaul. The changes are meant to improve organization and management of your Facebook activities. Previously, the log was a long list of your activities, all thrown together and discernible only by time. Now, you can view it all in a single thread or separated by photos, comments, likes, your posts, posts by others, app activity, friends, news, groups, subscriptions, events, questions, searches, and just about every sort of activity that you can do on Facebook.
Other than that, the new Activity Log affords two huge advantages: it lets you delete photos en masse and lets you filter your posts by visibility. The filters available change according to the type of activity you're viewing.
The Activity Log also lets you review your Timeline, providing you the best way to clear your Timeline of anything embarrassing or socially incriminating.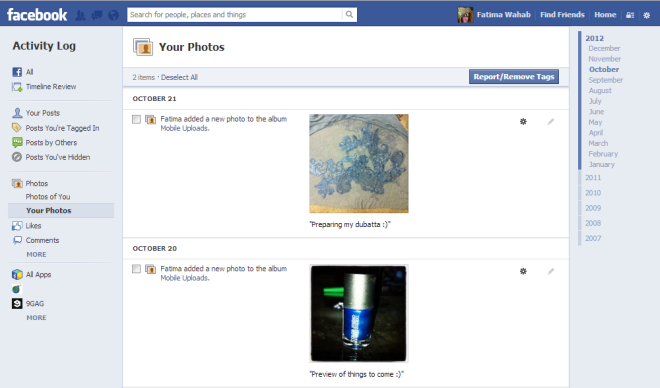 New Request Removal Tool
Facebook has introduced a Request Removal Tool, which will help you remove yourself from posts that have you tagged and request certain content to be taken down. If you or your friends often indulge in morally, mentally or ethically questionable activities and then post about them on Facebook, then you're bound to love this tool. It's sole purpose is to remove unwanted tags and send requests to friends or Facebook users to remove such content.
Tags are removed immediately (as they were before), but you can now ask for the pictures or posts in question to be taken down as well. Head to your Activity Log and select the content you want to remove, and click the 'Report/Remove Tags' button at the top. You will be given the option to remove tags, or remove tags in addition to asking the owner of the picture to remove the post.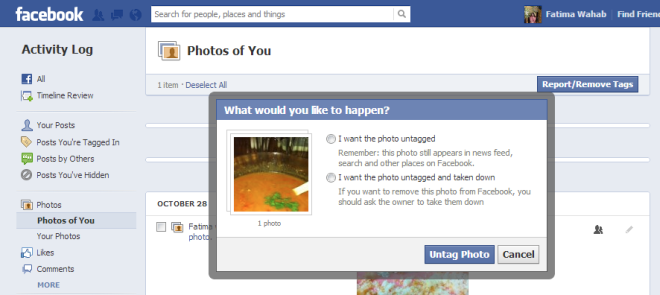 New Message Filtering
With these new changes, Facebook has scraped the 'Who can send you Facebook messages' settings. You will be notified of the change when you visit the Messages page. What you have now are filters for messages that are managed under 'Who can contact me'. You can choose one of two filters; Basic Filtering, and Strict Filtering.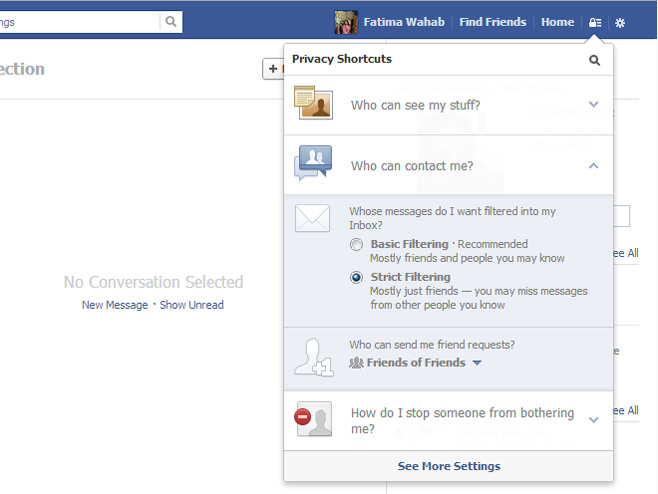 Better Management Of Facebook App Requests
If you've ever had to choose between playing a virtual farm game or protecting your news feed, Facebook has just made that choice easier. It is mandated for apps to ask for permissions like accessing your news feed and posting on your behalf in addition to the initial request for access to basic information. Though these segregated options were available and in use by some apps before, they have now been mandated for all to provide users with more power.
Conclusion
For once, Facebook's changes will not instigate a general panic resulting in people threatening to abandon the social network. These changes are actually a good sign. Facebook has made transparency a prime goal with them. Rather than just introducing a few shortcuts and simplifying the language of the settings, they've revamped features and integrated more control for users. The noteworthy thing here is that apart from being accessible from one central location, i.e., the Settings page, these options are now available in places they should be.
Lastly, Facebook has addressed more privacy concerns. People have always been worried about who can see what, and even though tools for this purpose were available before, they weren't user friendly. The revamped Activity Log filters and View As feature will help you keep your personal life and your work life at respectable distances.