Voyage Displays RSS Feeds In A Scrollable 3D Space [Web]
We've covered many different types of RSS readers in the past, but Voyage stands out in the way it displays the feeds. It is a free online RSS reader that displays feeds as floating items in a 3D space, arranged along a timeline. Feeds are stacked in layers, newer items are bold and bright, whereas older feeds appear faded in the background. This forms a 3D effect as you you scroll through the news. Clicking an item brings it to the front and you can. You can use your arrow keys or the mouse wheel to go back in time and navigate feeds using the timeline. The slick 3D interface makes reading so much easier and lets you read your favorite stories in a whole new way.
To start off, you can either join the service as a guest user to see what it looks like, or simply register for the service. The app adds a few feeds of its accord by default, but gives you the ability to add or remove feeds when required.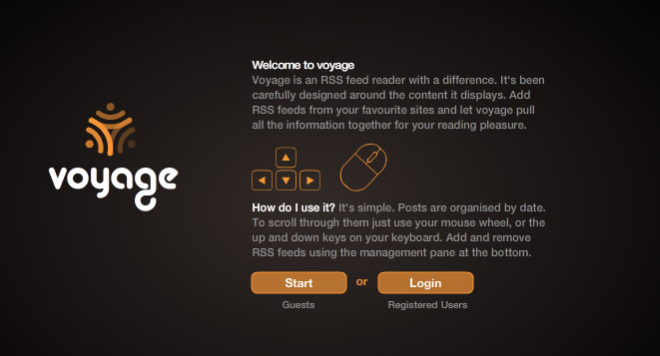 Voyage comes with a slick, dark-themed interface, which is both good to look at and easy to use. Feed items that are brighter and larger (or rather, closer to the screen) are the latest posts, and the ones that appear faded and farther in the background are the older. You can scroll through the feeds hour by hour, using either the arrow keys or the mouse wheel.  When you come across something you would like to read, simply click the title to expand it or follow the link to read the full article.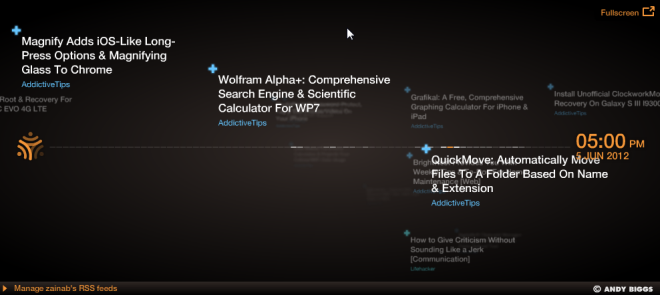 Adding your own feeds is as simple as it is in any other regular RSS feed reader; simply click the Manage option and enter the required RSS Feed URL.

Unfortunately, as of this writing, the web application does not allow importing Google Reader/OPML feeds – something that a vast majority of RSS users like to see in news reader applications. Also, it would be nice if the app adds a few filter options for easier scanning of feed items.
Nevertheless, Voyage definitely deserves a try, as it stands out from the general league of RSS readers that offer a basic interface more suitable for serious reading as oppesed to Voyage's casual, leisure-friendly UI.
If you liked this app, you might also want to look through the other web applications that we've covered so far