Watch This! Helps You Find Movies To Watch Based On Rating & Genre
The search for a good movie to watch is a never ending one because every time the credits for one movie start to roll, you get that unsettling tingle in your stomach that asks 'What are you going to watch next?' Movie buffs have IMDb to make their lives easier but it's not exactly great at offering suggestions. If you know a movie, IMDb can tell you what it's about and what others think of it but it's not great on suggestions. Watch This! is a web app, much like Movienr and Netflix Roulette but much simpler than the former and not restricted to movies available on Netflix like the latter. It's simple and independent of movie streaming services Hulu and Netflix.

Visit the app and you will see very familiar filters that both Netflix Roulette and Movienr support. You can narrow the movies down by their IMDb rating, the year of their release, and the genre. At the bottom of the genre selections, there's an option to include unpopular movies. The unpopular movie option includes movies that have been rated by 1000 people or less. This means a movie might not have been seen by a lot of people but those that did see it and rated it, rated it high enough to match your criteria. I'd say this is a feature that needs to be used with caution because because a movie may have a high rating but it might be terrible. Think of it this way; if only the real fans had ever seen Twilight (and I'm personally surprised more than 1000 people did), they would have given it a high rating and unsuspecting viewers might end up watching glittering vampires.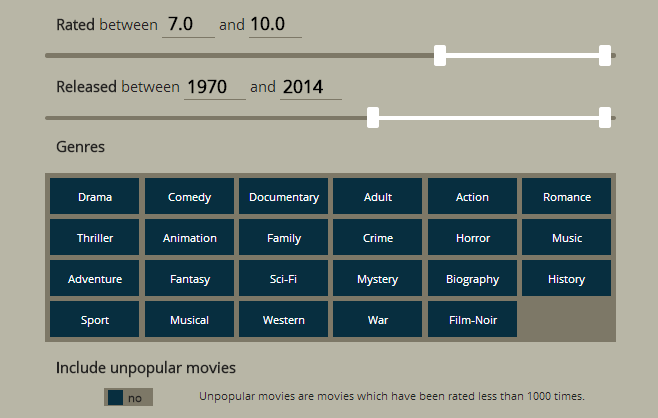 Click 'Get me a movie' to get a movie suggestion. You can visit the suggested movie's IMDb page or ask the app to suggest a new one based on the criteria you selected before by clicking the 'Met me another movie' button.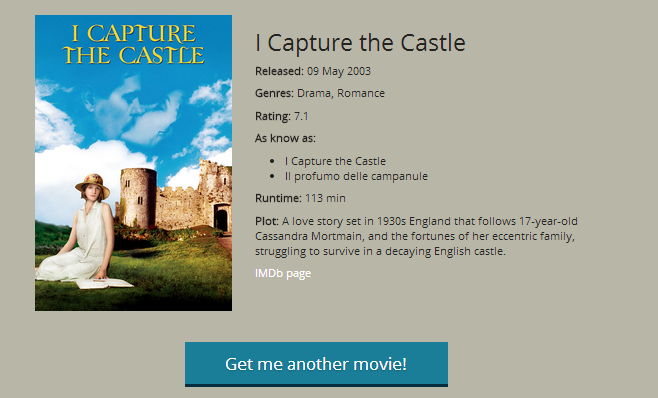 The app has a clean interface that's easy to use. Apps like this already exist so what's going to set this, or any other app like it, apart from others are the suggestions it gives. I'm going to give it a spin this weekend and see if it hits the spot.