2 Simple Tools To Manage Microsoft Office 2007 Add-ins
One great thing about Microsoft Office 2007 is that it supports add-ins. Whether it be Word, Excel, Outlook, Access, or PowerPoint, you can install add-ins instantly. The add-ins can be enabled/disabled in each one of these programs, but what if you want to manage all add-ins from one simple tool?
I have collected two tools that will help you in managing the add-ins across all Office apps.
OfficeIns
OfficeIns is a free portable tool that allows you to manage all add-ins from one simple window. It is developed by the great folks at Nirsoft, who apps I have previously reviewed here, here, here, and here. All you have to do is run the app and it will automatically list the detected add-ins.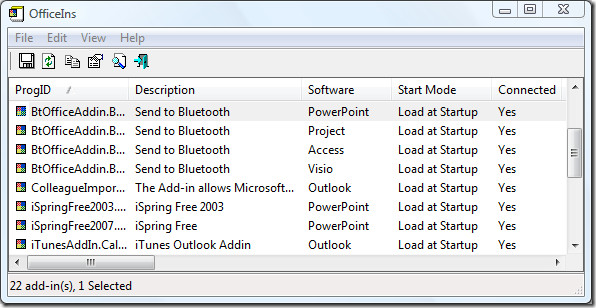 To disable an add-in, right-click it, select Change Start Mode and then select Disable.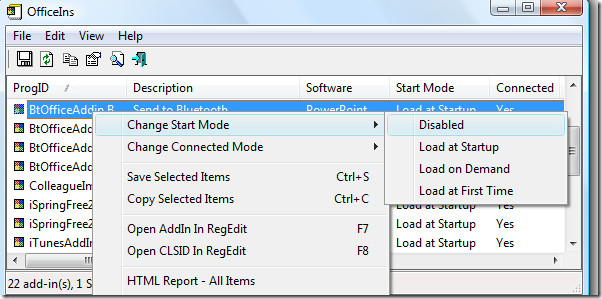 Apart from Disabled, it gives three other options, Load at Startup(Enabled), Load on Demand, and Load at First Time. Next to every add-in you will find additional details such as, Description, Start Mode, Connection, Version, Date Added, Location, and much more.
Topalt EnableDisable
Topalt EnableDisable is a free tool that allows you manage the add-ins more easily. Unlike OfficeIns, this tool is not portable, but gives a more clear picture of all add-ins installed. Instead of showing all add-ins mixed up, you can access the add-ins by going to different tabs. This tool has been developed by Topalt, who's previous app was covered yesterday.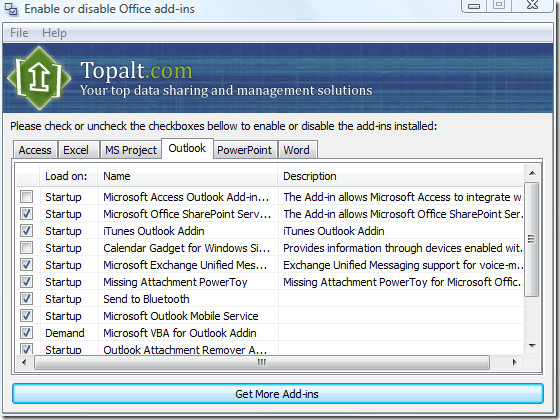 To disable an add-in, simply uncheck the checkbox next to it. This tool has lesser options than OfficeIns, but has a more eye-candy look.
Conclusion
Both apps are great but appeal to different users. If you are looking for a more advanced add-ins manager, then OfficeIns is for you. If you don't care about advanced features and only want a manager that allows you to enable/disable the add-ins, then TopAlt EnableDisable is for you. Keep in mind that OfficeIns is a stand-alone app, which means no installation in required. While on the other hand, you will have to install TopAlt EnableDisable in order to use it. Enjoy!