2 Ways To Share Files On Twitter From Desktop
FileSocial is a great service that allows users to upload any type of file and then share it on Twitter. It allows user to upload upto 50MB per file, which is the same limit as Windows Live SkyDrive.
Today we are going to review two desktop apps that will help you upload and share files on Twitter via FileSocial.
FileSocial Uploader
This is FileSocial's official uploader. The process to upload & share files on Twitter with tool is quite simple. Just start the app, login using your Twitter account credentials, drag and drop the file in the main window, enter the tweet, and hit Upload.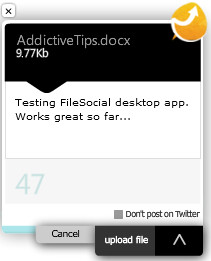 If you don't want to post a tweet and just want to upload the file to your FileSocial account, then check the Don't post on Twitter checkbox.
TwitMyFile
The official uploader is good but it doesn't show you the URL for the file. TwitMyFile comes in where FileSocial Uploader left. This tool is developed by the same author that bought you both AirFM and AIRTranslate.
Just login using your Twitter account, upload a file by either selecting it manually or using the drag & drop method. Once the file has been uploaded you can see the filesocial link, now type your tweet and hit Enter.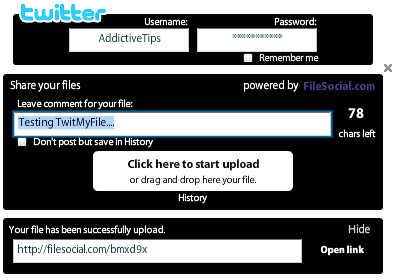 TwitMyFile has three benefits over the official uploader:
Shows FileSocial URL when file is uploaded
Allows to browse file apart from drag & drop support.
Shows History of all files uploaded. This can be viewed by clicking History link below the Upload button.
Download TwitMyFile (go to Download tab and then download from there)
Both tools are developed on Adobe Air and are cross-platform, i.e, they work on Windows, Linux, and Mac. Enjoy!