3 Killer Tools To Make Windows Vista UAC(User Account Control) Less Annoying
Are you annoyed by Windows Vista UAC but still want to keep it on for security propose? Windows Vista's UAC is absolutely the most annoying feature on Vista but you'll have to think twice before turning it off or else you can risk your computer to unauthorized changes by viruses and malwares. There is a better way to deal with this situation, which is to tweak Windows UAC to run quietly in the background without popping unnecessary prompts every second. We have listed three software that will help you in making UAC less annoying.
TweakUAC
TweakUAC is a tool that allow users to switch UAC to a quiet mode, in which you will be elevated to administrator privilege, which means that those annoying UAC prompts that pops up ever second will stop. This is ideal when you are up to perform an administrator task such as computer maintenance, un-installation of programs, etc. No installation is required to work with TweakUAC, just download the file and run it, to turn it back on just run the application the second time.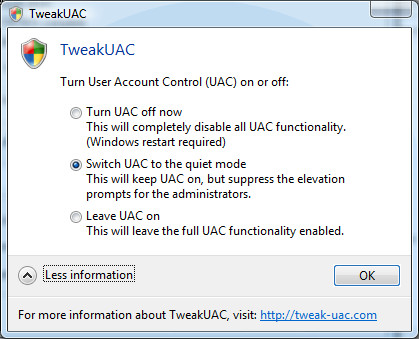 Norton User Account Control Tool
Norton UAC tool replaces only parts of the Windows Vista's standard UAC, it continues to utilize the standard security features with more informative interface. This tool also recommends any action of a pop up based on an assessment of your actions which was impossible in the default standard UAC. Norton UAC is definitely a better and less annoying tool than the default UAC.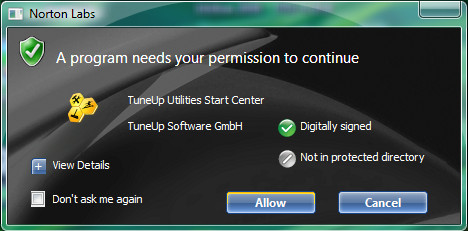 Smart UAC
Unlike Norton UAC, Smart UAC completely replaces the standard UAC with a more robust and intelligent user account control. When you are done with the installation, it automatically disables the standard UAC and takes control of the system. Instead of standard default UAC prompts, it displays its own prompts which offers a "remember" feature, so that it can handle the next same event by itself. Therefore the longer you use this tool the less annoying it becomes with time.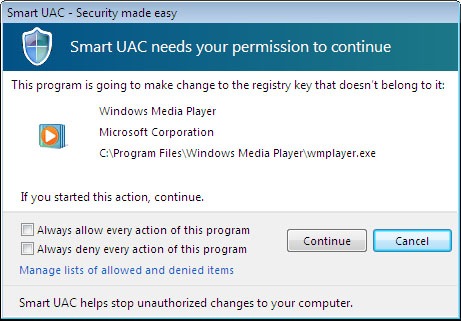 That's all. Enjoy !