3DPageFlip PDF To HTML: Easily Convert Simple PDF Documents To HTML
Previously we covered pdftohtml – an open source, CLI (command line-interface) based software to convert PDF documents to HTML files. Well, if you're not so fond of using CLI based applications, but need a fast PDF to HTML converter, give 3DPageFlip PDF to HTML a shot. It lets you convert your files in batch operation, thus saving time. The application comprises off three conversion modes, named as Batch, Hot directories and Command Line. More details after the jump.
There's not much to talk about interface design, other than the fact that it's quite simple and ordinary. On launching the program, you're presented with its three, aforementioned conversion modes. Batch Convert Mode is the primary feature of this tool that enables you to convert multiple PDF files. Hot Directories Mode gives the tool monitoring access to a directory on a server, wherein if a PDF file is placed, the application will automatically convert the corresponding file to HTML. The third feature it provides is conversion process based on Command Line Mode, and you can grab its CLI based instructions by clicking Using PDF to Html in command line. Performing batch files conversion is simple: First off, select Batch Convert Mode on the main application window and click Next.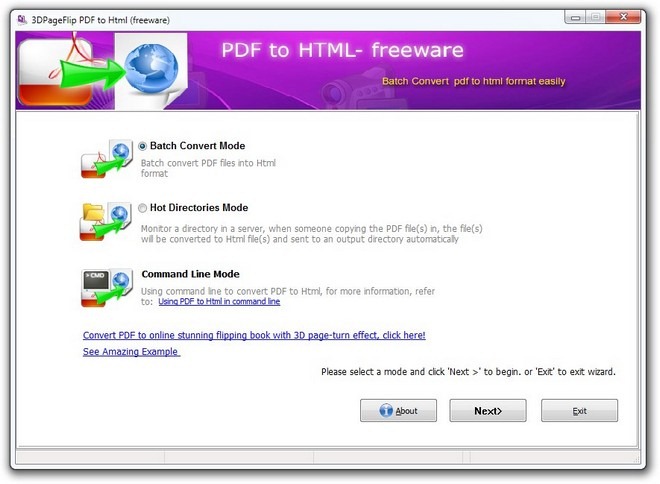 Next up, you need to select input PDF files. You can either drag and drop your files into the application window or click Add Folder on the quick access bar to select any directory that contains the PDF files. When ready, click Convert followed by choosing output directory to convert your files.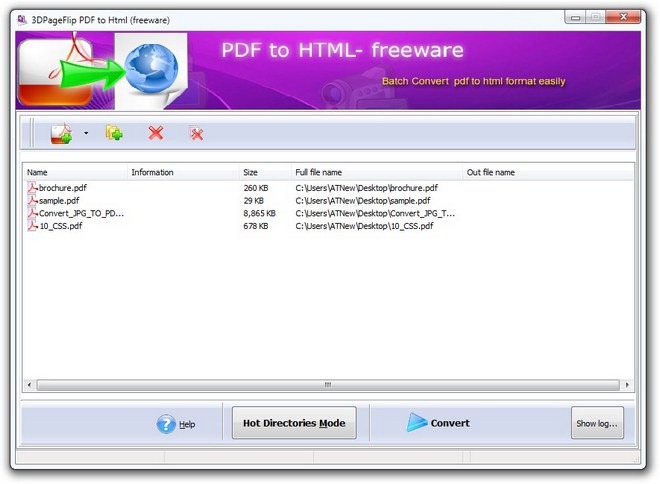 As mentioned earlier, Hot Directories Mode of the application lets you keep an eye on any input file on a pre-defined directory, so that the tool auto converts the file(s). In case you've been wondering, this is how it works: Select Hot Directories Mode on the homescreen and click Next. Now, select your desired Input Directory, followed by Ouput Directory. You may click Include Sub-Folder under Input Directory, which in turn will include all the proceeding folders in the directory. Finally, select an output directory for Log File Path and click the blue Play button at the bottom to start the monitoring process. You may click Stop to halt the process, or click the minimize button to send the application to system tray.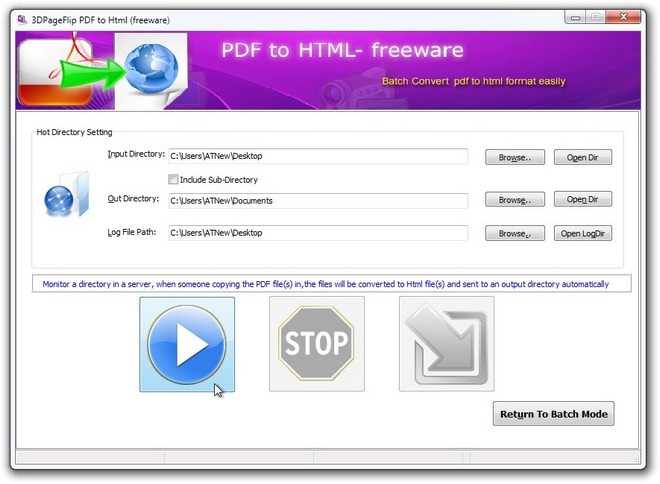 Please note that during testing, the application failed to convert graphic intensive PDF documents such as those containing images. However, it successfully converted simple text documents.
The application is available for free and works on Windows XP, Windows Vista, Windows 7 and Windows 8. Testing was carried out on Windows 7 64-bit edition.
Download 3DFlipPage PDF to HTML