5 Best Free Remote Desktop And Screen Sharing Applications
Remote desktop sharing applications are the ones which sometimes save the day of a developer (specially the freelancers) or anyone who is working as a distributed team and need desktop collaboration, supporting a remote web application that you had built or need to manage the work computer from home. There are great free remote desktop applications which helps to build this remote connection.
Yuuguu
Yuuguu's main application window looks just like a chat window storing all your contacts. Adding a new contact on the list consists in typing in the desired email address. The software will connect to the server to let you know if that contact is already signed up to Yuuguu or not. If the user is not using Yuuguu, an inviting email will be sent providing all needed information in order to get started.
Setting up the program is a cinch. You can change your account details (name and password) and configure Yuuguu to start with Windows in minimized mode, enable automatic login and sound as well as enable fast screen-sharing. Once all the settings are made, you can proceed to sharing your screen. Each user starts his/her own screen sharing session. It is kind of awkward, as generally, local computers ask for permission of viewing remote desktop and the other part accepts or declines. In this case, the remote part initiates screen sharing and the local computer has to accept/refuse the connection.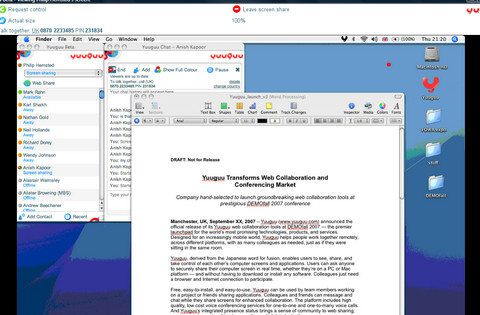 Download [ Yuuguu ]
TeamViewer
TeamViewer is a simple and fast solution for remote control, desktop sharing and file. Connecting to another computer can't be simpler, just run TeamViewer on both machines without the need of an installation procedure. With the first start automatic partner IDs are generated on both computers. Enter your partner's ID into TeamViewer and the connection is established immediately. It allows two people to do file transfers, remote support (with or without installation), remote administration of unattended servers/pc's & remote presentation of products.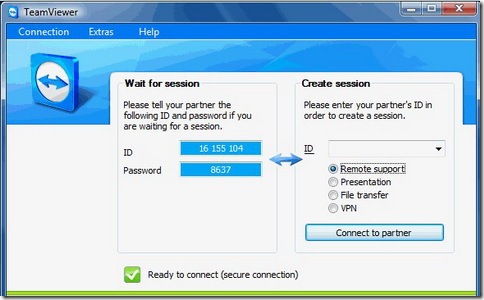 Download [ TeamViewer ]
Dimdim
Dimdim is a free Web conferencing service where you can share your desktop, show slides, collaborate, chat, talk, and broadcast via Web cam with absolutely no download required for attendees. It's Web Meeting service is available in open source and commercial enterprise editions capable of supporting thousands of attendees. And unlike all other web meeting solutions, It is available in both onsite (you install it on your servers) and hosted (we install it on ours) configurations.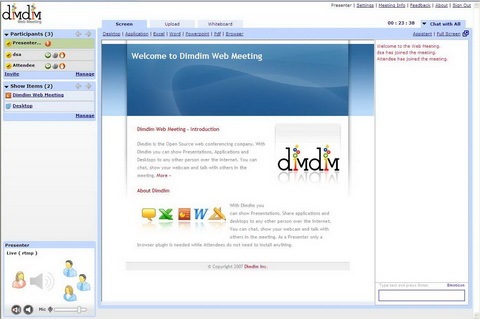 Try it out  [ Dimdim ]
ShowMyPC
ShowMyPC is a Community for Remote Support providers. Providing tools for Instant Support to Service Providers and Users. The tools on this site are meant for Online collaboration, Desktop Sharing and Remote PC access, as an alternative to subscription based sites like WebEx or Gotomypc. Version 2900 adds ability to schedule meetings also.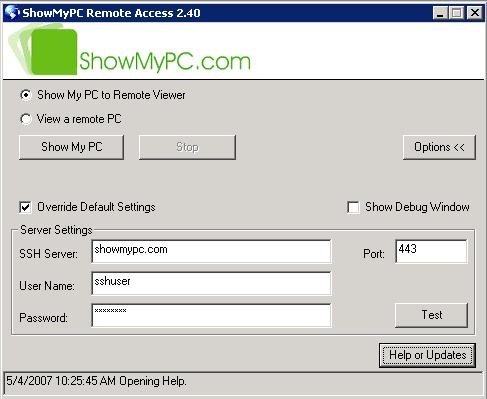 Download [ ShowMyPC ]
Mikogo
If you're looking to host an online meeting without being hit by high prices, then Mikogo is the perfect solution. As a free tool, Mikogo allows you to share your desktop in true color quality with up to 10 participants simultaneously. Mikogo can be employed for a range of uses, including online meetings, desktop sharing, web conferencing, product demonstrations, online presentations, or remote support. Furthermore, to enhance the Mikogo experience it features: screen sharing, change presenters, remote control, pause transmission, application selection, and file transfer Most importantly, there is absolutely no cost whatsoever. Mikogo offers high quality screen sharing software that can be enjoyed by everyone.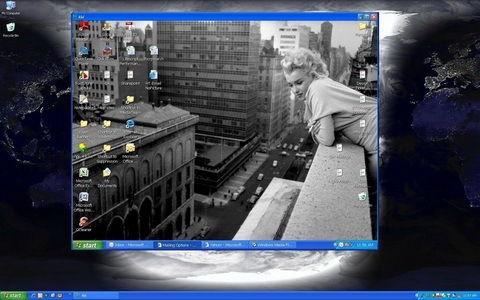 Download [ Mikogo ]