5 Useful Tips: Windows 7 Taskbar
The folks at Microsoft have completely overhauled the Windows 7 Taskbar, now it is more organized, improved, and easier to play with. Lets discuss some common Windows 7 Taskbar tips that can help common users increase their productivity.
Shrink the Windows 7 Taskbar
Windows 7 Taskbar has a standard size which is great if you have a wide screen monitor, however if you are using a small screen monitor then you will see that the standard size of the taskbar is quite large and you would probably want a smaller Windows 7 taskbar. Just right-click the empty area in the task bar and choose Properties.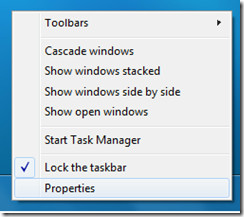 The Taskbar and Start Menu Properties window will be displayed, now check the use small icons option.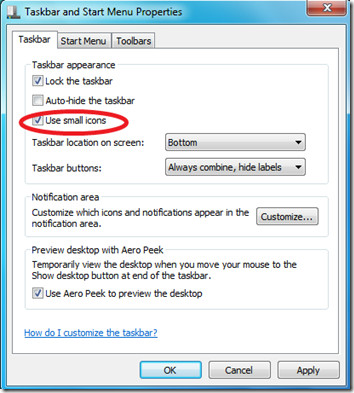 Click OK and that's it, now you will see a considerable change in the size of taskbar and the icons.

Speed Up The Taskbar Thumbnail Live Preview
In Windows 7 if you hover the mouse over any running application's button in the Taskbar, it shows the thumbnail preview of the running application with a close button. And if you hover your mouse cursor over the small thumbnail, Windows shows a live preview of the running application and it makes all other running applications windows transparent.You can now adjust the time for this taskbar thumbnail preview, read how to adjust taskbar thumbnail live preview.
Navigate Through the Taskbar without Using Your Mouse
Are you tired of moving your hand all the way from the keyboard to the mouse? Well now you can easily navigate through your Windows 7 taskbar directly using the keyboard. Use the Windows key + T key combination, this will set the taskbar as the active screen, now you can use the left/right arrows to scroll through the different open applications.

Launch Taskbar applications With Keystrokes
You can launch the first 10 apps in your Taskbar by hitting the Windows Key + 1,2,3,4,5,6,7,8,9,0 hotkey, corresponding to each respective program. Hitting Windows Key + 0 will open the 10th program that is pinned to the taskbar.
Rearrange Taskbar with Drag-n-Drop
You can rearrange the icons on your Windows 7 Taskbar by simply dragging and dropping them. Unfortunately this feature was not available in the older versions of Windows including Vista and XP, this is why we used a 3rd party app called Taskix to achieve a similar result.
There are many other tweaks as well which you can apply to the Windows 7 Taskbar, but we have covered 5 that we believe is going to help make users familiar with it. To put things into a netshell, we can say that the Windows 7 Taskbar is much improved and flexible over its older versions.
Got any other tip in your mind? Feel free to share in the comments. Enjoy!